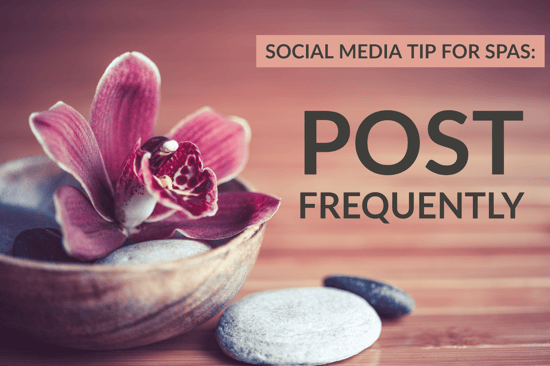 Social media is a fast-moving medium. Unlike a billboard, which is there for days or weeks at a time for all passing motorists to see, a social media post is fleeting. The half-life (or the time it takes a for a social media post to achieve half of the total views it will acquire) can be less than a half-hour on some platforms. It is really only there to be seen for a short time.
(See our best tips for healthcare providers on social media, including how to keep accounts and content fresh here: How To Conquer Social Media To Increase Web Traffic For Healthcare.)
In order to keep your spa's image in front of your customers, not only do you need to be where your audience is (as we talked about here), but you need to be there often. Sporadically posting when you think about it, maybe once a week or even a little more, won't be enough to maintain that top-of-mind awareness you need. Instead, commit to posting regularly and frequently. We recommend at least 100 posts per month — averaging a little more than 3 post a day — since not every one of your followers or targeted audience will see every post.
The most effective way to achieve this target volume is to create content and schedule it in advance. By creating a week or a month's worth of content at once, you can develop a strategy, work with themes that match to the season or what you are currently promoting, and work more efficiently, rather than trying to create and post content in bits and pieces throughout the day.
Download our Serenity Medical Spa & Organic Facebook Content Case Study to see first-hand what happens when a business like yours commits to creating a vibrant social media presence.
If it still seems daunting to create 100 posts a month, check out these blog posts and resources, or use the chat feature to learn more about our exclusive social media content program for spas and how it can save you time and money while boosting social media engagement, customer acquisition and sales.
Learn and do more: