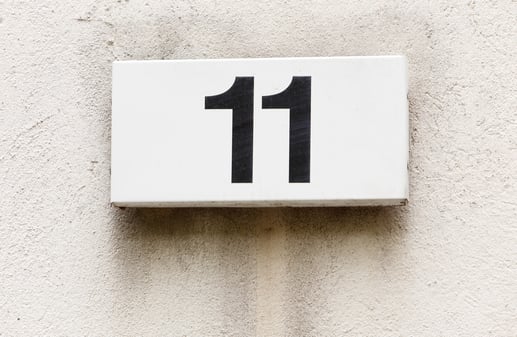 One of the four key components of online lead generation is the call-to-action (CTA). You probably already understand the basics of what a CTA is and what it does (if not, we've covered it here), but what about all the places your CTAs need to make an appearance?
With the option of using text, an image or a button as a call-to-action to link potential customers to the landing pages and forms that will convert them into leads, we've IDed at least 11 places you should be using CTAs.
1. Your website.
Pretty obvious, huh? For this post, we're considering your website as just one of the 11 places to use CTAs, but you should have CTAs in more than one place on your website. You should have CTAs on your homepage, your blog articles, your product or services pages — everywhere.
In the examples below, you can see that Bellevue University has two prominent CTA buttons at the top of its homepage (and every other page on the site), and on an interior page focused on adult students it includes a CTA to learn more about a specific program.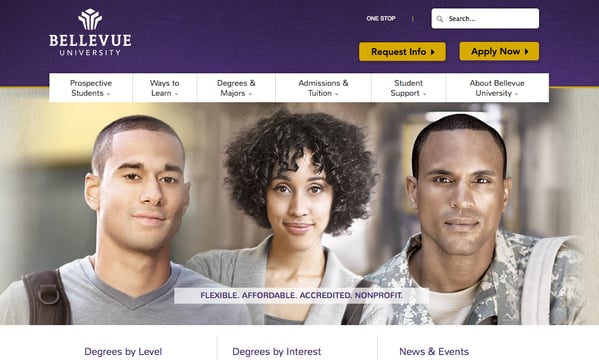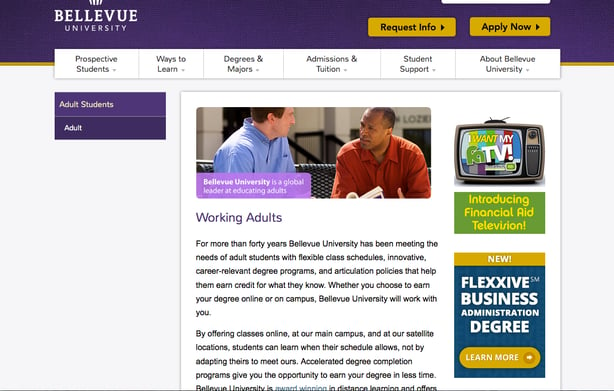 2. Within content.
Even once a prospect has converted into a lead by downloading an ebook, subscribing to a newsletter or registering for a webinar, you should still be nurturing them by offering other related content to move them through the sales funnel. That might mean offering a template related to the ebook they just read or offering a free consultation, as we've done below. Including CTAs in your ebooks and webinars will help keep leads engaged.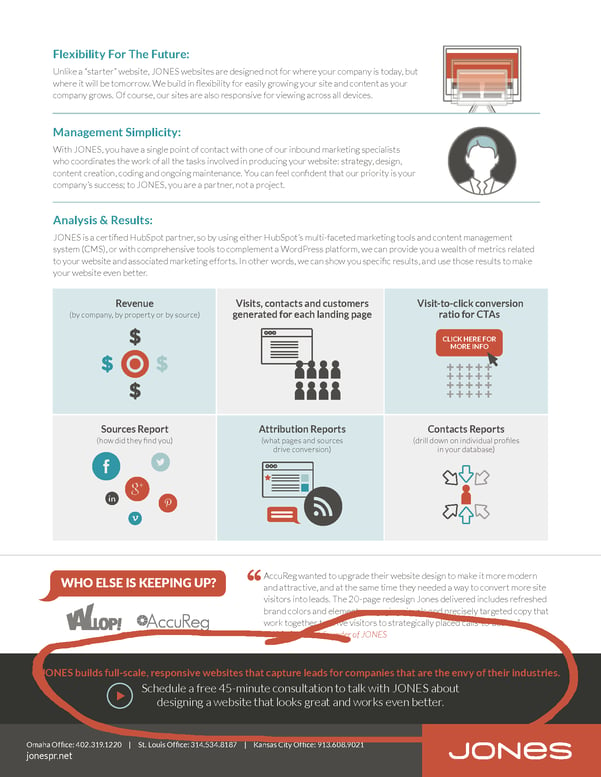 3. In presentations.
If you have an opportunity to speak at industry conferences and events, take full advantage of it (within the guidelines of the specific event) by including a CTAs directly within your presentation. Sending people to your website for more information just makes sense.
4. Your blog.
Another obvious location—usually—though I have seen well-written blogs that fail to include the calls-to-action that would convert readers into leads. Calls-to-action on a blog page can take many different shapes: sidebar images, in-text links, and banners across the top or bottom. They should offer blog subscriptions, social media connections, downloadable content, and more. Look around this page - you'll see several CTAs.
5. Email marketing
Each marketing email should have a strong call-to-action, even within in the subject line. The link to the associated landing page should be obvious within the first one to sentences of the email, with more links included in the middle and bottom as well. Vonage fills even their standard account processing emails with calls-to-action for their mobile app, call block and more.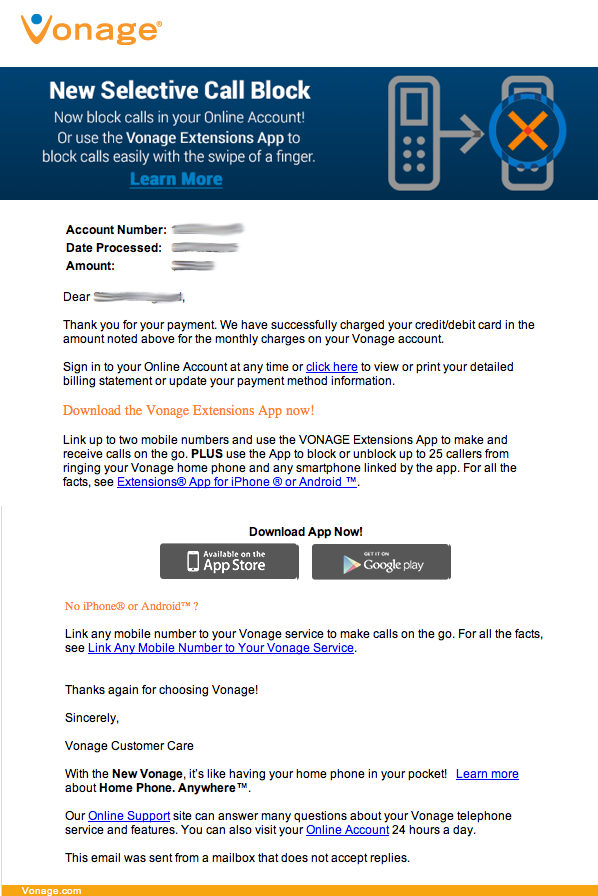 6. In videos
Video content is increasingly important in content marketing, and videos should have the same types of CTAs found in your text-based blog articles. Include a shortened, easy to remember URL in your video so it can be seen even if someone embeds your video on their own website or blog. And include a CTA and link in your video's description on YouTube or another video sharing site, as we've done here.
7. In paid media
Whether electronic, such as Google AdWords or GroupOn emails, or print, your paid media opportunities should include a call-to-action that will be consistent with the landing page the visitor will go to after they click on the paid ad, enter a URL in their browser or scan a QR code. This means you need to optimize your paid ads just as you would craft a CTA on your website.
8. In email signatures.
Marketing emails aren't the only ones that can contain a CTA. Using a text-based CTA in your email signature can encourage those you correspond with to "subscribe to our blog," "check out our case studies" or "join us at our next event."
9. Facebook
Facebook sidebar ads, sponsored posts and regular wall posts can all include CTAs and links to the landing pages for downloadable assets, registration forms or other parts of your website.
10. Twitter
Tweets make great places for individual CTAs for your content offers, but there are other opportunities on Twitter as well. Consider including a call-to-action in your Twitter bio or place a short URL in your background design—though the background isn't clickable, it is real estate ready to be used.
11. LinkedIn
Think beyond your standard LinkedIn status updates to find opportunities for calls-to-action on the business world's leading social media platform. Include CTAs or links to assets when participating in group discussions or make announcements in groups about your upcoming events or newly published resources. You can also use LinkedIn's sponsored ads to target specific audiences with calls-to-action, as HubSpot has done here.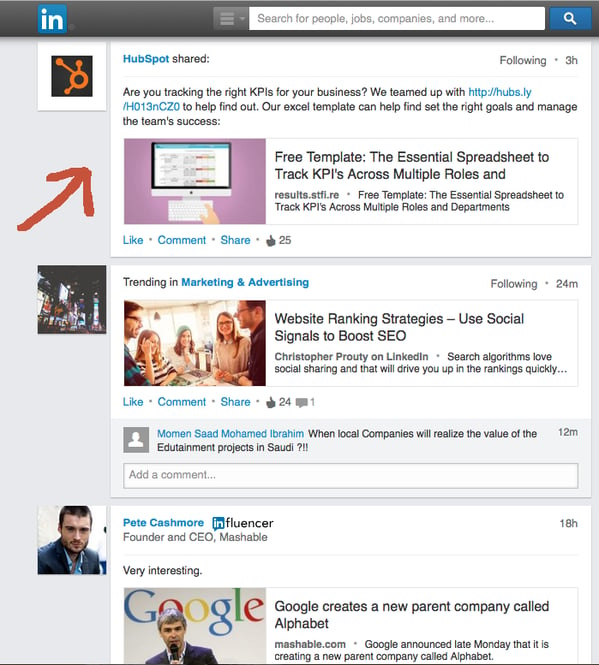 And there you have it - 11 key places you should be using calls-to-action. What other places do you make sure to use calls-to-action? Which generate the best results for your business?
Find more ways to optimize your use of CTAs in our Comprehensive Guide to Designing and Executing Calls-to-Action.