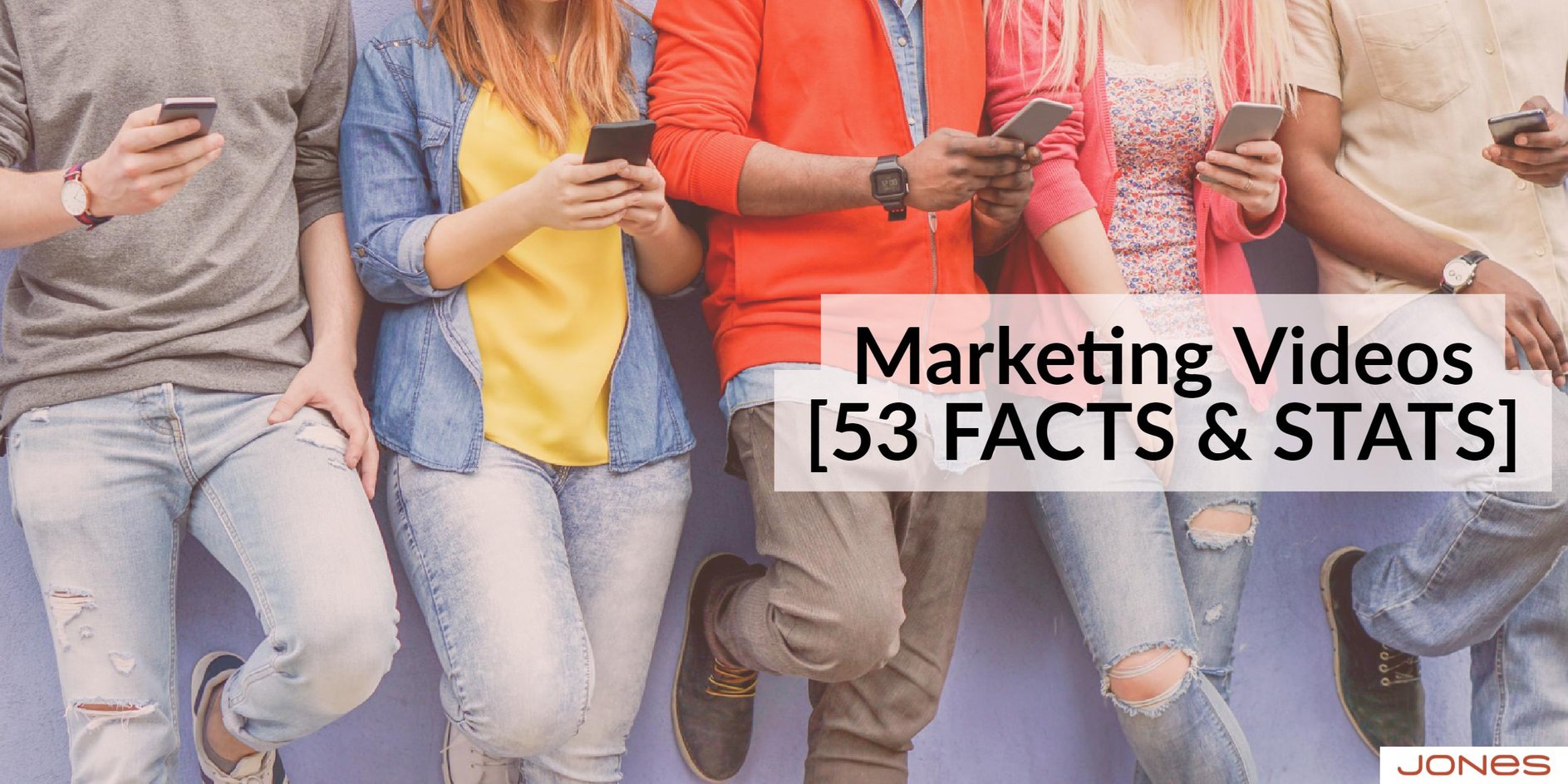 How much do you know about the explosion of video? Need some quick facts to bolster your pitch for including it in your upcoming content strategy for inbound marketing?
Check out these numbers.
How much video is being produced?
1. 5 million: The number of years it would take one person to watch the amount of video expected to cross global IP networks every month in 2019.
2. Video will be 80% of consumer internet traffic globally in 2019.
Who is using marketing videos?
3. 63% of businesses are using video as a marketing tool.
4. 49% of businesses have used webinars for marketing purposes.
5. 24% of businesses have used interactive video for marketing.
6. 26% of businesses have used Instagram video.
7. 19% of businesses have used Facebook Live.
8. 71% of businesses with more than 100 employees use YouTube, compared to 38% of self-employed business people.
Who is watching marketing videos (and how, when, and where)?
9. 74% of business people say they have been convinced to buy a product or service after watching a brand's video.
10. 91% of consumers have watched an explainer video to learn about a product or service.
11. 79% of consumers would rather watch a video to learn about a product than read text.
12. 184% of consumers have been convinced to make a purchase after watching a brand's video.
13. 75% of consumers have been discouraged from buying a product because a voiceover annoyed or alienated them.
14. 86% of business related video views take place on desktop browsers.
15. Consumers ages 18 to 24 spend 36 minutes per week viewing video content on smartphones.
16. 85% of the US internet audience watches videos online.
17. Almost 50% of internet users look for videos related to a product or service before visiting a store.
What does the typical marketing video look like?
18. 56% of businesses use their explainer video on their homepage.
19. 95% of consumers say an explainer video should be less than 2 minutes long.
20. 50% of consumers say an explainer video should be 1 minute long.
21. 56% of all videos published in the last year are less than 2 minutes long.
22. 83% of consumers feel an informal voice is more relatable and persuasive.
23. The 4 most common video formats are explainers, product demos, how-to videos and testimonials.
24. The average video retains 37% of viewers all the way to the end.
25. Videos under 90 seconds have an average retention rate of 53%.
26. The top 5% of videos have a retention rate of 77%.
What do businesses say about their marketing videos?
27. 82% of those who use video say it is an important part of their marketing strategy.
28. 83% of those who use video say it provides positive ROI.
29. 97% of businesses with explainer videos say they have increased user understanding of their product or service.
30. 81% say an explainer video has helped increase business sales.
31. 76% say an explainer video has helped increase website traffic.
32. 62% say a video on the homepage is an effective marketing tool.
33. Nearly 52% of marketing professionals worldwide name video as the type of content with the best ROI.
34. 44% of small and medium-sized businesses planned to put money into Facebook video content in 2017.
What results do videos produce?
35. Video ads have an average click-through rate (CTR) of 1.84%, the highest CTR of all digital ad formats.
36. Marketers who use video grow revenue 49% faster than non-video users.
37. Social video generates 1200% more shares than text and image combined.
38. Video drives a 157% increase in organic traffic from SERPs.
39. Video on a landing page can increase conversions by 80% or more.
40. Including video in an email increases CTR by as much as 300%.
41. Blog posts incorporating video attract 3 times as many inbound links as posts without video.
42. The average user spends 88% more time on a website with a video.
43. Using the word "video" in an email subject line boosts the open rates by 19%.
44. Video posts on Facebook have 135% greater organic reach than photo posts.
What do viewers say about marketing videos?
45. More than 3 in 4 people would share a branded video with their friends if it is entertaining.
46. Almost 2/3 of people would share an informative video.
47. More than half would share a video that is inspirational.
48. 7 in 10 people view brands in a more positive light after watching interesting video content from them.
49. 4 in 5 consumers believe that demo videos are helpful.
50. 43% of people want to see more video content from marketers.
51. 90% of users say that product videos are helpful in the decision-making process.
How are other businesses planning to use video in the future?
52. 46% of marketers plan to add Facebook video to their content strategy in the next year.
53. 48% of marketers plan to add YouTube to their content strategy in the next year.
So, I know I just threw a lot of numbers at you. And while there is little doubt that you need to start considering how to use video in marketing, if you aren't already, the process can seem overwhelming.
Here is just one more number: 5.
That is how many steps we break down our JONES video production process into in our JONES Video Solution resource. Download it today to see how we combine those five steps with the philosophy in our 13-step marketing methodology to generate real results for our clients.
Sources: Wyzowl; OneProduction; HubSpot; Wordstream; Forbes; Vidyard (via HubSpot);