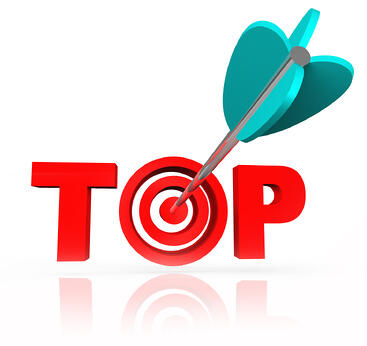 We've talked before about how you may need to rethink your blog's place in the marketing universe in order to break through a plateau. You may also need to rethink how you write a blog.
To create big hit content — the kind that drives significant traffic to your website — you have to write based on a great idea, not a search engine. Here are six strategies for writing blog posts that hit it big.
What is big hit content?
Big hit content is the blog post that everyone reads, shares and links back to. It generates discussion, engages readers, and drives increased traffic to your website as your current readers share it with friends. All that sharing also boosts your search rankings, giving the post staying power to continue bringing readers to your blog and website. Not to mention, clicks from shared content are five times more likely to result in a purchase. (Click to Tweet!)
Specifically what your big hit content is will vary based on your business, your industry and your audience. But what it typically is NOT is a blog post written strictly around your business's keyword. Those posts can be useful, but they aren't going to be a big hit.
One way to find out what kind of content your audience is flocking to is by examining your own analytics. Which of your existing blog posts have generated the most page views and inbound links? What do they have in common? Is there a certain topic that seems to resonate with your readers? A consistent format? Or similarities in how the headlines are written?
With those answers in mind, you can start generating ideas for your next big hit.
Other tactics for big hit blog posts:
1. Original data
­If your business generates or has access to original industry data, you have the potential for a great blog post. Especially if the data, once analyzed can expose, add to, or refute an industry trend.
Even if you don't have the data yourself, perhaps you can partner with a research firm or start-up to find new data that has never been published, but is focused on a topic that is a proven audience favorite. If you have something that no one else has, it will likely be shared; twenty-nine percent of people who share things share content that is unique. (Click to Tweet!)
HubSpot's annual State of Inbound Marketing report provides great fodder for insightful blog posts filled with data no one else has.
2. Be controversial
Discussion and debate are great at engaging your audience. If you have an opinion on a matter, write about it. You don't need to be aggressive or adversarial, and might want to use controversy in moderation, but taking a stance is a great way to give your blog a personality and attract attention.
Here, The Franchise King takes on the idea of legalized marijuana, but in the context of his area of expertise: small business franchises. Would you, or should you, invest in a franchise that sells recreational marijuana? He pulls no punches with his opinion.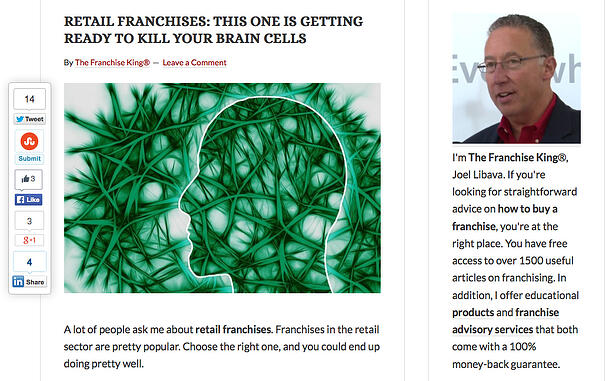 3. Cover it first and be comprehensive
Keep up with what is happening in your industry and be one of the first to give significant space to a new topic. Even if you aren't the first, being thorough and comprehensive on an emerging trend is a great way to establish leadership and expertise. If your post is useful, it will likely be shared and linked and continue to gain visitors for weeks, months or even years to come.
Social Media Examiner stays on top of the newest developments with a weekly "This Week In Social Media" blog, bringing together all of the latest changes in one digest.
4. Feature examples with visuals
Blog posts with visual examples of excellence are successful for two reasons. First, they serve as inspiration for others in the industry and provide a tangible goal to work toward. Secondly, visual posts are more likely to be shared on social media, increasing readership and inbound links.
LocalVox shows examples of great local business websites in this post, showing how even small businesses can have a great online presence.
5. Be entertaining
Though most of your blog content is meant to be serious, educational material showcasing your business as an expert in the field, it doesn't need to be boring. Liven it up a little from time to time with something meant to make your readers smile. That might be sharing industry humor or even something more involved like this "Gangnam Style" spoof video by HubSpot.
The benefit of the occasional funny post? Surveys show that 43% of people who share things on social media, share things they find funny. That's nothing to laugh at. (Click to tweet!)
6. Include a must-click title
No matter how great your blog is, the only way anyone will know is if they are interested enough in the title to keep reading. Make sure you ship your blog with a must-click, eye-catching title. It should be actionable, use strong words and capture people's attention with language that makes it irresistible. Go back to your own analytics to see what types of titles have garnered the most attention in the past. Is your audience attracted to titles with numbers? "15 Things People Absolutely Hate About Your Website"
Do questions draw them in? Or is there some other common theme to your blog's most-clicked titles?
And who could resist a title like this?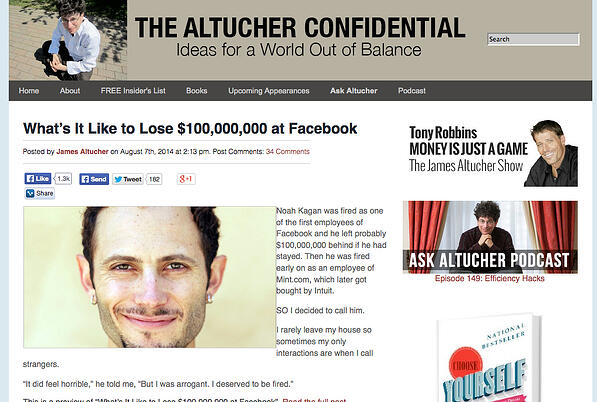 Keep these tactics in mind for creating the big hit content that will help you top the charts with your blog. Find more on How to Grow & Scale Your Business Blog by downloading our free ebook.
What are your blog's big winners? Share them with us!