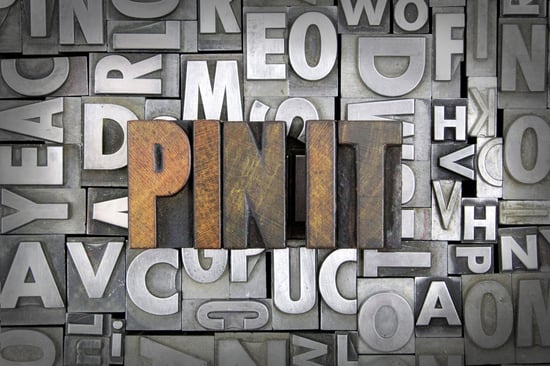 Some digital marketing content is evergreen, and will perform well attracting readers and potential customers for weeks, months or even years.
But sometimes, you have to be aware of the latest trends and jump on board the bandwagon. Your Pinterest account is one place that being "on trend" can make a difference in how much traffic you generate.
According to Social Marketing Writing, pins that are related to trending topics see a 94 percent increase in click-throughs. Are you ready to take advantage of that potential? (Click to Tweet)
Two ways to optimize your Pinterest account for news and search trends
1. Pinjacking
Focus your Pinterest strategy on those things you know your customers —or all of the Pinterest world — are searching for with "pinjacking." (In your blog, we'd called it "newsjacking," and it's one of the ways to help grow and scale your blog readership and reach.
Click through to Pinterest's "Popular" page on a regular basis to see what people are searching now, or use your own Pinterest analytics to target the trends most likely to increase your traffic.
Highlight seasonal search trends: For many industries, there are seasonal topics most likely to be searched by potential customers. In landscaping late winter and early spring are prime times to be thinking about new gardens for the spring. Auto repair shops, at least in some parts of the country, will want to focus fall content on winterizing vehicles and winter driving tips.
Think outside the box, too, as Goodwill Industries of Western Michigan did when it created a pinboard for DIY Halloween Costumes. Goodwill stores aren't really the first thought that comes to mind when you imagine top social media marketing, but the organization's star pinboard has more than four thousand followers.
Remember that your Pinterest boards have the ability to reach not only Pinterest users, but those who conduct general internet searches as well. Even today, years after Goodwill Industries of Western Michigan debuted their DIY Halloween Costumes board, it is still the third ranking result when you search "DIY Halloween costumes" on Google.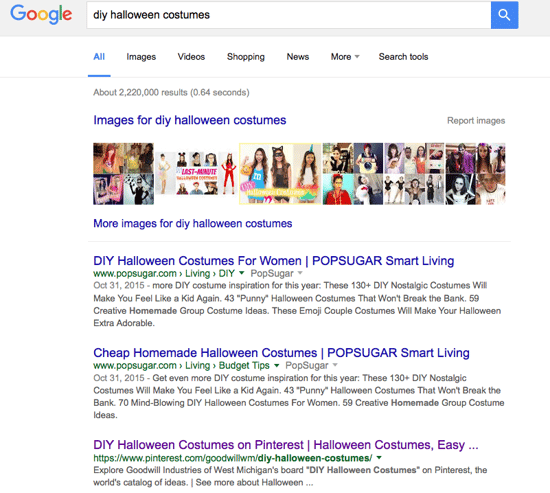 They are a great example of thinking not in terms of what you sell, but in terms of how your customers can benefit.
Watch for trending searches relevant to your products: Be aware of whatever the latest and greatest ideas are in your industry, and be quick to provide content that covers those topics. If you are promoting a local farmers' market and your vendors start hearing lots of requests for a certain vegetable (move over, kale - here comes kohlrabi!), it's time to create pins with recipes for the newest darling of the dinner table. Baked kohlrabi, boiled kohlrabi, roasted kohlrabi, kohlrabi salad, kohlrabi pickles …
You get the picture.
2. Hashtags
Those ubiquitous marks, once thought of as a number symbol or the "pound" sign on a phone, have become the go-to method for sorting and organizing information on social media networks. Twitter may have introduced hashtags, but nearly all social platforms now use the designations.
Using hashtags in Pinterest can be helpful in a number of ways.
Organize by theme: Ever wish you could sort your pins not only into individual pinboards, but also by theme or campaign? Hashtags are one of doing so.
For example, if your travel agency has created pinboards dedicated to specific destinations —Caribbean, Europe, Asia — but you would like to also promote specific campaigns while pinning to those board, you can add a hashtag to your pin description of "#solotravel" for pins that are specifically related to traveling alone.
In this way, your pins are searchable, and sortable, not only by destination, but also by the type of travel. Other ideas along this same theme might be #adventuretravel or #familytravel.
Coordinate with other social media efforts: Using the same hashtags across all social media can help tie together your campaigns with a common theme. This can be especially helpful when you are promoting a branded hashtag as part of a campaign.
TintUp outlined in this blog post seven examples of companies that used their own hashtag campaigns to encourage user-generated content and drive social media traffic.
One of their examples was the #ShareACoke campaign centered around the company's innovative cans and bottles emblazoned with the names or titles of someone with whom you might want to "share a coke" - and now a song, as they are transitioning the same hashtag to a new campaign featuring lyrics from hit songs on the labels.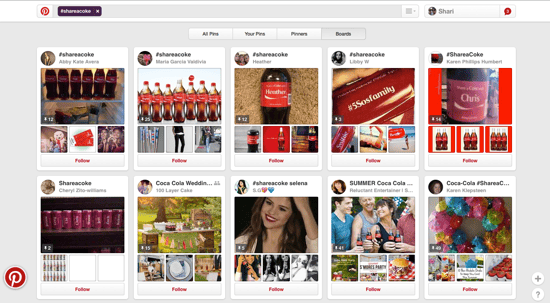 Watching search trends and using hashtags to focus search results can both help you generate more traffic through your Pinterest account. Just don't forget that while Pinterest audience engagement is great, the real purpose of your Pinterest account is to drive increased traffic to your website, where you can convert those visitors into leads and then customers. Make that next step an easy one with links.
Looking for more ways to make the most of your Pinterest business account? We have the details: How to Optimize & Measure Your Pinterest Business Account. It's just an easy download away.