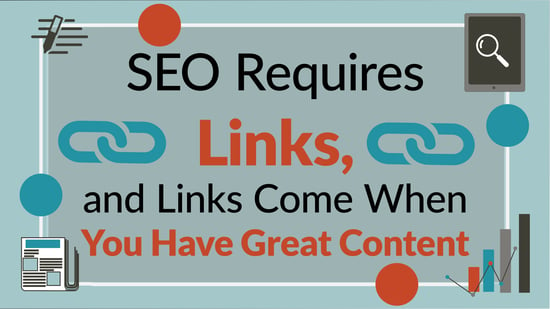 Optimizing your website for search goes well beyond placing keywords in all the right places. According to a SEMRush study cited in this helpful infographic from DIRJournal, four of the top 8 ranking factors are based on link signals.
How connected is your site on a web where 94 percent of all content has no external backlinks?
As they state: Links still matter. But how should you build those links? Let's find out.
Source:
DirJournal.com
Let's look at the suggestions included, especially these two:
Create long-form content.
Answer common questions.
These are already at the core of content marketing, and are among the reasons that content marketing is effective: Website content drives search. When that content is high-quality, useful content, others will link to it to share with their readers as well.
You'll find more detail on how to optimize content for search here, but creating content that generates links means focusing on the readers who may link back to your content, whether that means a blog post, video, or downloadable report with unique data about your industry. That means writing for readers, not just search engines.
If you are uncertain about whether your content hits the mark, download our Content Quality Report Card for five objectives your marketing content needs to meet. You can also meet with me to talk about how to improve your website content in ways that will encourage backlinks to boost your SEO.