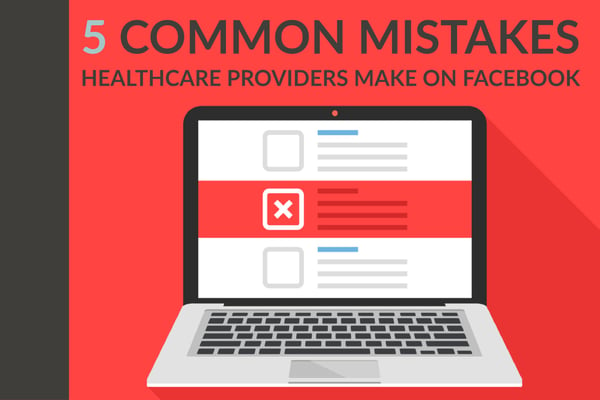 Nearly half of all healthcare providers are already using social media as a part of their marketing and patient engagement efforts. Another 40 percent say they are interested in entering the social media realm, according to surveys we have facilitated with providers across the United States.
There's good reason for making social media for healthcare providers, and especially Facebook (which a majority of providers say is their most effective social media channel) more effective.
After all, four out of five social media users say they use the platform to search for health information, including information on specific providers.
But in order for providers to see the benefits of using Facebook, they need to ensure they aren't making these 5 common mistakes.
1. Not posting frequently enough
With an average half-life of just 2.5 hours (meaning half of its total views occur in that time after posting), Facebook posts don't last long. And Facebook's algorithms don't show followers every post from the pages they follow. So, even though 70 percent of users log on at least once a day, if you aren't posting frequently, chances are many of your followers and others who might be reached are missing your posts, because you posted at noon Monday, and by the time they checked in Tuesday morning, your updates were buried beneath thousands of others.
While some times of the day and days of the week have been shown to get more interaction (check out this infographic for suggested "best times"), simply ensuring you keep a steady flow of posts — two to three each day — increases your exposure.
2. Not posting the right content
Everyone loves cute cat memes, right? But that doesn't mean you should be posting them on your healthcare practice's Facebook page, at least not on a regular basis. Entertaining content can be a nice addition, especially if you can tie it into your page or a theme (picture a cat with sunglasses, with a message about the importance of protecting eyes from UV damage), but it shouldn't be the bulk of your content.
Instead, focus on the content patients look for from their provider: educational content about preventive health, inspirational content encouraging healthy habits, and tips for living with chronic conditions. Just make sure you go beyond all-text, all the time.
Facebook posts with images garner 2.3 times the engagement as those without, so include high-quality infographics, video links that show a preview in the post, or standard image headings for posts based recurring themes such as breast cancer awareness or diabetes management.
3. Not giving instructions on how to engage
Simply posting isn't enough to see optimum results from your healthcare practice's Facebook page. You want it to be more than a billboard — social media is meant to be interactive. It needs to be, you guessed it, social.
Social media is most effective as a way of growing awareness of your business when your established followers interact with your posts by "liking" or reacting, commenting or sharing them, causing that interaction to appear in the news feeds of their friends, expanding your digital reach. We would like to think that all of your social media followers will love your practice and your content so much that they automatically share everything you post, but in reality, we know that people need a little push.
Sometimes you need to tell them exactly what it is you want them to do.
Here are a few examples of way to encourage engagement on your Facebook posts, images and links:
Ask a question, but don't make it complex. "Do you agree with...?" "Would you rather...?" "Have you ever...?" "What is your favorite …?" These are all a strong start to engaging posts Facebook users will actually take the time to answer.

Make it fun and invite them to respond to a light-hearted question with a gif.

Suggest that they share posts about events, recipes, or other information their friends would find useful.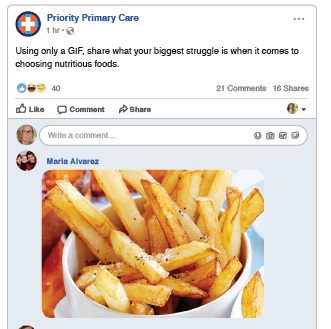 4. Not planning out content
Many healthcare providers operate independently as small businesses, meaning they often juggle multiple roles: provider, business owner and manager, marketing coordinator, and more. Even if a staff member, rather than the provider, has responsibility for marketing, it is probably just one of many roles. That means that there isn't much time for planning out Facebook content, resulting in haphazard and inconsistent posting.
Unfortunately, that can be not just unproductive in terms of driving awareness (see point number one about posting frequency), but even counterproductive if the types of content posted don't match your desired image or provide the information that can actually help bring patients into your office.
It is essential that content be planned to create a consistent presence that makes sense to your patients and other audiences. That means developing content that fits the season (recognizing awareness events such as National Heart Month or Give Kids A Smile Day, promoting flu shots in the fall and winter, or reminding parents to schedule sports physicals in the summer to be ready for fall athletic seasons).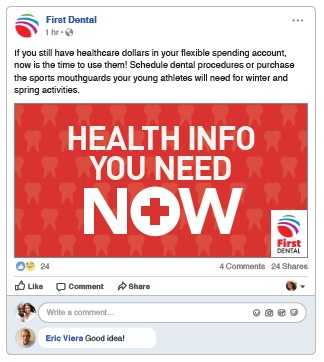 Having a complete calendar in advance, with monthly themes and a list of the types of posts you want to create, eases the crunch of coming up with new ideas from scratch each day.
5. Not monitoring and responding
This mistake goes back to the idea of social media being interactive. You want your audience to engage with your Facebook page and posts, but that means you need to be engaged as well.
Monitor your Facebook page daily (or assign a member of your staff to do so) to respond to your followers if they ask questions, post a review, have a complaint or send a direct message through Facebook Messenger. Responding quickly and positively to thank them, or to address concerns, is an important step in fostering patient engagement and patient satisfaction.
Are you struggling with any of these challenges with your current Facebook strategy? Are they roadblocks that are keeping you from jumping in to see how a Facebook page could benefit your practice? There are solutions.
Download Why You Need Facebook for Healthcare Providers to learn about the solution we have developed to help providers like you overcome challenges surrounding calendar and content development, post scheduling, and generating engagement.