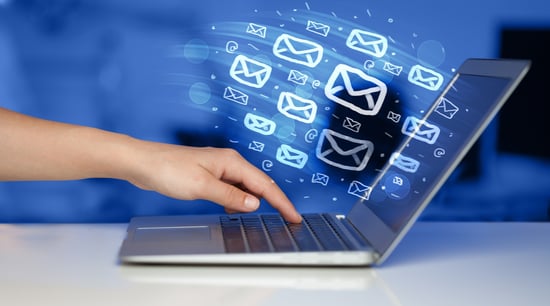 Emails are an essential part of your inbound marketing lead nurturing system. It is those automated emails, triggered when someone converts into a lead on your website, that provide you the advantage of a quick response and continued relevant communication.
Lead nurturing emails already get 4 to 10 times the response rate of standalone email blasts, but you can improve your open rates even more by being certain to optimize your lead nurturing email subject lines for the best engagement possible. Find more benefits to lead nurturing here.
Need to start your lead nurturing efforts from scratch? Find all the basics you need in An Introduction to Lead Nurturing.
3 keys to remember:
1. Keep it clear and direct
Think about how many emails drop into your inbox every day. Dozens? Hundreds? More?
It is no different for your leads. They don't have time, or won't take the time, to try to decipher a cryptic subject line.
Your subject line should tell recipients exactly what they are going to get. Be as specific as possible.
Good: Grilling Essentials Ebook - Our Gift to You
Not so good: Want to improve your Memorial Day cookout?
2. Create a sense of urgency
Write a subject line that entices your reader to open and the email now. Not to leave it for later.
MarketingProfs detailed a report by Alesta that identified the top 10 performing words in email subject lines. Three were words that created a sense of urgency: "bulletin," "breaking," and "order today."
Good: Best-ever Picnic Recipes Cookbook - Order Today!
Not so good: Get Memorial Day recipes for the family
3. Put the most important words first
Reports say that more than 55 percent of email is now opened on mobile devices, with the figure skewing much higher for younger email users. (Source)That means that it is absolutely essential to put the "meat" of your email subject line in the first few words, because most mobile email apps show between 30 and 40 characters of the email subject lines in the preview panel, when the device is held vertically. That means you need to put the most important words first.
That doesn't leave much room for extraneous words.
Good: Everything You Need to Know to Get Your Grill Ready for Summer
Not so good: Is Your Grill Summer-Ready? Everything You Need to Know
Top words to include in your lead nurturing email subject lines
The blog post from MarketingProfs includes the 10 words most associated with the highest levels of engagement. Some of them are well-suited to lead nurturing emails.
"Thank you or thanks" — A website visitor just provided you with contact information in order to access an offer on your site. That is something worth thanking them for. "Thank you" had the top score in the report; "thanks" ranked fourth among the 300 most common words and phrases.
Example: Thanks for joining our team!
"Monthly" — If you have a regular (maybe, monthly?) update or newsletter to provide to leads in your system, consider making it clear in the subject line.
Example: Your monthly tips for marketing success
"Bulletin" — As with "monthly," "bulletin" lets readers know this is continuing informational content without using the words mentioned below that make emails sound like work.
Example: Blogging Bulletin: Top Tips for Your Marketing Success
Words to avoid in email subject lines
The report also identified the 10 worst words in terms of email engagement, most of which make the emails sound like work. Even if you have a serious topic, think about using words that are more enticing and engaging.
Try to avoid:
"Journal" — Use "bulletin" instead.

"Forecast" — Try "looking ahead."

"Training" — Substitute "growth opportunity."

"Whitepaper" — "Expert advice" sounds more positive.

"Learn" — Use "master" instead.

"Intelligence" — How about "latest research?"

"Report" — Try "new data."

"Industry" — Be more specific by using terms such as healthcare, publishing, manufacturing, real estate, etc.

"Early bird" — Substitute "Be the first."

"Subscription" — Use "Join other readers."
Your lead nurturing efforts depend on successful email engagement to continue to provide leads with offers that will move them through the sales funnel and toward a sale. Those emails will only be effective in the subject line catches their interest and causes them to open and read the email.
What subject lines have you found to be most effective in your own lead nurturing emails or other email campaigns?
Find more ways to fine tune the details of your lead nurturing efforts in our free ebook: Introduction to Lead Nurturing.