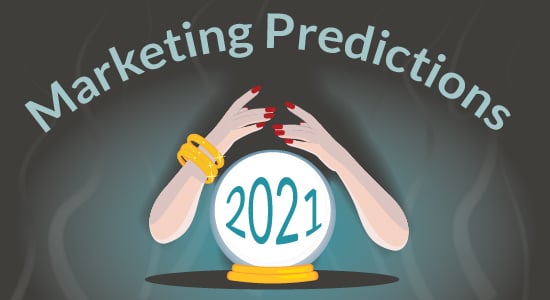 As 2020 closed out what became a very unusual year in business, marketing and life in general, Pan Communications asked a number of CMOs and marketing leaders to weigh in one their predictions for 2021.
The key takeaways from their surveys (with more detailed insights shared in the infographic below) were:
Marketers need to focus on empathy and logic.
Lead generation will require creativity as some longtime standard channels lose value.
Take a stance (or take a position not to be political).
Dig up the data you need.
First, marketing leaders note that the impact of a global pandemic, which wreaked havoc on personal and business lives, habits and confidence, means marketers need to lead with empathy in order to connect with customers and prospects. "We need to shift away from talking to people's heads and instead start to reach people's hearts," said Simon Mouyal, chief marketing officer at athenahealth.
That need for empathy may mean it is time to revisit your buyer personas. But rather than approaching it from a removed, academic standpoint, remember that while the persona is fictional, there are real people behind those pain points and challenges. Your marketing needs to speak to the person on an emotional level, not just a logical approach.
When it comes to lead generation, ever-increasing advertising costs, coupled with the loss of large-scale in-person events that is anticipated to continue for some time yet, means finding new cost-effective ways of reaching prospects.
Shama Hyder, CEO and founder of Zen Media, told Pan Communications "marketers will realize that earned media is more important than ever before in increasing credibility and closing sales." She cites B2B influencer marketing, but earned media opportunities and credibility can also be found through placing bylined articles with industry media to establish thought leadership authority in the field.
The CMOs also noted how 2020's social justice focus in the wake of a summer of protests pushed many companies to publicly identify their values (or take the stance of remaining staunchly apolitical). They predicted that the public would continue to expect companies to take stands, and that companies would do so. It wasn't long into 2021 when this prediction was proven correct, as shortly after a Jan. 6 protest ended with armed rioters breaking into the U.S. Capitol while Congress was in session, several major businesses announced decisions to sever ties with the Trump Organization and then-President Donald Trump, citing concerns that he had incited the violence.
Finally, data was named as an essential element in marketing decision making and messaging, despite the earlier assertions of emotion trumping logic. They cited two distinct types of data: the data that proves marketing's importance to the business's success, and the data upon which engaging marketing messaging can be built.
Read on below for the insights Pan Communications shared from their CMO Predictions campaign.

Are you seeing these predictions come to life in your 2021 marketing strategy or those of other companies? Do you expect them to continue beyond 2021 as a "new normal" or will our marketing priorities revert to the logic-based messaging of before?
Compare these predictions, and what you are experiencing now, to the data released last year about what was then the State of Content Marketing in this report from surveys conducted by our partners at HubSpot.
If finding the right ways to address customer needs with empathy, or needing to harness the power of earned media, is beyond your current in-house team's scope, let's talk. JONES has long leaned on compelling, emotional content and combining bylined articles and other earned media with traditional owned and paid channels to maximize exposure and credibility. You can schedule a time on my calendar for a no-obligation consultation.