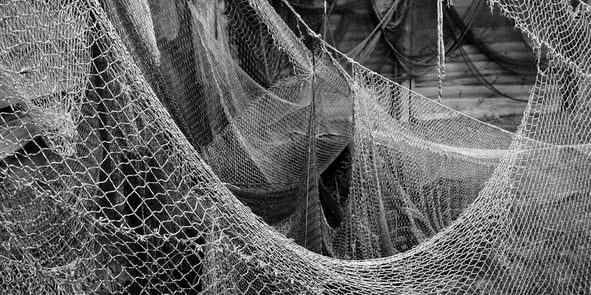 Holes aren't good. You wouldn't want a hole in your socks, your bucket, or your car tire. And definitely not in a fishing net. You don't want a hole in your inbound content strategy either. But unlike those others, content holes are harder to see and identify, unless you are diligently tracking and checking metrics.
Metrics Make Sense
Two of the key steps in the JONES marketing methodology are Analyze and Do The Math. While we may list Do The Math first, our methodology works as a cycle — once you have results to analyze, you go back to the beginning and do the math again. Why? Because those results guide your efforts to do things better the next time.
Search engine optimization naturally lends itself to tracking and analyzing numbers. There are plenty of them to monitor:
Keyword performance & rankings

Organic search traffic

Branded vs. non-branded search traffic

Unique search terms

Inbound links

Conversion rates from organic search
All of these can, and should, be regularly tracked in order to get a feel for how your content — blog posts, webpage copy, downloadable offers, social media, and more — functions in the broader scope of your overall marketing goals. Knowing your current numbers and how people find your website can help you establish benchmarks and target the individual keywords that generate the most returns or that need more SEO mojo to support your strategy.
But today I want to talk about a metric that can show you where leads may be falling right through your SEO net.
Finding Holes In Your Current Content
If you are utilizing closed-loop marketing, you will have the detailed reports to show you precisely how visitors found your website and whether those visits resulted in conversion to a lead. You can learn as much about how to improve from those terms that don't convert as you learn from those that do.
See that final metric on the list above? Conversion rates from organic search?
When you want to find out what keywords and search terms are giving you great results, it can tell you. But it can also tell you where leads may be falling through the cracks.
If a search term is generating a lot of organic traffic to your website, but that traffic fails to convert into leads, you have holes in your content. It indicates that you aren't giving visitors what they came to find, because the content you have is insufficient or maybe even nonexistent.
Keyword Tools to Use
There are a number of keyword tools available that can help you identify those search terms that are bringing visitors to your site, but then failing to convert them into leads.
As a certified HubSpot partner, JONES uses the built-in keyword tool, which provides dozens of data points and tools for refining SEO efforts. In this case, we simply need to compare the number of visits to leads generated by each keyword. If a specific keyword or long-tail keyword is performing well in bringing visitors to your site, but has a lower-than-expected number of leads associated with it, that tells you the content isn't there to support what your visitors are hoping to find.
Similar metrics can be teased out using Google Analytics or other services such as WordStream.
Time to fill in the holes
Now that you've identified these conversion opportunities — because that's really what these "holes" are — determine how to take advantage of them and start catching the visitors who have been falling through.
Inventory the content you do have that applies to the keywords in question and try to determine why it isn't converting. Is it incomplete or outdated? Is it too product-centric, or applicable only to leads nearing the end of the buying cycle, rather than those in the information-gathering stage? Or do you simply not have any content offers for this topic, though you use those keywords in blogs and elsewhere enough to rank high in searches and bring visitors in?
Plan out content and offers that provide what searchers are looking for when they reach your site through those keywords. There are plenty of options in planning a content strategy that reaches all stages of the sales funnel.
You might write more blog posts about that keyword, or perhaps offer an ebook on the subject. Create usable templates or worksheets, or even offer a free trial or discount based on what visitors are searching for - you want them to find it on your site.
In turning SEO search and conversion statistics into an improved content strategy, we've just barely scratched the surface of what marketing analytics can do. Our ebook Unlock Your Marketing ROI with Analytics takes you through steps for using your marketing metrics to improve landing pages, social media, email, lead nurturing and blogging, as well as more aspects of SEO. Download it and start mending holes in other parts of your marketing strategy today.