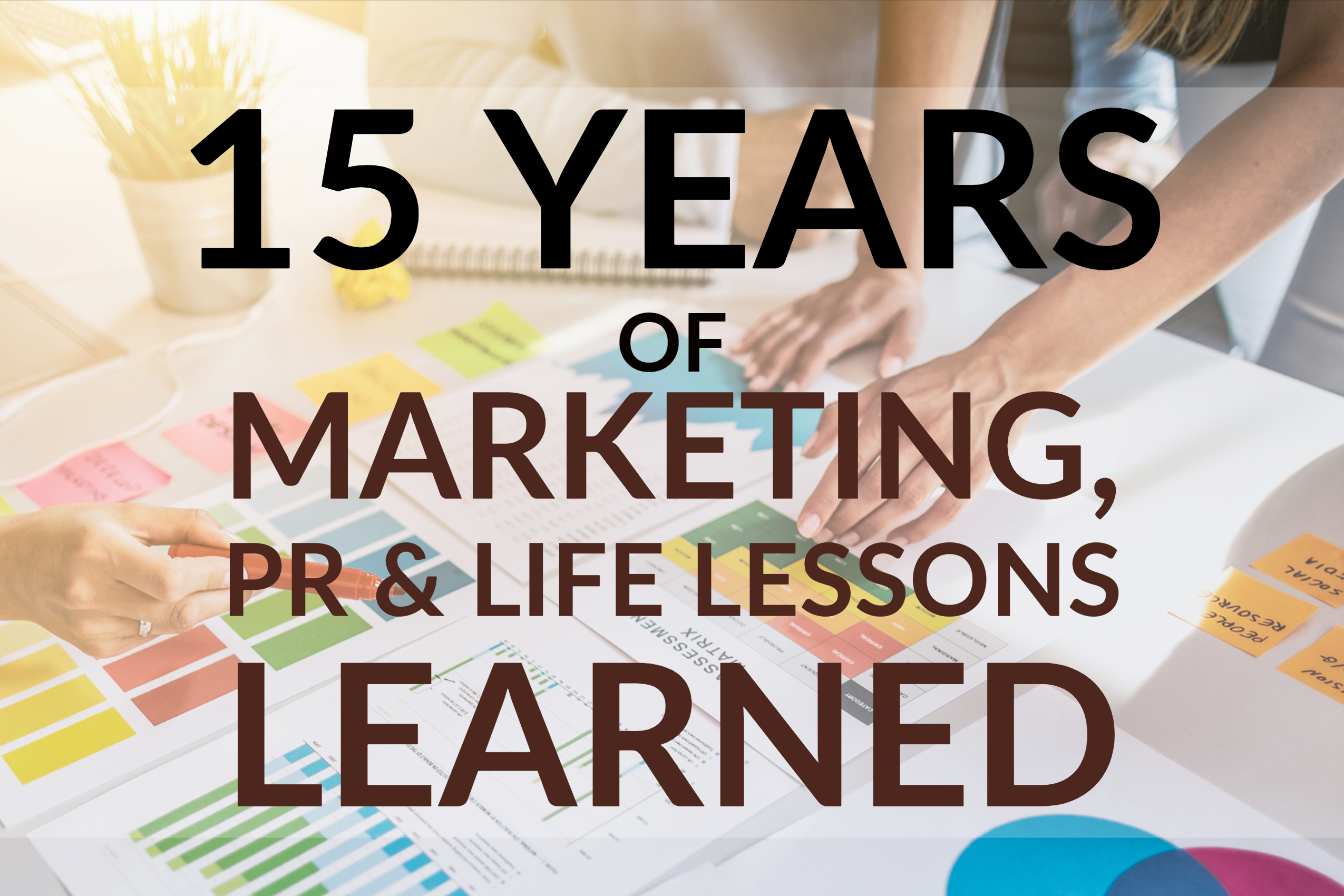 2019 marks 15 years since I took the leap and founded the first iteration of JONES.
Since 2004, we've seen the introduction and nearly universal adoption of Facebook, YouTube and smartphones — and all the changes in buyer behavior that go along with them — which has changed the marketing and PR field tremendously.
Marketing has had to combat a constantly growing and changing universe of content and learn to utilize social media, optimize for organic SEO, and rethink the design and purpose of websites. Websites are no longer simply online brochures, but are instead content hubs that use blogs and inbound marketing to capture and nurture sales leads. The increasing amount of information available as a result of inbound marketing and digital data collection has also inspired an interest in data-driven marketing strategies that directly tie results to specific marketing campaigns and tactics.
Public relations is changing, too. Like marketing, PR is now more data-driven with a greater emphasis on media analysis. Multimedia is also a driving force in public relations, with images, infographics and video — optimized for social media and other digital channels — essential pieces of a successful PR strategy. Additionally, the media industry has shifted from publishing primarily print publications to producing mainly online, digital publications. And, in the Internet world where anyone can publish anything, it is more important than ever to secure media coverage from credible publications.
Along with change has come challenges. The recession of 2008 meant contractions in many markets and industries taking steps to reduce costs. In some cases, those contractions came at the expense of marketing and PR budgets, and everyone — both corporate communications departments and agencies — had to learn how to be more effective and efficient in order to survive.
JONES did survive, and many of the lessons that I learned along the way, and now apply to our work and business, are timeless.
Over the next few months, I'm going to take some time to reflect on the key lessons I've learned, and highlight some of our work with businesses of all sizes in a wide range of industries. But first, a look at where we've been:
JONES timeline: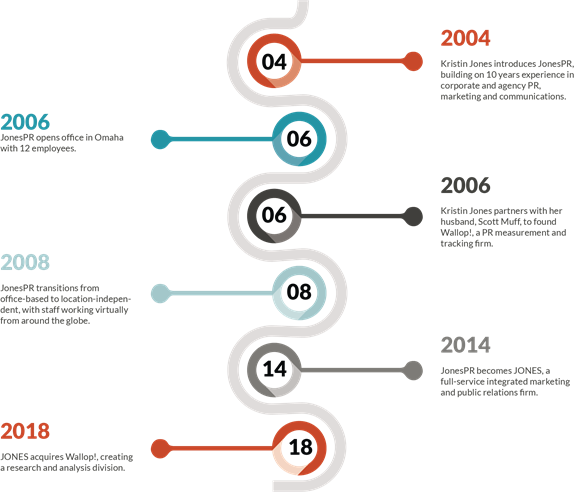 2004: With nearly 10 years of experience in public relations and media relations, in both corporate and agency roles, I decided to venture out on my own and start JonesPR. I started out as a single-person agency, but with contractors available to fill in key roles. For the first few years, in addition to bringing in new accounts, I continued to work on contract for my previous employer, global PR agency Porter Novelli, serving Silicon Valley accounts through itsoffices in San Francisco and San Jose.
2006: As my contracts grew, JonesPR opened an office in Omaha, adding 12 employees to the staff in addition to contracted professionals in graphic design, web development, media relations, and writing.
2006: Together with my husband, Scott Muff, who was also a partner in JonesPR, I founded Wallop!, a PR measurement and tracking firm, which served more than 100 clients nationwide. Wallop! was on the ground floor as an early adopter of media monitoring, analysis and analytics, which are still key elements of my marketing and PR methodology today.
2008: As the nation entered the recession, and many PR and marketing agencies struggled to stay above water, we transitioned JonesPR from an office-based agency to location-independent, cutting overhead costs and helping us weather the storm. The move would eventually allow my family and I to work from anywhere — our favorite home in Lake of the Ozarks, Missouri, near our family in Nebraska, or from any timeshare or condo around the globe during travels for business or family. This also shifted our staff to working virtually, providing them with flexibility, but requiring close attention to hiring only the best, most motivated professionals. (Watch for an entire article on this topic coming later this year.)
2014: JonesPR became simply JONES — with a focus on not only PR but complete marketing, public relations and communications solutions for our clients, understanding that all content needs to work together, and that when used correctly can drive online lead generation and sales through inbound marketing.
2018: JONES acquired Wallop!, creating a research and analysis division that focuses on the areas of PR measurement, media analysis, marketing measurement, marketing audits, and market research including consumer surveys.
JONES has built a reputation for delivering award-winning PR and marketing strategies that deliver incredible results. Our team is highly skilled at developing full-funnel content marketing strategies based on content development and inbound marketing campaigns that attract and engage prospects and convert them into customers. We expect to see this portion of our business continue to expand.
We have also built a strong digital marketing practice supporting small businesses that rely on social media to attract new customers and encourage existing customers to purchase additional products and services. We expect this business to grow exponentially during the next 10 years.
Our ongoing success as an agency relies on continuing to apply the lessons I've learned during the last 15 years to constantly adapt and grow JONES.
I'm looking forward to sharing more with you during the next few months. However, here is a sneak peek at the insights I have gained, many of which are essential to success for any business.
8 Lessons Learned In 15 Years As A Marketing & PR Agency Owner:
1. You can make anything interesting if you have a curious mind. Engaging content about printer ink? Financial software? Text notifications? Yes, it can be done.
2. When you build great relationships, your clients will stick with you and your contacts will take you with them when they move on to other jobs. Let's talk about how to build those relationships.
3. Ask the right questions so that you know what your clients want to achieve, set well-defined measurable goals, and then deliver results that match expectations. Make sure everyone knows what we are working toward.
4. Hire good people, keep them happy, and don't be afraid to quickly let go of those who aren't a good fit for you and your clients.
5. Two words: time tracking. It isn't just for billing; it is also the key to accurate proposals and plans and can prevent you from over-promising, over-servicing accounts, and burning out staff.
6. Integrate marketing and PR, rather than treating them as separate entities. The public doesn't see them as different. AND, don't skip the "data-work" — measure and report results and make regular use of audits and media analysis to guide strategy development.
7. Great content is essential, and research-based content wins every time.
8. Our job is to make our clients look good; our moral code means that integrity is everything.
Over the course of the next year, I plan to dig into each of these lessons a little deeper and share with you how I learned that lesson (some of them were learned the hard way — through financial pain or failure), how it impacts my approach to my work now, and how you can put it to work for yourself or your brands.
If you want to be sure you see all eight lessons, plus my look back at highlights from my work with companies in seven different industries (15 posts for 15 years), be sure to subscribe to the Inbound Accelerator blog. As a bonus, you'll also see all of our regular posts, including tips on social media marketing, video marketing, business blogging, and other elements involved in creating comprehensive integrated marketing and PR campaigns.