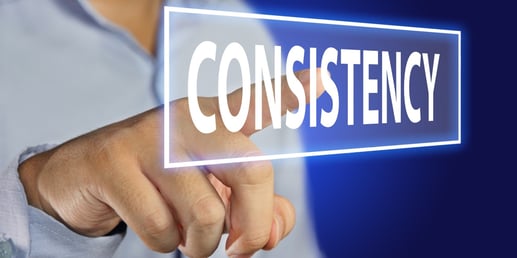 It seems like everyone has a blog these days. Your business, your favorite restaurant, the newspaper movie critic, maybe even your plumber and your 26-year-old nephew who lives for online role-play games and delivers pizza while living in his grandparents' basement. But how many of those blogs are updated, effective and achieving the goals they were meant to achieve?
Chances are, not many. One of the biggest culprits is publishing inconsistently or infrequently.
I get it, really, I do. Writing a blog post every day (or even every week) can be a struggle. But it's worth the effort to establish a schedule to blog regularly, with enough frequency to keep readers connected, and then stick with it.
What difference does it make?
The difference for businesses between blogging daily (or close to it) and only blogging a few times a month is this:
Why?
One reason is in sheer numbers. More blog posts mean more indexed pages on your website. That gives search engines more opportunities to find your website when users search for information using your keywords. In fact, both B2B and B2C companies with 100 to 200 pages generate 2.5 times more leads than their counterparts with 50 or fewer webpages. (Click to tweet!)
A consistent blog publishing schedule also lets your readers know what to expect. For instance, if they know you publish a quick tip every Monday (like this!) or an infographic every Friday (look here!) they may be more likely to check in to see what you have to offer.
And if they know that you provide a longer, informational blog post that will help them do or learn something they want to do each week, they will be more likely to subscribe for updates. As they regularly read your blog, they become comfortable with your business and come to rely on your expertise and skill. That comfort level leads to more sales down the road.
Where do I start?
Of course, deciding to increase your blogging frequency and consistency is just the first step. Actually getting it done starts with three basic steps:
1. Choose a frequency.
I provide a new blog post five days a week, but it isn't easy. Many businesses start with once a week. Weekly blog posts provide enough frequency to stay in contact with your readers and customers, without requiring a huge time commitment from you and your staff. Still, more is better. Reports from more than 7,000 HubSpot customers show that increasing from 6-8 blogs per month to 9-15 monthly posts nearly doubles web traffic for B2C companies.
2. Commit.
Make your blog a part of your set marketing strategy — not an "add-on" or "if there's time" afterthought. Include it in strategy discussions, including how blogging and your other marketing tactics can support one another.
3. Create a calendar, including assignments.
Put into writing when you will publish blog posts, what the topics will be, and who will write each post. It doesn't have to be a one-man or -woman show, though having one person in charge of editing, posting, and following up on comments will improve overall consistency. Here is the calendar template we use at JONES. Download it, customize a bit to fit your needs, and use it keep track of your blog and how it interacts with other content on your website.
How do I find ideas?
Once you've sketched out a blogging calendar, it's time to refine your topics and the style or structure you will use for your posts. You may start with a few keywords or basic topics you'd like to touch on, but then the task is to expand them into complete blog posts.
Here are few places to look for inspiration:
1. Repurpose existing material
You may already have a library of content within your organization that can be used as the basis for blog posts. We talked about four different places to find ideas you can recycle earlier this year. There really is no need to start from scratch every time.
2. Ask others in the company
Chances are there are people in your company who have more direct contact with customers and prospects than you do. They are your sales representatives, customer care staff, and others who field questions, concerns and complaints on a daily basis. Ask them what information prospects and customers are looking for. What questions do they ask that you can answer in your blog posts?
3. Use these templates to get started
If you have the ideas, but need a little more guidance — or want to provide a solid structure for rookie writers to start with — you can use our templates which guide writers step-by-step through creating five different styles of blog posts: curated, how-to, list-based, newsjacking or slide share. Download the templates here.
Now you are set to increase your blogging frequency and consistency to boost traffic and leads. After all, that's why you started blogging in the first place.
With that error corrected, check out our 15 Business Blogging Mistakes to see what other easy fixes you can make to improve your blog and increase traffic, lead generation and sales.