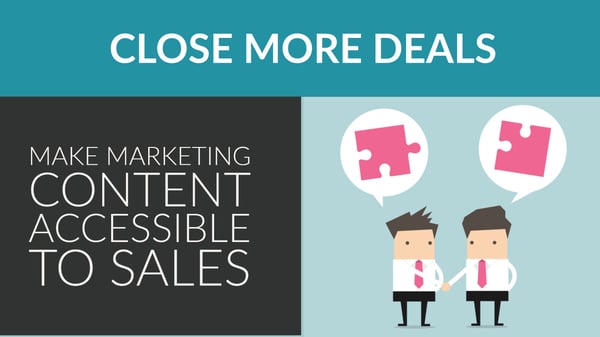 Sales and marketing teams may still disagree on who provides the highest quality leads (check out the stats in most recent State of Inbound report), but that shouldn't keep the two departments from working together to convert all leads—both marketing-generated leads and sales-initiated leads—into customers.
One of the key ways marketing can support the efforts of the sales team is through content, and sales should never overlook the potential of marketing content to further relationships with prospects, leads and established customers.
To figure out how to best foster a sharing of content between department, first answer these questions about the relationship between your marketing and sales teams in relationship to content:
1. Does your sales team know what content marketing is creating?
A: They don't have a clue. Salespeople never bother to read the blog and some don't even follow corporate social media accounts. And marketing doesn't make any efforts to keep sales up to date on new reports, media mentions or videos, either.
B: Sometimes. Some salespeople skim the blog and occasionally send links to their leads and customers, and marketing shares their current focus during inter-departmental meetings each quarter, but more could be done.
C: Of course! Marketing sends weekly digests to sales team members with a quick synopsis of recent blog posts (and who the target personas are). Sales teams keep an inventory of available case studies, reports, videos and other assets so they can quickly identify which ones to use in providing further information to leads.
Which of these sounds familiar?
Maximizing the sales team's use of existing marketing content requires a joint effort. Sales needs to understand that many buyers want more content before making a decision. Research has shown that decisions makers typically access five pieces of content before making a purchase decision (Source).
Tip: Close more deals by giving sales access to marketing content.
Marketing can enable sales, and help prove their contribution to closing sales, by providing weekly digests to sales team members of what has been published on the company blog. This makes it simpler for sales to determine which posts might be worth sending to specific leads with a personal note.
It is also helpful for one of the departments to maintain a searchable database, or even a shared spreadsheet, listing assets such as ebooks, case studies, videos, checklists, whitepapers and reports that can easily be searched by topic, persona, and product or service.
This way, when a lead wants to know more about how a specific product works or what other customers have experienced with your service, the sales rep has a link at his or her fingertips to send a how-to video, case study or testimonial from your established library of resources. (See our extensive library of inbound marketing resources here.)
2. Does your marketing team know what content sales needs?
A: What do you mean? We create marketing content not sales materials.
B: We talk about overall campaigns and strategies during a joint meeting twice a year, so we know their overall targets and priorities, but that's about it.
C: We maintain an open dialogue with sales, and they are quick to provide us feedback about the objections and questions they receive from leads. We use that feedback for guidance when creating future content, and have even created items specifically to address common objections.
Again, maximizing the use of content in nurturing leads and closing sales is a two-way street.
Marketing can sometimes be insulated from the day-to-day communications sales reps have with their leads and customers, and may not know what is causing leads to hesitate or specifically what information is missing in the decision-making process. Sales, however, is on the front lines, actually talking with leads.
This means that sales needs to relay what they hear to marketing, and marketing needs to act on it.
This could be as simple as sales learning that prospects tend to equate their brand only with Product A, not realizing they also offer Product B. This would be a sign that marketing needs to increase the visibility of Product B and how it fits with the company's brand.
Or sales requests could be much more specific, such as needing a how-to video regarding Service C, because leads are often confused about how it works.
When sales and marketing work together to create the right kind of content and maximize its use throughout the buyer's journey, the end result is positive for both: more closed sales and greater ROI on marketing's investment in content.
A joint approach to content creation and implementation isn't the only way of improving the relationship between marketing and sales to improve overall outcomes.
Find more details on things like defining a marketing-qualified lead, setting lead generation and sales closure goals based on data, and sharing lead intelligence in The Complete Guide to Unifying Marketing & Sales.