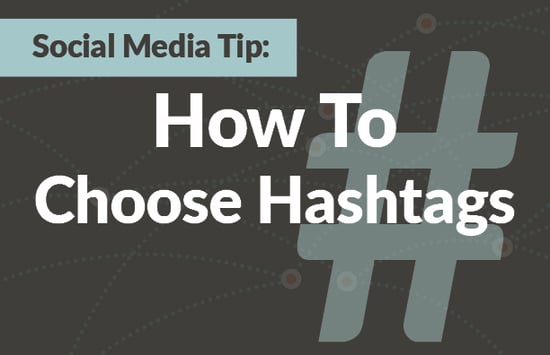 One of the biggest benefits of creating and implementing social media content as part of an integrated marketing campaign is the opportunity to reach new audiences who discover your content and your brand organically.
A primary way social media users discover content that interests them is by following hashtags that speak to their interests. This could be a generic #MotivationMonday or something specific and business-oriented for those using social media for business purposes such as #leanmanufacturing. Businesses, both B2C and B2B can use hashtags to extend their social media content reach to new audiences by carefully selecting and using hashtags that will appeal to their target market.
(Learn more about all things hashtag here: Your Business Hashtag How-To Guide. It's our complete guide to choosing and using hashtags for business.)
In choosing what hashtags to use for your brand and for each specific post on each specific social media channel, you will want to consider general use hashtags (e.g. #ThrowbackThursday), industry or product relevant hashtags (e.g. #automation) and hashtags specific to your brand and/or campaign, such as #JustDoIt or #ShareACokeChallenge.
Also consider:
Popularity—Lots of followers and potential views will mean lots of competition using the same hashtag. Understand the balance between the two.
Niche markets—Be specific, especially on platforms like Twitter where you will want to limit yourself to one or two hashtags per post.
Trending—Use the latest trending hashtags only if they are relevant to your brand and your content, not to try to game the system.
Customers' lifestyles and interests—Go beyond brand specific to share content, and hashtags, that fit your customers' broader lives.
Location—Hashtags can help narrow your audience and provide more eyes that matter.
Themes—Use the general hashtags to expand your audience when content fits themes like #ThrowbackThursday.
Follow them yourself—Get to know who else is posting in the space you are interested in by following the hashtags you'd like to use.
You may also want to create branded hashtags to use that are specific to your own business and products. For example, in developing complete content marketing campaigns, JONES client Avanti Systems uses social media to share links to its blog posts, webinars and downloadable ebooks and whitepapers. Within those social media posts, it uses industry-specific hashtags such as #printMIS and #automation, along with its own #AskAvanti, which highlights the company's messaging of being a resource for customers to rely on for their print MIS and automation needs.
See how an entire campaign comes together, including the use of hashtags to extend the audience for social media content, by downloading our Creating A Winning Inbound Campaign example and case study.
If you are looking for a partner who understands that social media, by itself, is not a marketing strategy, let's talk. JONES provides full-service marketing assistance, from brand and strategy development to integrated content that crosses the marketing and PR barrier to leverage owned, earned and paid media alike in generating leads and converting leads to sales. You can schedule a time in my calendar for a no-obligation consultation here.