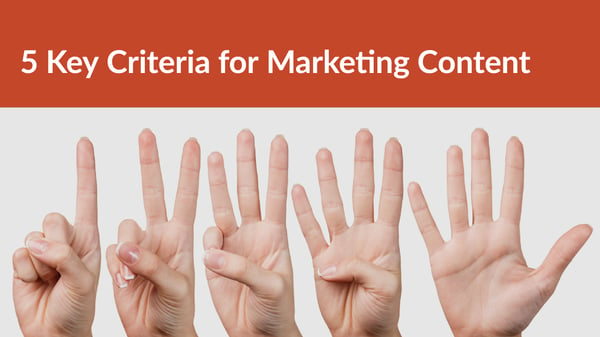 Visual content is the fastest growing portion of marketing content. But in the rush to keep up with the times, don't forget that whether you are developing marketing videos or creating infographics, the same criteria you apply to text-based content still applies.
Quality marketing content — whether words, images or videos — must still meet five key criteria:
1. It tells a story. Your videos and infographics should show a problem being solved or give viewers a character to root for. Video, especially, can be well suited to showing the human side of your product or service.
2. It is useful. Offer a solution, show the steps involved in solving a problem, and educate more than you promote.
3. It is shareable. Videos are the most shared content on Facebook, so make your content something viewers will want to share — interesting, entertaining and/or unique.
4. It is findable. Don't forget to optimize for search. Our partner, HubSpot, offers these tips for optimizing YouTube videos for search.
4. It is technically sound. While smartphones, web apps, and social media plug-ins make it possible for just about anyone to create a video or design an infographic, those are only tools. It still requires expertise to create great videos or graphics. So consider whether you have the in-house experience or need to consider partnering with a freelancer or agency to get the quality you want your brand to project.
Would your current marketing content, videos and infographics get a passing grade? Download our Content Quality Report Card to score your content on the five criteria above or schedule a meeting on my calendar to talk with me, personally, about your content creation needs.