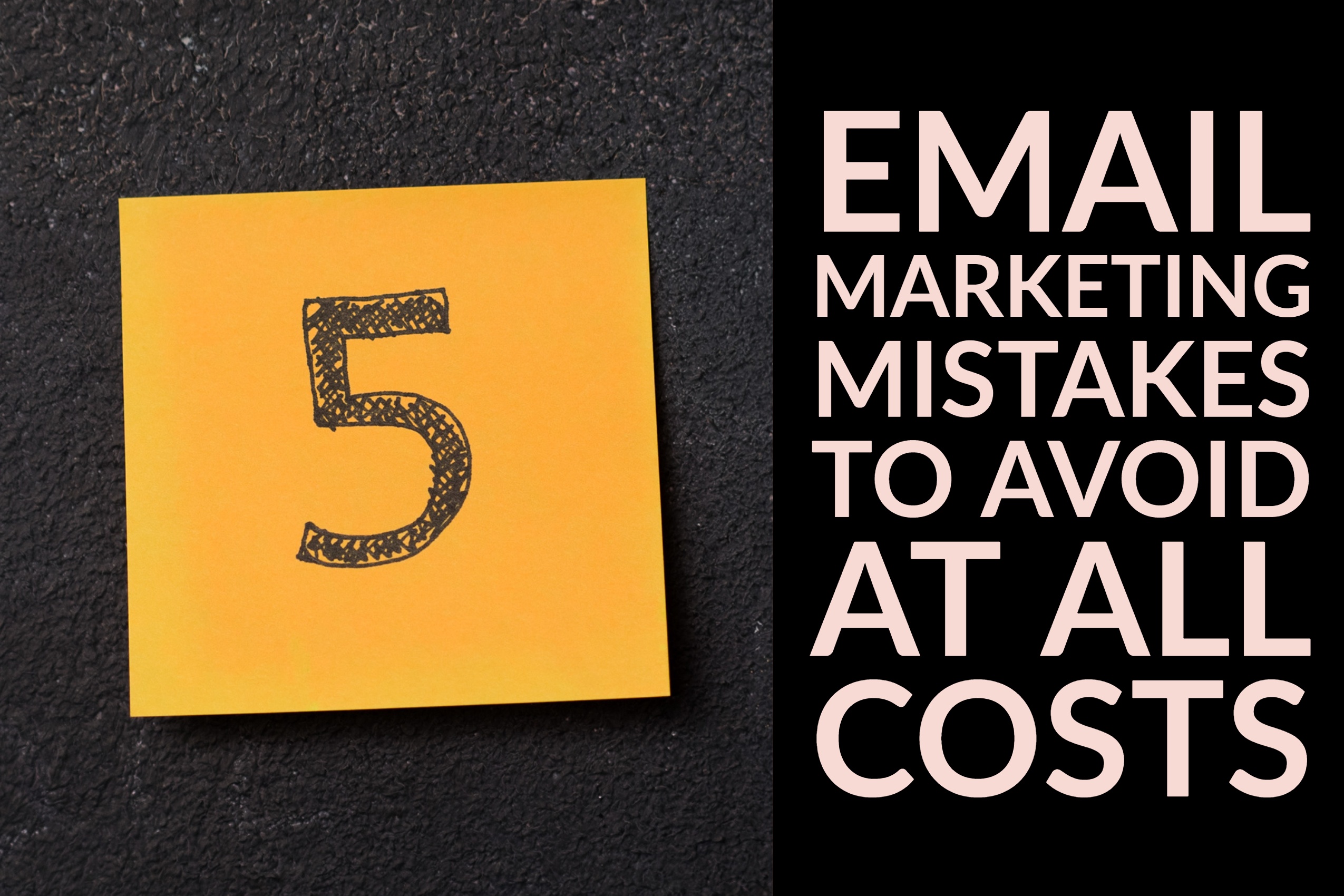 Email is one of the most effective ways of reaching potential customers, especially those who have already connected with your brand and are looking for more from you. In fact, 86 percent of consumers say they would like to receive promotional emails from companies they do business with at least once a month.
But if you aren't careful, those same emails that your contacts and leads say they want to receive can turn toxic.
Avoid these 5 email errors to keep the connection strong.
1. DON'T: Just sell.
Unless your business is an e-retailer, avoid overly sales-focused emails unless they are being set specifically to leads who have shown signs of sales-readiness. And even if you do have an online retail site, don't focus every email on sales. Even adding in a two-sentence tip related to one of your products can give recipients another reason to open your email. For example, a pet supplies e-retailer could include suggestions on how often to bathe a dog or trim its toenails, or a medical spa could include a photo tutorial on proper skincare routines.
DO: Link to useful tools, offers and downloadable assets.
Make your emails even more beneficial to both the recipients and your business by linking from them to tools, offers and downloadable assets on your website. This could be a link to a specific blog post or, at times, a link to gated offers and tools that provide an opportunity for the visitor to convert on your website in a way that enters them into a specific workflow.
Offers could be everything from an on-site calculator that requires a landing page form to access to downloadable content such as ebooks, templates and case studies, or even registration for a free webinar. Whatever the offer, it should be something that benefits the recipient and helps them solve a problem.
2. DON'T: Send random, unrelated emails.
If you have an email address from a prospect or current customer, chances are you have some information about their previous interaction with your brand or website, thanks to closed loop marketing. Don't just send emails about random topics which fail to build on the topics that lead has already expressed interest in.

DO: Relate emails to your contact's interaction with your website.
Lead nurturing emails get 4 to 10 times the response rate of stand-alone email blasts. (Source) One reason for that increased response is that you are building on a recently-established connection. The lead visited your site for a reason and found something there that struck a chord. Now you can build on that relationship.
When your email includes references to the lead's past interaction with your site, you are building in personalization — showing that you are interested in their needs. All you need to do is program your automated lead nurturing workflows with emails that reference the original offer or interaction and offer additional content or assets related to the original interaction.
3. DON'T: Send only awareness level offers.
If you are counting on using lead nurturing emails and other email marketing to drive sales, especially in B2B industries and others with a lengthy sales cycle, it doesn't make sense to only offer top-of-the-funnel content. After all, one key benefit to automated lead nurturing that tracks leads' interaction on your site is the feedback you receive about each lead. That feedback provides signals about where the lead may be in the decision-making process. But to accurately gauge the lead's status, you need to put offers in front of them that signal readiness, rather than simply continuing to offer awareness level content.

DO: Use emails to move leads through the sales funnel.
Targeting users with content relevant to their position in the buying process yields 72 percent higher conversion rates. (Source) Only 1 in 10 visitors who convert into leads on your website may be ready to make a purchase decision immediately, but that is why you are using automated lead nurturing emails — to maintain a connection, offer additional information and tools, and move leads toward a sale.
In order to do so, use a logical pathway, offering increasingly specific materials or offers in your lead nurturing emails to guide leads through the sales funnel. Once a visitor converts into lead on an awareness level offer, such as an introductory level ebook, follow up with additional links to blog posts and then link to an offer for a related webinar, template or tool. After that, move on to an offer that is more directly related to your own services or products, such as a case study or product description video.
By offering a continuum of content that gradually becomes more decision-focused, you can then see when leads access those later offers that indicates they are "warmed up" and may be ready for a qualification call or contact from sales.
4. DON'T: Let your ISP to labeled as a "spammer."
If your email server ends up on a spam list, your emails will be useless because they simply won't get to anyone — they will go directly to "junk" mail. It pays to follow the rules that keep your ISP in the good graces of email filters.

DO: Use opt-in lists and provide essential elements such as a mailing address and an unsubscribe option.
Two main ways you can maintain a strong reputation for your ISP are to only use opt-in email lists — these are email addresses from prospects who have already had some interaction with your company and your website, whether they are former customers, blog subscribers, or have given you their contact information through landing pages or events. When you email someone who has opted in, your emails are more likely to be opened because the prospects already know something about you and at some point have indicated that they want to hear from you.
Another other key rule to remember is to abide by the CAN-SPAM Act, which requires that all marketing emails include an "unsubscribe" option and a mailing address for the company sending the email. These are essential elements in order to keep your emails out of junk and spam folders and to avoid penalties.
You can also turn the "unsubscribe" into a positive way for recipients to tell you more about what they want from you, and to learn why recipients unsubscribe. Include a "manage my preferences" link that will allow them to choose what emails they would still like to receive. For instance, they may still want updates when you add new resources to your online resource library, but don't want the daily blog updates. Or they may choose to receive only a monthly newsletter, but not sales announcements. It is better to keep a restricted connection than the lose the contact completely.
If they do choose to unsubscribe completely, you can ask them to answer a one or two question survey or form to indicate why, which could be valuable in guiding future email marketing decisions.
5. DON'T: Use different messaging in emails than in your other marketing content.
Don't confuse your contacts and customers by trying something completely different in your emails than the rest of your marketing approach. Sticking with consistent branding — in visual imagery, overall tone and specific wording and promotions — maintains a consistent image for your brand. Imagine if a brand like Mountain Dew, which thrives on the idea of extreme activity, sent emails with links to blog posts about home decorating or holiday party hosting, it would strike loyal fans as odd. But links to the top 10 rock climbing sites in the US or interviews with top skateboarders would feel like a natural fit.
DO: Coordinate outbound emails with blog, social media and inbound marketing campaigns.
In addition to simply maintaining your brand image, using consistent messaging throughout emails and other marketing content can amplify the impact of specific campaigns. If your email recipients are already connected to you through your business blog and social media presence, coordinating outbound emails with offers related to your current emphasis and campaigns in those channels just makes sense.
As readers and followers are introduced to specific themes in your blog, you may be piquing their interest in the topic, increasing the likelihood they will want to access the additional content offered through your outbound emails.
Get more information on making the right decisions for your email marketing strategy in our 10-point ebook: Email For Inbound: Do This, Not That.