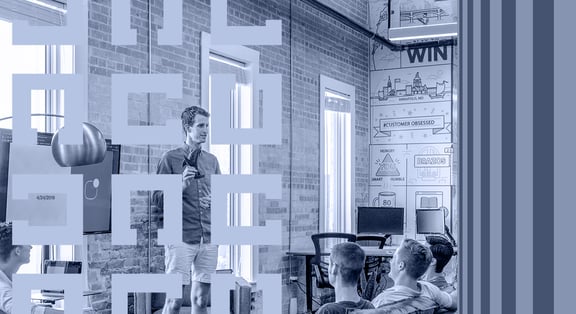 It's time to start your next inbound marketing campaign. How will you fill the top of the funnel?
Awareness level content is designed to attract potential customers or clients to your website by addressing the questions and needs they are searching online.
While B2B buyers gravitate first toward third-party sources for information, more than 1 in 3 say they are willing to consider vendor-authored materials in decision making. The key factor is that they need to view you as a trustworthy source. You gain that trust by keeping awareness level content customer-focused — providing helpful information — rather than product-focused.
DemandGen found that 97 percent of business buyers say they want "prescriptive content" that tells them how to do things better. And 4 in 10 prefer content that is visual or interactive.
What does that mean for your content and campaign planning? Start with these key formats for your awareness level material to draw in prospects and leads and gain their trust.
1. Video: Explainer videos, webinars and native social media video
When 8 in 10 consumers say they would rather watch a video than read text, video should be a no-brainer in your content strategy. The ways of incorporating video range from using the in-app capabilities to use live video in your social media campaigns to creating webinars that can be downloaded or accessed on-demand, or a simple explainer video for your website's home page and other uses, including live events or even to send to prospects via email.
Here are a few reasons to make video one of your content formats:
Two in three B2B buyers in 2022 said they had turned to a webinar for research in the last 12 months.

8 in 10 businesses say an explainer video has helped increase sales.
JONES has helped client Intrado (formerly West) put video to work, basing video content on the findings of the company's original research into how patient engagement impacts health outcomes and healthcare providers' revenue. The healthcare IT company understands that marketing its services requires thinking first about what their clients — and those clients' patients — need.
Check out this explainer video designed to be one of the key awareness phase content pieces in one of West's campaigns.
Learn more about how West and JONES ensure that video content blends seamlessly with the rest of West's inbound marketing campaign content in this post: Secrets For Video Marketing Success: What West & JONES Did Right.
2. Blog posts
A business blog is another basic component of an inbound marketing campaign, and is perfectly suited for presenting awareness level content. By its very nature, a business blog is positioned to be found through search, is accessible without requiring any commitment or contact information, and has the potential to facilitate conversations through the use of comments.
Just as you vary your overall marketing content to include a variety of channels and formats — from social media to blogs, and reports to case studies — your business blog itself should not always be the same. Consider changing up the format of your blog posts to appeal to different interests, learning styles and inclinations.
Click for Five Ways To Write Your Next Blog Post.
The majority of your business blog posts should be focused toward awareness level content because your blog may be one of the first places new prospects encounter and interact with your brand. Set yourself up as a reliable source of information before trying to sell.
3. Social media content
Social media is another channel perfectly situated to be an introduction for your business, reaching prospective customers through either paid promotions targeting specific groups or through your followers' news feeds.
While it is OK (and expected) to use social media to promote special offers, new products and deals, especially for retail brands, be sure to balance the sales-oriented content with helpful, inspiring or entertaining content that builds your brand's identity.
JONES client Serenity Medical Spa uses its Facebook page to share links to news stories and videos from trusted sources that highlight the same products and services offered there, mixed in with humorous posts and memes that set a tone its customers can relate with.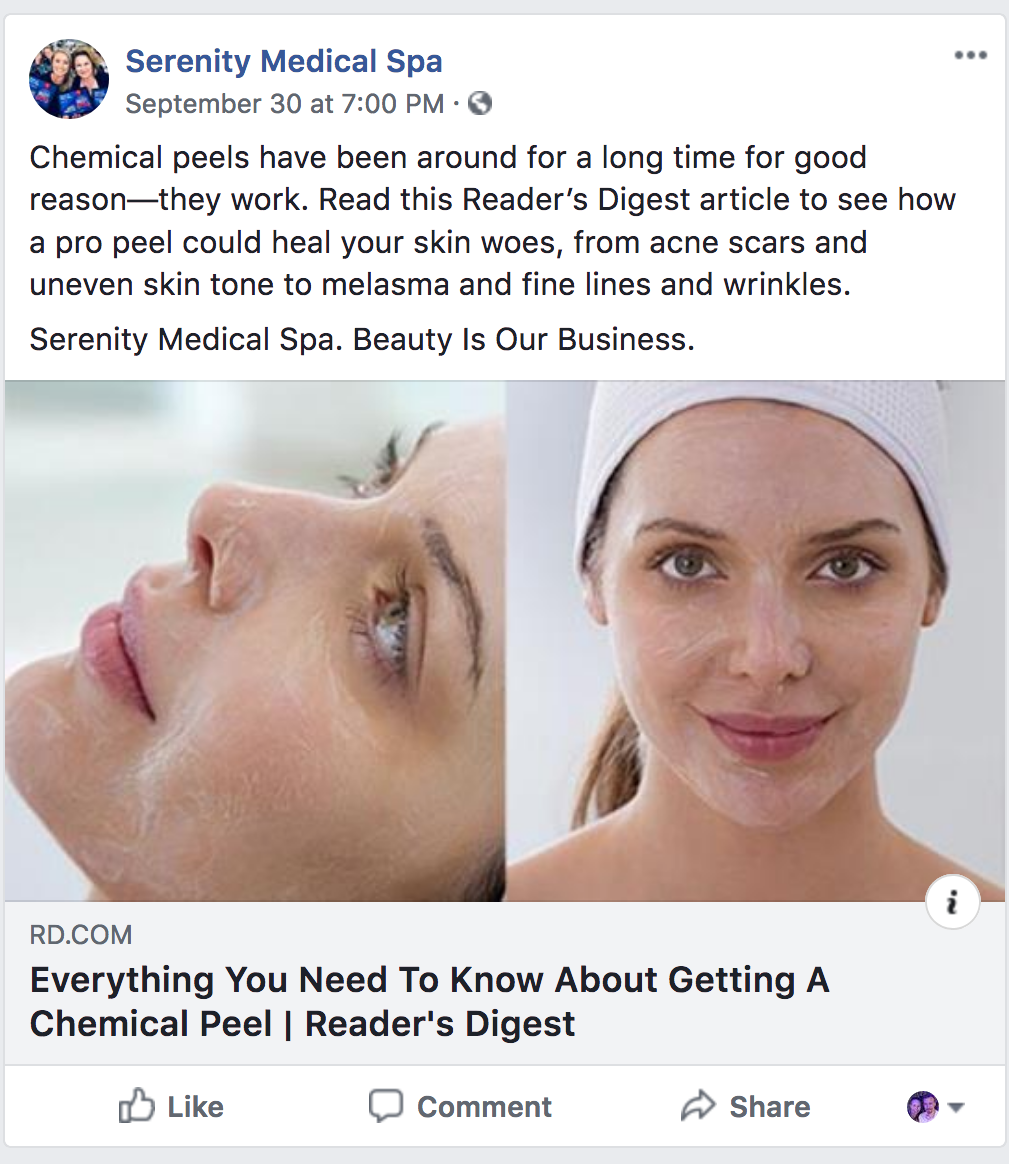 4. Whitepapers and reports
According to a 2022 DemandGen content preferences survey, 55 percent of business buyers have used a whitepaper to research a purchase decision in the last 12 months.
Whitepapers and reports detailing original research can be a great option as awareness level inbound marketing content. The data contained in such reports can provide value to prospects, influencers, and existing customers, and helps to establish your company as a source of reliable information and a leader in your industry.
Intrado's many provider and patient surveys fueled nearly a dozen reports providing information about patient preferences and behavior that could be used by individual providers, healthcare systems, and even larger planning efforts focused on population health trends. The data included in those reports also earned the company dozens of media interviews, mentions and placements in national publications, including USA Today.
Learn more about West's reports in this case study and this blog post:
Client Q&A: How West Leveraged Research Into Compelling Content.
5. Infographics
Infographics catch viewers attention and stick in people's minds. In fact, according to our partner HubSpot, research has shown that when people hear information, they are likely to remember only 10 percent of that information three days later. However, if a relevant image is paired with that same information, people retained 65 percent of the information three days later. (Source)
Infographics can relay a lot of information at a glance, and can be used in a number of channels: social media (Pinterest is a natural), blog posts, media outreach (example), and included within other content such as ebooks, reports and videos.
B2B buyers told the DemandGen 2022 survey that infographics were among the most used content in the early stages of discovery and research.
What makes an infographic great? Read this: 7 Characteristics Of The Best Infographics—In An Infographic.
6. Ebooks
These downloadable electronic files can be the basis for developing a content library of resources for your customers, leads and prospects. They can range from just a few pages covering beginner level material in your field to in-depth documents filled with step-by-step detailed instructions, illustrations or interpretation of statistics and the current state or future of your industry and related fields.
Check out our library of awareness level ebooks in the Learn tab of the Inbound Marketing Learning Library.
7. Lists and statistics
Readers love lists and numbers, as we found when this LinkedIn Publisher post about video marketing suddenly became one of the most popular on my page: 53 Facts & Stats About Marketing Videos.
As awareness level content, lists of statistics, either compiled from other reliable sources or developed through your own original research, can be used in many ways to develop additional content. When included on an easily shareable webpage (either a blog post or a dedicated resource such as HubSpot's Marketing Statistics page), they can also boost your website's SEO power when other content creators or industry influencers share the page or backlink to it as a source for their own writing.
8. Templates and calculators
Straddling the line between awareness content and consideration content, which appeals to leads who are more actively considering their options for a vendor, product or solution, are the templates and calendars.
These content formats go beyond teaching readers or viewers to providing hands-on assistance in actually doing something they want to accomplish.
Banks are experts at providing calculators to help their current customers or prospective customers find answers to questions about what size mortgage they may need, how much interest they will pay on a loan or how much they might save by refinancing. See examples at this page by First National Bank of Omaha.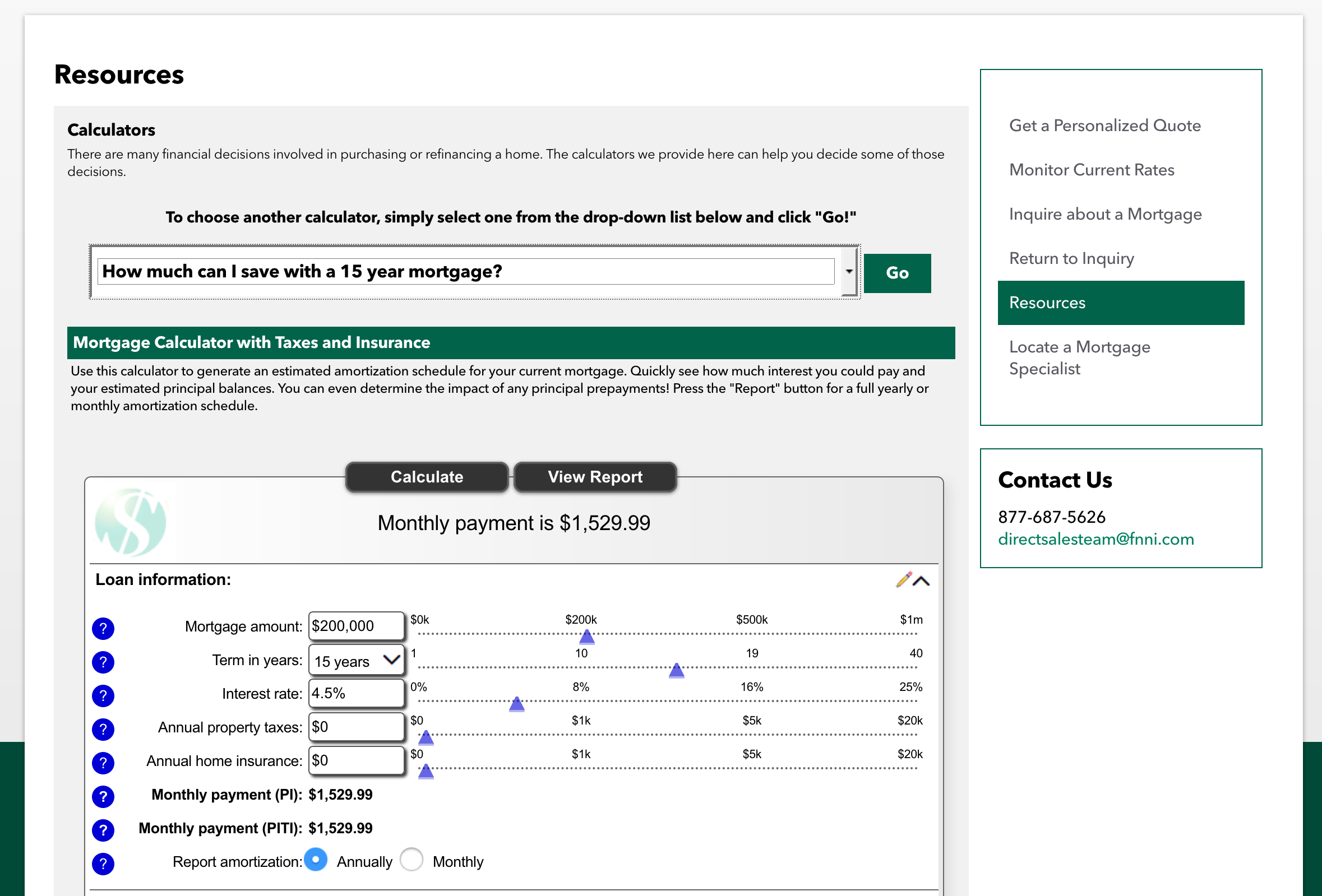 (Side note: Did you know, JONES helped FNBO launch its online services with a social media campaign focused on user-generated content? Check it out.)
9. Case studies
Case studies are another key resource for business buyers, according to that DemandGen study. Forty-four percent said they had used case studies in their mid-stage research.
Case studies can be utilized throughout the sales funnel, from awareness level all the way through to the decision phase, where sales team members may want to employ them by delivering them directly to leads with relevant needs. (Learn more about how sales can maximize the impact of marketing content here.)
Like many types of content, a case study can take a variety of formats, some of which may be more suitable to the awareness level—incorporating humor or entertainment, for example—while the more detailed how-to style of case study may be better for those final stages of the funnel. Check out how Cisco combined humor, beer and compelling customer stories into video case studies.
10. Contributed articles
This staple of public relations strategies crosses over into marketing easily, and when used in conjunction with social media and a business blog can convert visitors into leads as well. Contributed or bylined articles, submitted to industry media, are great ways of building authority and leadership in your field for both your brand and your executives. These articles should never be sales focused, but instead should relay useful information, insights or predictions for your industry and your customers.
By then sharing the articles, once they are published, in business blog posts and on social media, you can use them to bring traffic back to your site to convert into leads.
Bylined articles can also be repurposed for use in many ways throughout your marketing campaigns. Learn more about using these PR basics as marketing tools in How To Get Your CEO Published and our Best Practices Case Study: Bylined Articles.
Awareness level content sets the stage for your marketing program, establishing your brand as a trusted source of information well before a salesperson asks for the order. By focusing top of the funnel content on solving your potential customers' problems, not selling them a product, you begin to build a relationship that can be nurtured and grown. Awareness is just the beginning. Plan out the rest of your inbound marketing campaign with our Campaign Planning Calendar Template and fill in the consideration and decision levels of the sales funnel as well.
Looking for a partner to help you fill the content funnel from top to bottom? Let's talk about how JONES can help. Schedule a time in my calendar here.