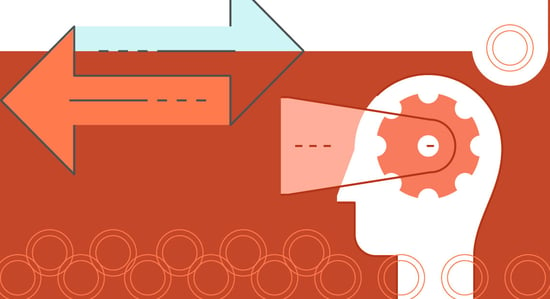 Developing a new brand—whether from scratch or in a rebranding project—is an intense endeavor. It requires a significant investment of resources, either in-house or in hiring an agency, to develop a comprehensive brand positioning and imagery strategy, complete with design guidelines that are intended to maintain the integrity of that brand image in all the content to be created moving forward.
Unfortunately, too often a great brand ends up losing its impact as those guidelines are overlooked or eroded by less-competent design teams who either don't pay attention to detail, don't understand the importance of maintaining the brand or simply aren't experienced enough to recognize what fits and what doesn't.
You want someone who is going to take good care of your brand.
So how do you know when you've found the right design team to do that? Here are five signs you've made the right decision (or criteria to look for as you interview agency partners for your marketing content development), plus an inside look at brand integrity in action.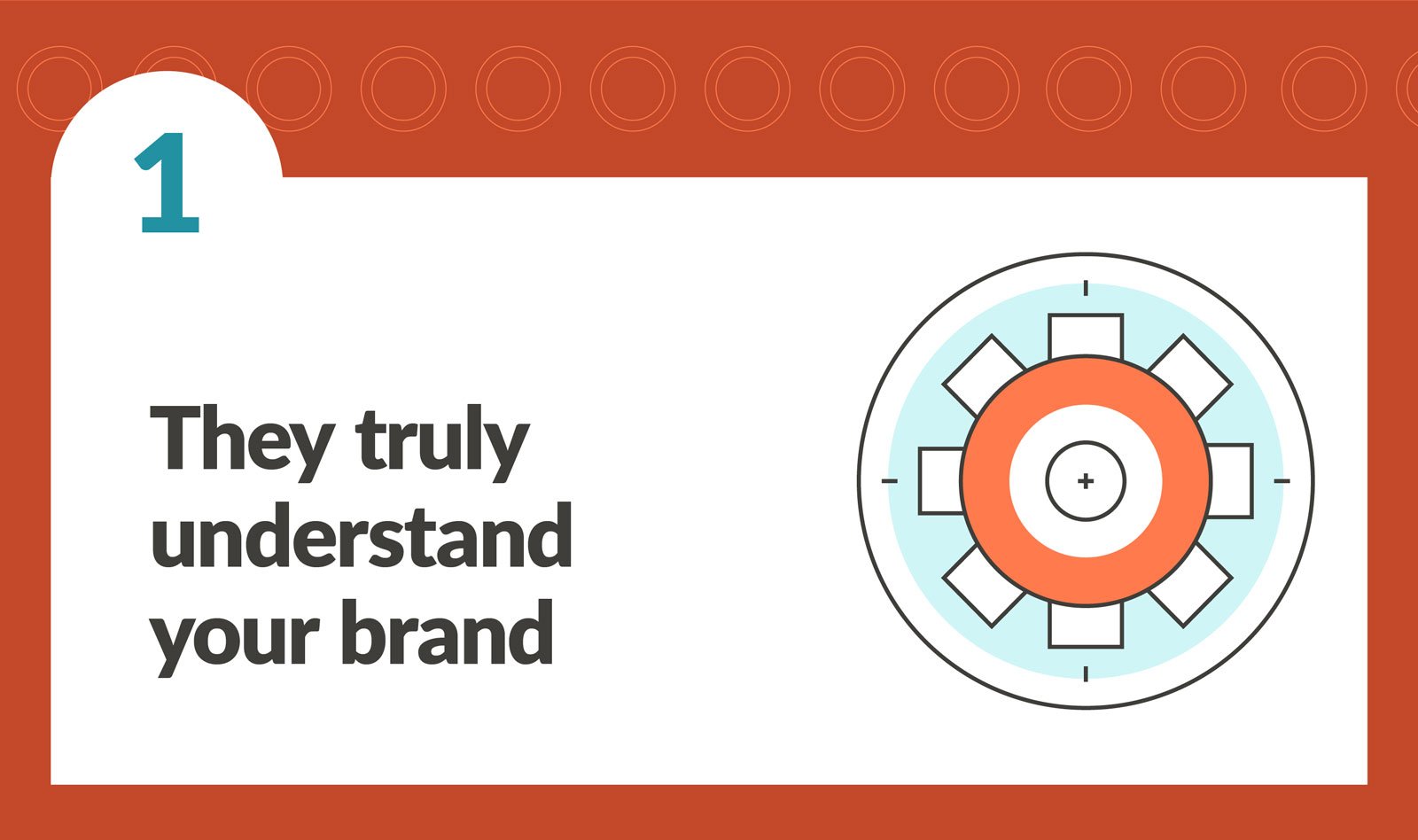 1. They understand the greater theme behind the brand.
Brand imagery—including the specifics detailed in the brand guide—actually begins with a bigger picture understanding of the brand itself: what drives your brand, what tone and approach does your messaging take, what is the feeling your imagery is created to invoke?
A top-notch design team or full-service digital marketing agency takes the time to understand the full brand beyond the details. This helps them use the details of the brand guide to convey the messages desired in ways that resonate with the target audience.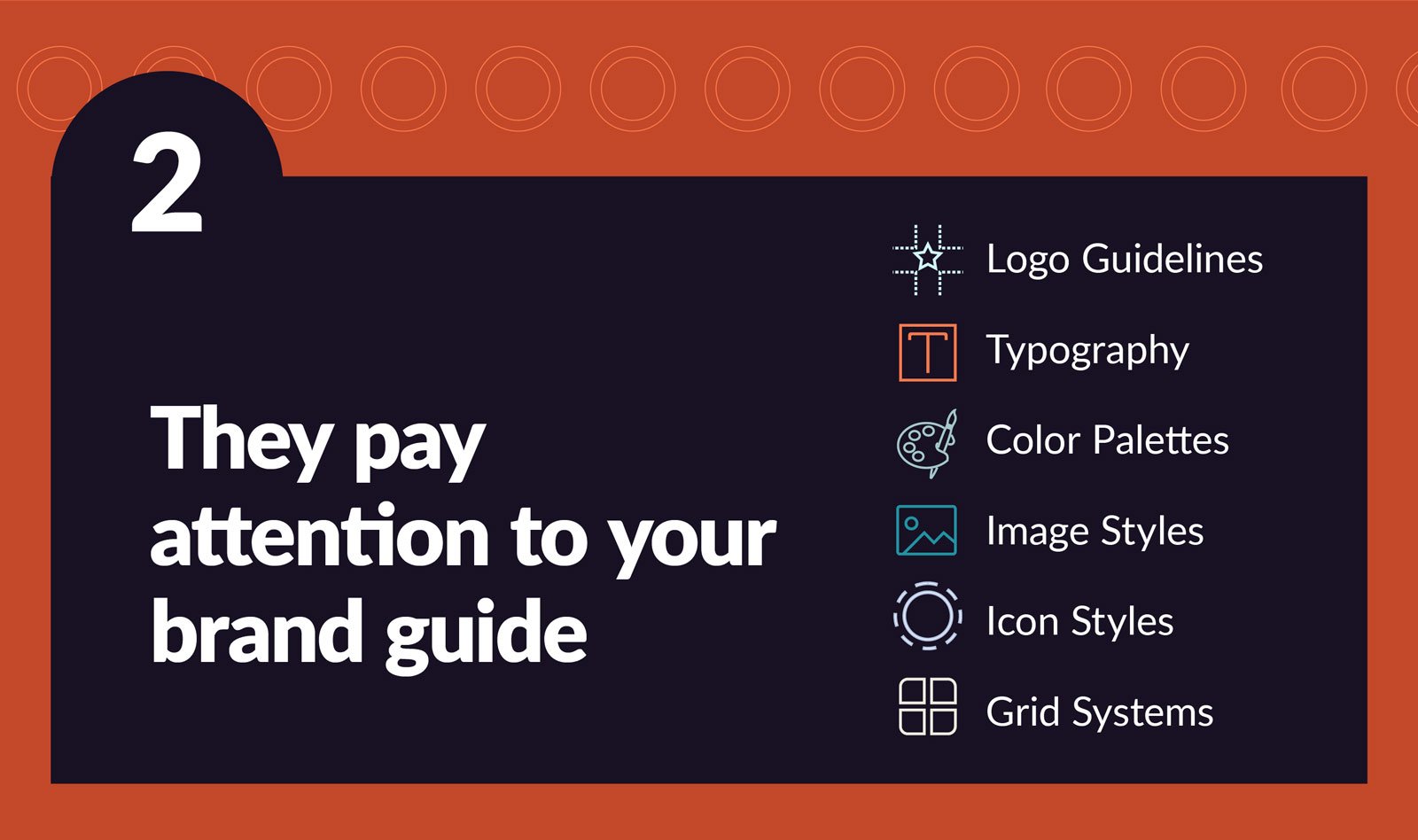 2. They pay attention to the fine details of the brand guide.
Visually, details matter. An experienced agency takes nothing for granted, confirming every font and color choice, every photo selection, every graphic treatment and icon against the brand specifications that were developed to guide content development. "Care is taken with every piece to ensure that everything is done for a reason," says Wendy Bierbaum, our partner in charge of creative services.
Understanding how each element can be used is essential to maintaining consistency. It can be as detailed as remembering that photos should always have the "customer" facing the camera and the company representative facing away or double-checking which colors from the brand palette can be used in the logo.
3. They know the difference between pushing a brand and changing it.
Branded marketing content is not the place for injecting your own personality or preferences into the creative process. Bierbaum emphasizes the importance of being neutral and professional to avoid putting a designer's own biases into the design.
At the same time, she understands when to "push" a brand just a little—accentuating specific elements to heighten impact, but still maintaining the same brand integrity. One example Bierbaum offers is choosing a specific striking color from the existing color palette to add more contrast to infographics. In JONES's work for Actium, we employed this tactic while also creating additional icons—again, tightly matching the existing brand elements—to more completely tell a story in infographics without resorting to excess text.
"Sometimes a brand, when it is brand new, has to grow and come to life," she says. But that growth should always be in a way that stays true to the same brand imagery the team started with—executing the design consistently.
"It's almost like becoming a character for me," Bierbaum says, describing how she steps away from any personal biases to ensure her design embodies the brand she is working with.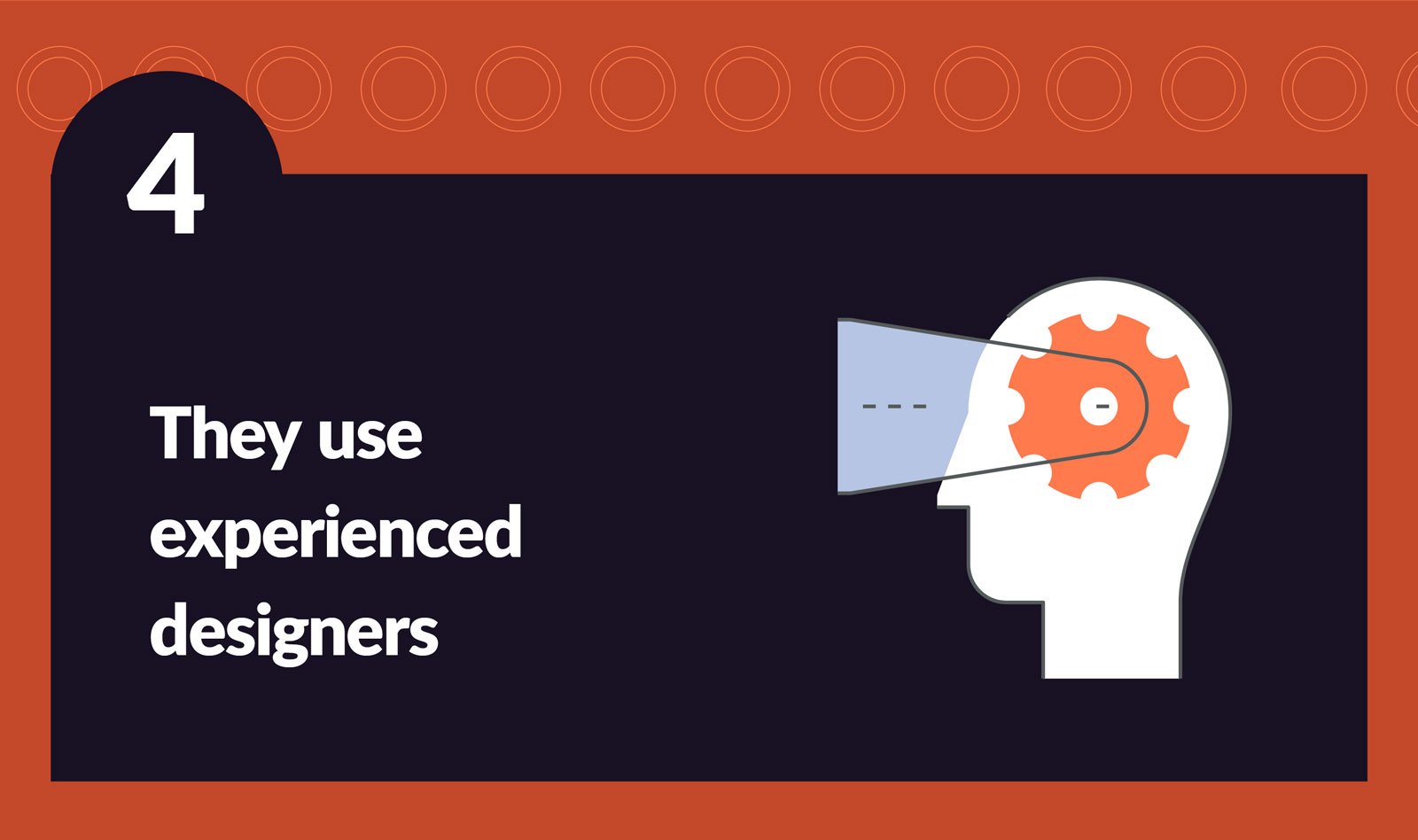 4. They use experienced designers who "get it."
There is truth behind the concept that it takes 10,000 hours to become an expert at anything. Experienced designers have learned more than the basic concepts of white space and hierarchy in design, and they know that great design has to do more than just look good.
"It's making sure that the design tells viewers what to look for, what to look at, what to do with (the content)," Bierbaum says. An experienced designer will collaborate with writers and project managers to suggest ways of adjusting design and text together to find the best way to tell the story.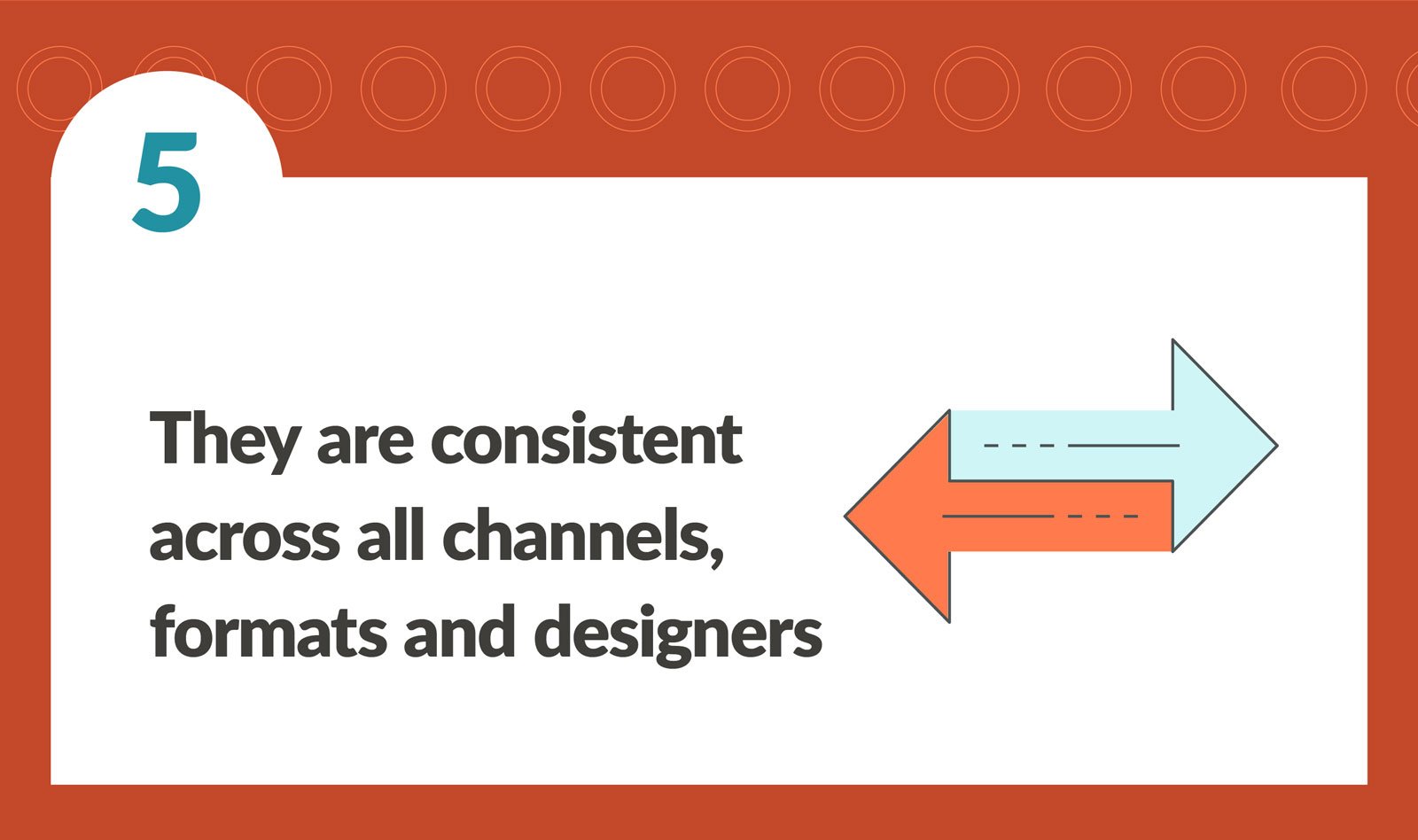 5. They are consistent across all channels, formats and designers.
You'll know you've picked the right agency team when you can't tell whether all the content is created by the same person. "It's important to have a strong team of designers, with a strong leader who can communicate back to the team, to ensure that the design is consistent and looks like it should," Bierbaum says. "Our customers always have the same team on their projects."
That consistency and leadership is especially important when a brand must be carried across all channels and content formats. Website design, social media graphics and printed materials should all be immediately recognizable and consistent.
What that looks like in practice:
One of JONES' recent partnerships was to execute content marketing development for Actium Health, which had just completed a rebrand project led by healthcare branding agency Best Friend Jack. (We have loved working alongside them — check out some insights from managing director Lena Cheng in this guest post: 5 Signs Your Health Tech Company Needs a Rebrand.)
While Best Friend Jack provided the brand guidelines, JONES was tasked with carrying them out as Actium boosted its content library with materials to support the entire sales and marketing funnel.
"Best Friend Jack gave us a great start with the brand book and design elements like gradient backgrounds, which we were then able to implement and use," Bierbaum says, along with expanding on it by creating additional icons that matched the style in the new brand.
"We needed the illustrations and icons to tell more of the story," Bierbaum explains, so they accentuated certain aspects of the brand guidelines to enhance specific infographics without veering from what the branding agency had created.
"The website they had created also provided inspiration," she says, to keep the momentum rolling for Actium. "We consider ourselves part of the team—we're happy to work with other vendors because our goal is for our client to be successful."
"When you have a new brand, we take it out into the world and maintain it," Bierbaum says. "You have to have someone who can nurture it and keep it moving."
If you'd like to see more of our work for Actium, check out the client profile page here. You can see the highlights and download a content packet with more examples of how we carried out their brand across all aspects of content development.
If you are just beginning the process of rebranding, you can also learn more about our approach by downloading our ebook 6 Steps to Creating Enviable Brands. And I'm always ready to chat—schedule a time in my calendar for a no-obligation consultation to learn more about how JONES can support your branding and content marketing goals.