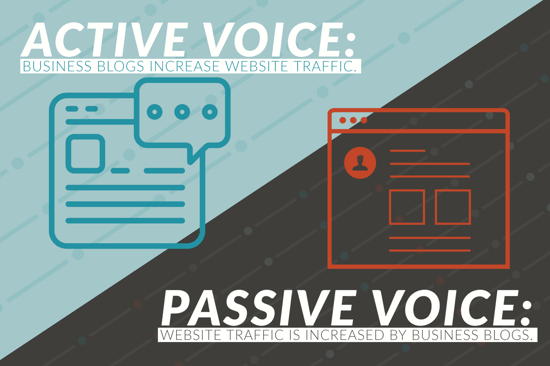 Several times a week, I write a blog post to share advice and insights about integrated public relations and marketing and the various tools and tactics involved in everything from brand development to campaign implementation.
Blog posts are written by me several times each week to share advice and insights.
Which of those sentences sounded better to your ear?
I'm going to bet you said the first one. It had more power, a more direct line of thought. It was written in the active voice.
Sentences using active voice typically follow the traditional subject-verb or subject-verb-object pattern: something acts. "I write a blog post."
The second sentence was written in passive voice, in which the pattern is object-verb-subject: something is acted upon by something else. "Blog posts are written by me."
In most cases, active voice is the better choice. As I mentioned above, active voice is direct. It is more powerful. It is less likely to result in a tangle mess of clauses that can be difficult for the reader to decipher.
Want more examples? (Courtesy of YourDictionary.com )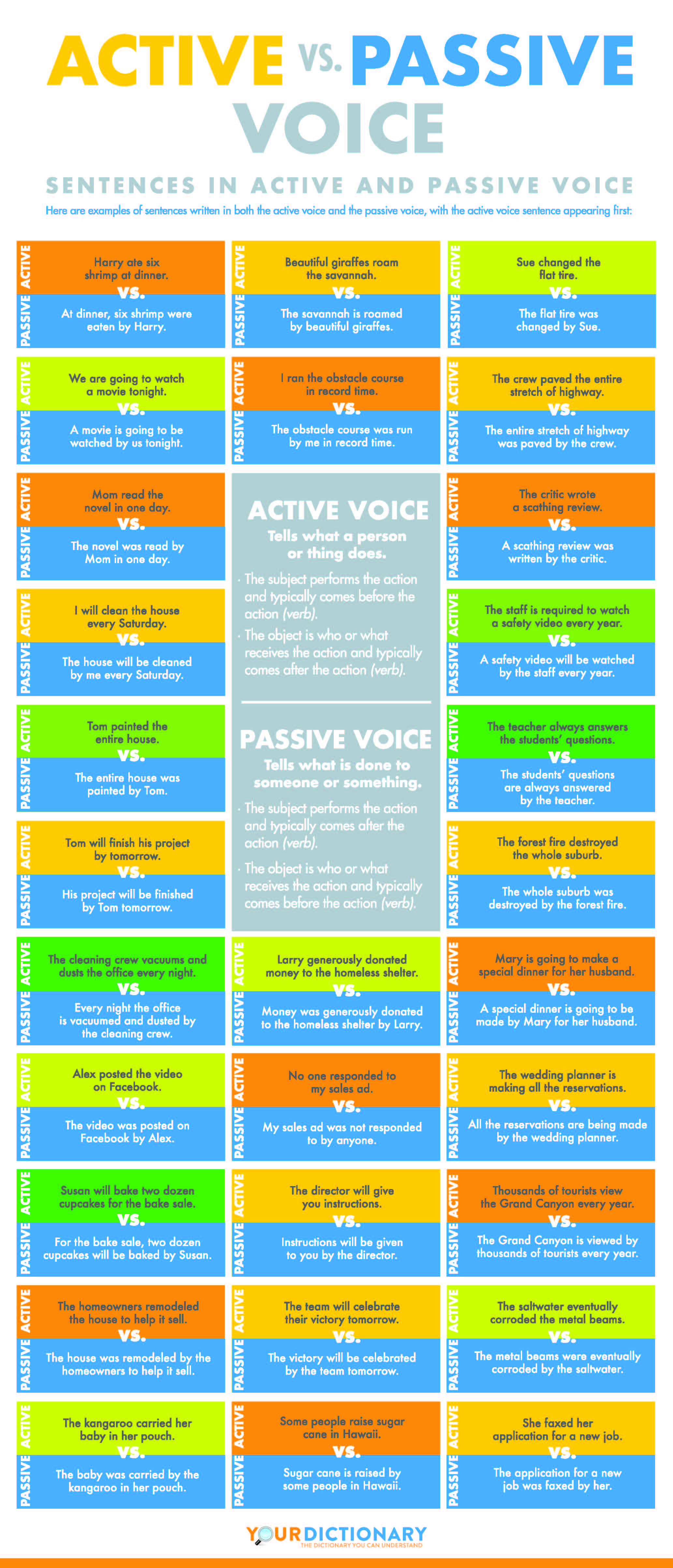 In most marketing and advertising writing choose active voice.
After all, which would you choose?
"Be sure it gets done" or "Just do it."

"It's loved by me" or "I'm lovin' it."

"Tough as a Ford" or "Ford Tough."
You get the picture.
As with many writing rules, however, there are times when it makes sense to break this one. Passive voice may be the better choice in certain situations.
When should you use passive voice?
You might want to use passive voice to emphasize the action, rather than the person or thing taking the action, or if the "actor" is unknown or broad. For example, if you are talking about the results of a marketing survey, you might write:
The blog post was read by more than a thousand website visitors.
In this case, the blog post is the object of the sentence, but it is the more important part.
Passive voice might also be used to maintain consistency throughout a passage.
I wrote the blog post to share results of a marketing survey with my subscribers. The blog post was then shared by those subscribers on social media more than a hundred times.
While there are examples like these in which you may choose passive voice to emphasize an action vs. the "actor," or to maintain consistency, most of your writing should be in active voice.
Writing in active voice not only appeals more to readers (aka leads and customers), but can also improve your website's SEO, according to 417 Marketing because it improves reader signals to search engines and provides more direct clues for search engines about the content of your page.
Find more tips on using active and passive voice in your writing at these sites:
Of course, there is more to creating quality content that just writing in active voice. Quality content is also useful, shareable, findable on the internet, and either tells a story or helps your reader solve a problem (or both). Test your content quality with our downloadable Content Quality Report Card, or schedule a no-obligation consultation to learn more about the JONES approach to creating high quality content for our clients by hiring only experienced writers, designers and marketing strategists.