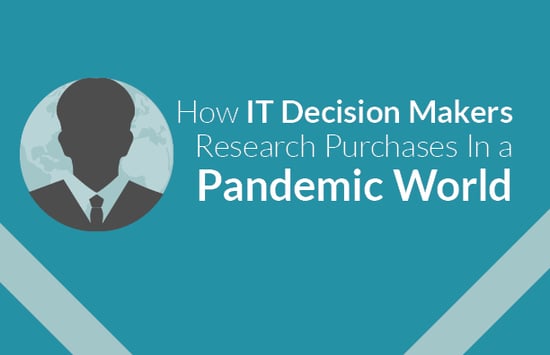 We have long understood that B2B decision makers, especially those involved in making technology and software purchase decisions, do their research first.
Most want to find information on their own before engaging directly with a vendor. This makes a marketing strategy focused on quality content imperative for reaching IT and enterprise software buyers.
The changes in the business environment that have evolved throughout the Covid-19 pandemic have, if anything, increased the time IT buyers spend researching solutions, according to a Kingpin Communications survey. What may have been unexpected in the firm's two surveys, completed in June 2020 and again in December 2020, was one significant shift in how that research was conducted. Specifically, the rise of webinars as a research method.
Time spent reading technology media stayed the same between the two surveys. But while virtual conferences had been used by 1/3 of respondents in early 2020 as the pandemic first shut down in-person events, that participation fell to fewer than 1 in 10 just six months later.
Instead, more than 40 percent of IT decision makers turned to webinars as a leading way of researching new technology and solutions.

What makes webinars more appealing?
Based on additional responses in Kingpin's survey, which delved into other media consumption questions, the researchers theorize that IT buyers were looking for accessibility—content that could be easily accessed from multiple devices—and flexibility in accessing that content at the time most convenient for them.
The survey didn't break down differences between live webinars and those available for viewing on-demand from vendor websites. Each have advantages and disadvantages.
Live webinars lack the flexibility of anytime, anywhere access, but they do offer:
Interaction.
Opportunities for immediate feedback from participants.
Potential to directly address questions and objections.
On-demand webinars (whether designed specifically as on-demand content or recordings of live webinars) lack the potential engagement of direct interaction, but they allow for:
Flexible access.

Viewing multiple times to gain a deeper understanding of information presented.
Both provide opportunities for capturing lead or contact information to begin an automated lead nurturing workflow that provides IT decision makers with even more of the in-depth information they seek in researching solutions.
Get started on your next (or first) B2B webinar with the 10 steps included in our recent blog post, then incorporate one into each of your content marketing campaigns for the future.
Find more about using content marketing to reach software/IT buyers in this posts from our Lessons from 15 Years series: Marketing Enterprise Software. If you'd like to learn more about JONES and our experience in marketing technology solutions to B2B customers, request a quick consultation here.