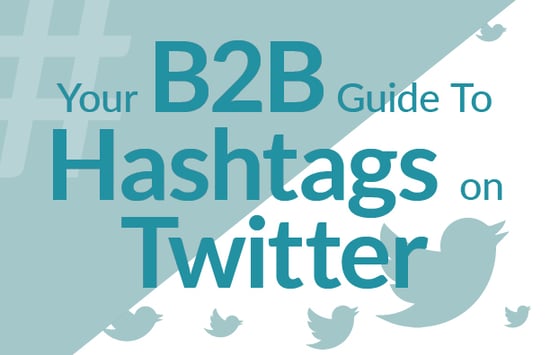 For nearly a decade, before Instagram took its use to new heights, the hashtag was nearly synonymous with Twitter, the social media platform that introduced its use in 2007 as a way of categorizing conversations and organizing posts.
Now, all of the major social media channels support the use of hashtags, and they have become important ways for businesses, brands and influencers to extend their message with opportunities to:
Be found by new users interested in their product and related topics;
Align themselves with specific groups or ideas; and
Develop additional brand identifiers and campaigns that are recognizable in user-generated content as well as their own.
Here are a few basic tips for using hashtags for business, especially in the B2B marketing realm, to make the most of your Twitter presence:
Hashtags should be written all as one word with the # at the beginning—no spaces and no punctuation.
Use hashtags sparingly and with purpose. There shouldn't be more hashtags than words in your tweets, and many experts recommend no more than two hashtags per tweet.
Don't use trending hashtags if they don't fit your business.
Hashtags aren't a substitute for well-written copy and quality images.
Use analytics to identify which of your hashtags are getting the most traction on Twitter or creating the most click-throughs to your website.
Stay on brand and use hashtags to continue your brand identity and image.
Only embed hashtags within the text if it doesn't hamper readability, otherwise list them at the end.
While not every brand uses hashtags consistently on Twitter, despite its "grandfather" status in developing that tool, statistics show that hashtags can increase engagement by almost 50 percent for brands.
Want more tips on hashtags? We cover best practices for using them in all major social media channels here: Your Business Hashtag How-To Guide.
Or read our Complete Guide To Social Media for Business, which highlights the best tactics for incorporating social media into integrated B2B marketing campaigns. Find out what, where, when and how often to post to maximize the impact of your organic social media traffic.