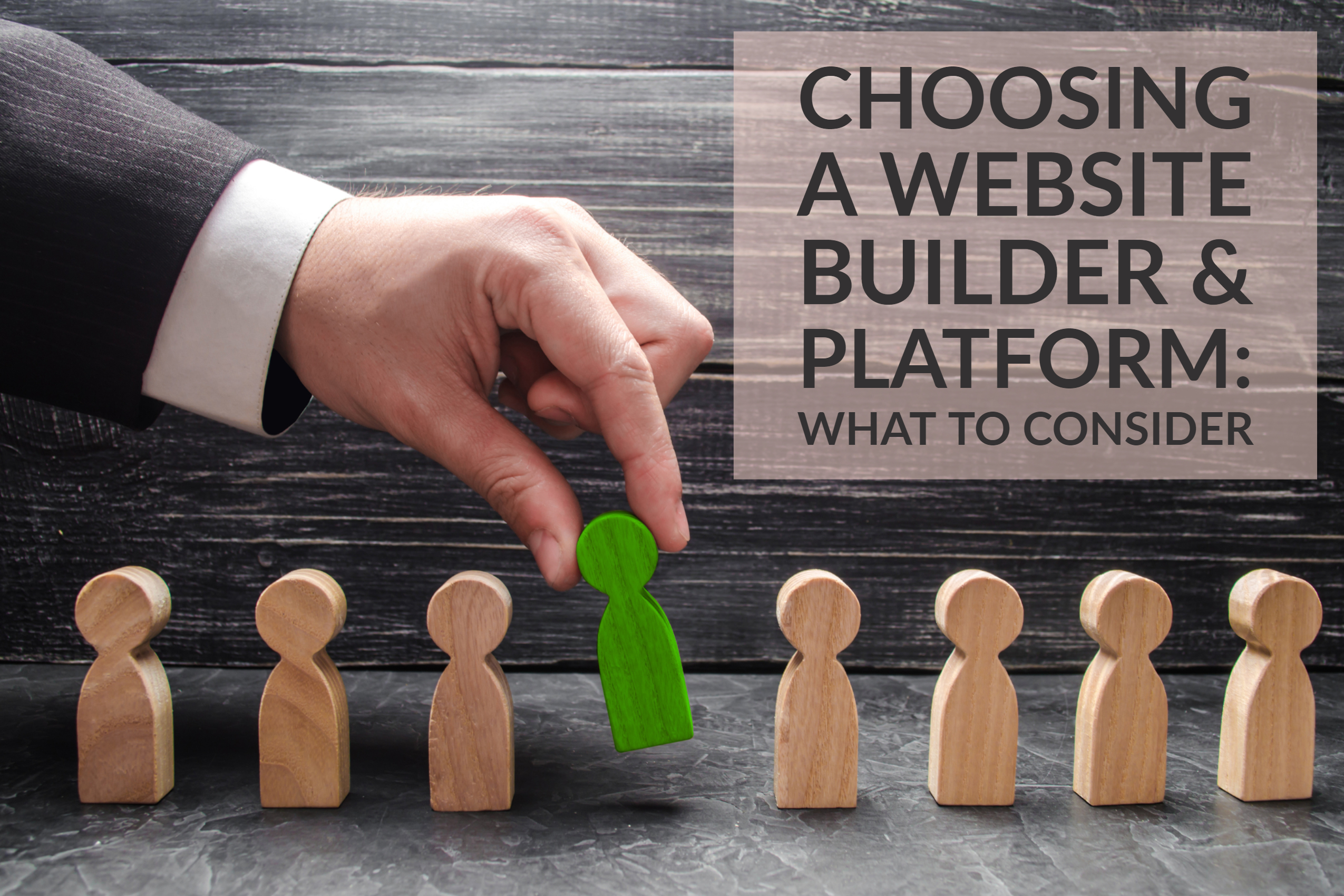 When it is time to build, or rebuild, your company's website, the options can seem difficult to weigh, from completely outsourcing all stages of development and maintenance, to creating it yourself with a free do-it-yourself website builder, and everything in between.
Before committing to a specific designer, web host, or website building software, ask yourself the following questions to narrow down the options that will work best for your company.
(Wondering if your website is due for a redo? Take our Rate Your Business Website quiz.)
Who will be creating and maintaining the site?
This should be the first decision you make, and it will greatly influence your final choice of web host, builder software, and the next steps you take.
Will you or someone on your staff be building the site, or will you outsource to an agency or freelance developer?
If you will be doing the ongoing website updates in-house, then you need to consider the experience level of the person tasked with building the website. There are free or low-cost DIY website builders today that require no coding experience to use their built-in templates using a drag-and-drop method, and those templates already follow established design standards to ensure that the site created from them should be visually pleasing and easy to navigate.
Website builders such as Wix, Weebly, SquareSpace and Shopify are designed to be easy to use by small business owners, independent bloggers, and entrepreneurs who may not be experienced in web design, coding, SEO or analytics. But they also have limitations on how much can be changed and customized, and hosting is through their own servers, meaning moving your site to a new host can be difficult.
If you or your in-house marketing staff have some coding experience and you want more flexibility in design, functionality and portability, WordPress is an open-source (free) content management system and website builder that may fit your needs. You will need to host your site separately and download the software, but that provides flexibility for choosing your own hosting service. And while WordPress itself is not yet fully drag-and-drop, it is moving that direction. Builders can also use Divi, a product available from Elegant Themes that adds the simplicity and customization of WYSIWYG (what you see is what you get) drag-and-drop while maintaining flexibility for your designer to add the special features you need. Divi is a great option for designers who may not be coders.
Another WordPress builder, Genesis, is an option for those with extensive coding experience, providing a framework from which to custom build a site, though it is less user-friendly in terms of making edits and updates, and may mean working with both a designer to focus on the visual impact and a coder to complete the back-end work of making the site fully functional. It also may require ongoing reliance on a coder to make simple updates. So, if you're looking for marketing to making ongoing updates – add pages using a template, swap photos, change colors – this may not be the best choice.
HubSpot's CMS (content management system) is another option suitable for in-house creation if you have some experienced team members, with added features of incorporating smart, dynamic content and built-in lead nurturing capabilities that simpler web builders don't offer. A wide offering of tutorials, videos, and even certification give companies support in helping in-house staff learn the ins and outs of both website building and incorporating lead generation, nurturing and sales into the web design.
While it may be worth the investment in outside help in creating a website, you need to consider which platforms provide simple options for updates and edits once the site has been established – both HubSpot and WordPress's Divi builder fall into this category.
If you choose to have an agency or freelancer create your website, select a partner that has the flexibility to use any of these tools, and willingness to use the tool that works best for your needs (not theirs).
Which brings us to the next question:
What you want to do with the site?
Your goals for your business website may be as limited as simply providing a searchable presence online akin to the yellow pages of the past, or as robust as ecommerce or inbound marketing lead generation and nurturing. What you want your website to do will dictate some of your decisions about how to build it.
If your primary goal is an information-only site, with just a few pages, then one of the DIY builders may be enough to provide an attractive page, optimized for search, with contact information and directions
Ecommerce requires a different type of interface, which some of the basic builders do well, according to other reviewers. SquareSpace and Shopify are both geared toward online retail, especially for small companies and entrepreneurs, with features such as customer log-ins, inventory management, and selling and shipping options.
Inbound marketing and automation of lead nurturing, customer relationship management, and smart content to build relationships with visitors, leads and customers requires a different set of features, and is at the heart of HubSpot's content management system. HubSpot's built-in features include integrating blog posts with calls-to-action, landing pages and lead nurturing workflows to simplify inbound marketing processes. It also provides intuitive tips for SEO right in the blog publishing interface, along with allowing for dynamic content to personalize what visitors see on your site based on their past interactions.
Understanding what you want to do with your site — and what you want your site to be able to do — can narrow down your options.
What is your budget?
This is a big question, because there can be a significant difference amongst website builders, based on the specialized nature of what they can create and how much help you need to implement them.
While WordPress, as a builder, is free, there may be costs involved in purchasing a theme such as Divi to give it drag-and-drop functionality, templates that provide a starting point for your design, or the Genesis framework. You will also need to pay your web hosting subscription and domain name registration fee separately, while those costs are included in the monthly fee for most DIY website builders such as Wix and Weebly.
HubSpot's greater focus on lead generation and automated nurturing, beyond simple website creation and blog management, is suited more for B2B enterprise businesses focused on long-term growth of online lead generation.
Design-heavy websites that include a significant amount of photoshop work, animation, video, or content development add to the price. The number of website pages you're asking the team to build is another factor – an 80-page website is a significantly larger investment than a simple 10-page site.
Do you need flexibility to customize, update and add pages, or change hosts?
Will you want to grow your website, adding pages, blog posts and features? How often will you want or need to make changes to your site, and how do you want that to be done?
Two things you sacrifice in choosing to use one of the lower-cost DIY website builders is flexibility and scalability. Most of those platforms host your site on their own servers, which means that if you want to change hosts, you may have to rebuild your site from scratch. And you may bump into limitations on the number of pages you can add, the complexity of features, and an inability to integrate your website with other marketing automation needs.
Gaining that flexibility will require a greater investment, either of funds into a program such as HubSpot or in time in developing a WordPress site. For marketers that want to be able to make changes to the site themselves, using Divi for WordPress makes sense, because it provides easy visual editing options suited to in-house edits with a quick turn-around. Changes in Genesis typically require more coding, and may need to handled through the coder who builds the site.
Our preferred options:
Here at JONES, we have worked with several different platforms on our own websites and those created for clients, and for the majority of our partners — especially B2B enterprises — HubSpot and WordPress, using either Divi or Genesis, rise to the top of the list because they provide the robust options and integration needed.
HubSpot CMS
For inbound marketing, it is hard to beat the all-in-one availability of tools HubSpot offers, from website creation and content management, to lead generation, automated lead nurturing, and customer relationship management. The convenience of having all of those tasks in a single point of entry makes it simple to understand how blog posts influence SEO and lead generation. It also makes gathering lead intelligence simple, enabling the marketing team to provide sales with specific information on individual leads, while also delivering valuable data for developing additional customer personas.
While HubSpot's costs may mean it isn't a great fit for smaller businesses, that cost also comes with a level of support and guidance that is meant to help businesses achieve the full potential return on their investment in inbound marketing.
WordPress
WordPress's much lower price point (the builder itself is open source and free) comes with a decision to be made regarding how you will create the site.
Using Divi, you may be able to create the site in-house with your own designers, using its WYSIWYG drag-and-drop function, or you may want to outsource initial design, knowing that edits and changes are easily manageable if you want more control within the marketing department once the site is completed.
Genesis brings different advantages when working with an experienced coder, with more features possible, similar to a site built and coded from the ground up. But it will likely involve working with the coder on a regular basis to make needed changes and simple updates over time. The compromise here: marketing may not have easy access to and control over the site.
Having the same agency developing your visual design, writing your website copy, and creating the infrastructure of your site means you only have to maintain one point of contact in order to bring all of those elements together. Click here for more on what a top-quality marketing agency should provide. JONES has all of the needed skills on staff to work with any of the website builders mentioned above, from great designers to web builders to experience with the nitty-gritty of coding when needed to provide exactly what our clients are seeking in their website creation, content, and maintenance.
What route will you take to build your new business website?
Get another overview of website builder options in this blog post from HubSpot: 7 Of The Best Website Builders For 2019. Or download our JONES Website Solution to learn more about our approach to building websites that meet your business needs today and into the future.