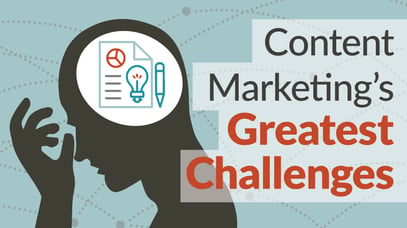 Content managers and marketing managers of all types share a few common challenges—tasks that consistently cause stress and challenge their ability to generate the results that are expected. Not surprisingly, the two greatest challenges are also at the core of the work: effective content strategies and quality content creation.
While the survey cited here by Hero's Journey was of only 70 staff content managers, research by many others has consistently listed these two challenges at the top of the priority list for marketing managers for years.
While nearly 1 in 3 respondents to this survey indicated that getting quality content was a major challenge in the open-ended questioning, in some surveys, as many as 3 in 4 marketers have cited content creation as the most vexing problem they encounter. Hero's Journey respondents also listed content creation as the most time-consuming task (29 percent), followed closely by planning (24 percent).
Honestly, none of those responses surprise me. We know from our work with clients of all sizes who are focused on content marketing and inbound marketing (is there a difference? Yes!) that the five challenges we most often are tasked with helping them overcome are:
We provide suggestions for overcoming those challenges, along with links to helpful blog posts and templates, in our inbound marketing solution guide: 5 Inbound Marketing Challenges and How to Overcome Them.
We also specialize in working alongside marketing managers and CMOs as part of their team to overcome those challenges. Schedule a time in my calendar to discuss how JONES can help you conquer the barriers that are standing in the way of your team's goals.