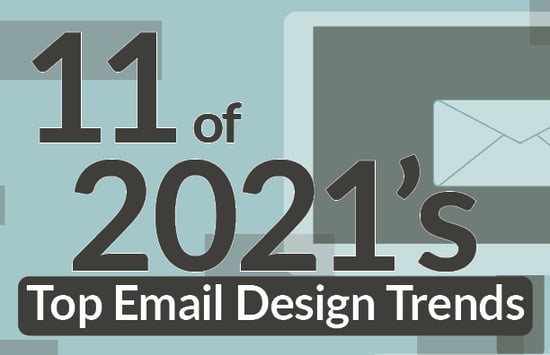 An integrated content marketing strategy employs multiple strategies to drive lead generation. Website design. SEO. Social media. Blogging. Video. Interactive content.
All of those tactics play a role in attracting visitors to the website and converting them into leads.
But once you have those leads and contact information, it is email that continues the connection through newsletter subscriptions and lead nurturing. Especially in a business environment in which personal interaction has taken a back seat over the last 18 months, reaching prospects and leads through email is essential in developing the relationships necessary for the kinds of B2B or long sales cycle transactions where content marketing shines.
But, the importance of email also means that everyone is being bombarded, so your emails need that something extra to catch the attention of recipients and you have to consider your readers' preferences to keep them from hitting the "unsubscribe" button.
The 11 design trends in this Uplers infographic provide inspiration for creating marketing emails that make readers want to open, read and respond.

If you've been reading the Inbound Accelerator for a year or two, a couple of these trends may look familiar.
That big, bold typography? We told you about how it was showing up in website design in 2020.
Dark mode is in many ways a cousin of accessibility, allowing readers to view content in the way that fits them best, just as making website content accessible and inclusive was one of the key design elements HubSpot identified in recent surveys.
Which of these trends will you incorporate into your email marketing? Find more trends and statistics in our recent mini-report: The State of Email Marketing. Or request a consultation to brainstorm ways to increase the open and CTR rates of your email marketing.