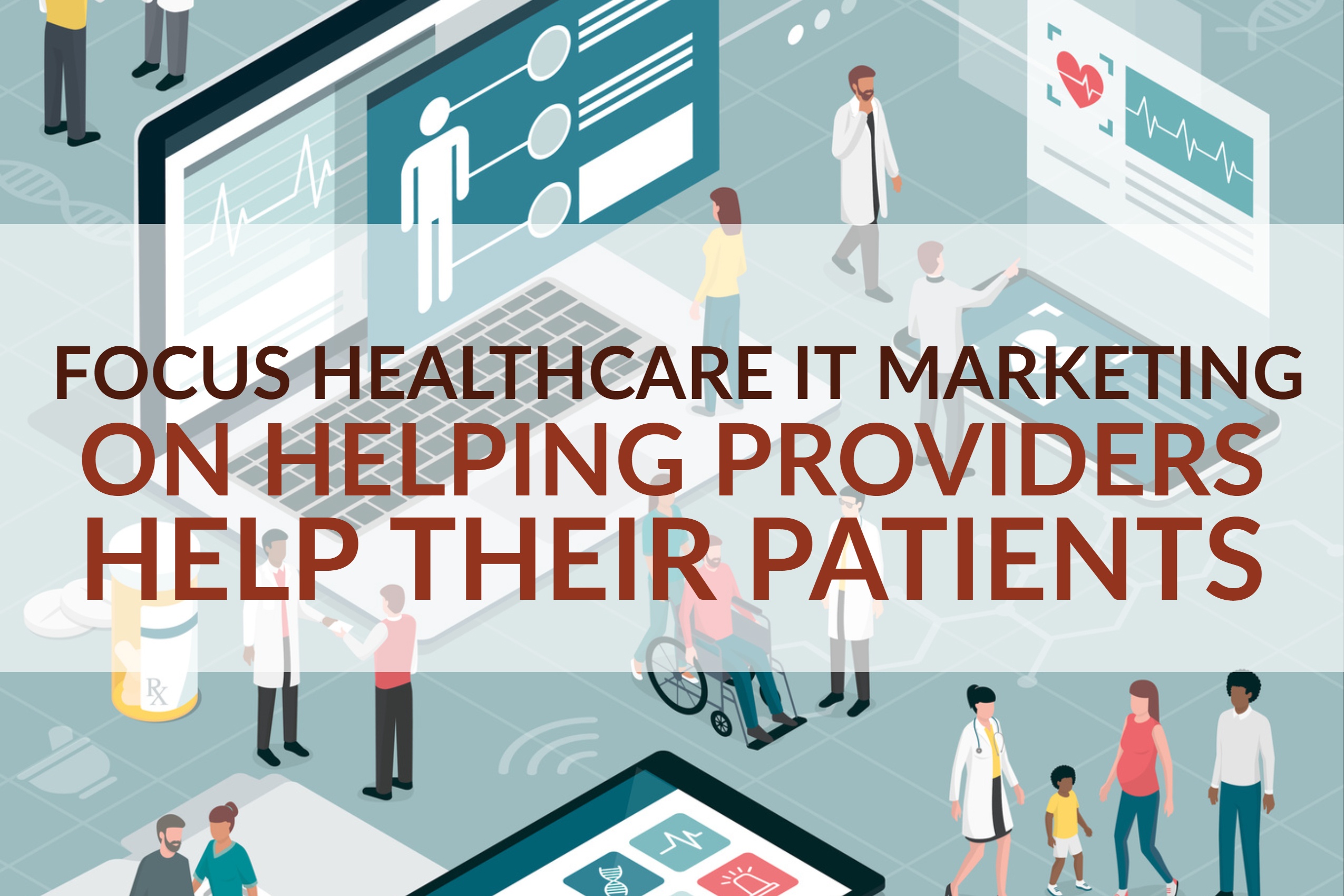 Healthcare is changing, and how healthcare providers and hospitals approach marketing, is changing along the way.
Those changes in how healthcare is chosen, provided and paid for opens opportunities for healthcare IT companies to step up and assist their customers by changing their own marketing approach to one that provides information and guidance, not just a sales push.
Healthcare used to follow this formula:
Person gets sick. Person goes to doctor (based on which providers are 'in-network' for their employer's insurance program). Person gets prescription for immediate problem. End of formula.
Today, the trend is to not just treat the immediate problem, but to focus on helping patients get healthier to avoid acute conditions or readmissions for chronic conditions. An example would be managing high blood pressure in order to avoid a heart attack, or managing diabetes to avoid situations that might require hospitalization.
The other change has been in how consumers choose their healthcare provider and pay for healthcare services. Because they often have more upfront costs — in insurance premiums, co-pays, or both — they are taking a more sophisticated approach to choosing a provider.
What this means for healthcare providers, healthcare IT, and marketers is a need to focus on:
Patient experience and satisfaction

Patient engagement
What drives patient experience and satisfaction?
"Patient experience" is a combination of a number of factors, and that experience is what determines satisfaction. While satisfaction may not have been as important in the past, we know now that 88 percent of Americans say they would consider switching healthcare providers if they are not completely satisfied. (See more stats in Rethinking Healthcare Marketing.)
That experience and satisfaction depend on a healthcare provider's facilities, expertise, and whether the organization and individual providers go beyond the basics: taking enough time during appointments, communicating clearly, and engaging with patients after the appointment.
One reason behind the increased emphasis on patient experience is the increased portion of healthcare costs being shouldered directly by patients. As those costs to consumers rise — with some paying as much as $1,000/month for premiums or facing deductibles of several thousand dollars before insurance kicks in — consumers are taking a more active role in choosing their providers.
When patients pay more, they expect more and spend more time researching providers before making a choice. They are becoming savvy consumers of healthcare services.
Not only are they more savvy, but they are also more willing to switch. And they share their experiences with friends and family. With referrals still accounting for 70 percent of new patients for more healthcare providers, patient experience and satisfaction matters.
Healthcare IT vendors can play a role in helping their customers maintain patient satisfaction by improving the patient experience, which should be among the main messages healthcare IT marketers convey:
"We can help you improve patient satisfaction, which improves your bottom line."
So what can you, as a marketer working with a healthcare IT brand, do to help your customers improve patient experience and satisfaction? It starts with content and education.
West Corporation is a great example of a healthcare IT company that thinks beyond its initial market (healthcare providers) to the end market (healthcare patients) in order to help its customers improve both their own outcomes and those of their patients.
For the past 10 years, West, whose Healthcare Practice division services include patient communications and care management systems such as appointment reminders, has focused on creating educational and thought-provoking content based on original research to provide its customers with information on how to improve their patients' experiences and satisfaction.
West, working together with JONES, has become an indispensable source of original data and insight, complete with more than 200 news stories and media mentions, 24 thought leadership articles, 70 articles as part of a resource library, videos and a number of executive speaking engagements, all centered around the results of 9 in-depth reports. Check out their resources page here, or learn more about the overall approach JONES and West used with these blog posts and case studies:
"JONES guided us to a position of authority in not just our industry, but healthcare in general, that other technology companies would love to achieve," says Alison Hart, Vice President, Marketing Communications, West Corporation's Healthcare Practice.
You'll notice, also, that West didn't focus on only one channel of communication. Instead, the company took a coordinated approach, bringing together public relations and inbound marketing to increase brand awareness, build a strong position in the market and generate online leads through the use of content.
West's public relations outreach focused on bylined articles and submission of infographics that were published in USA Today among others. Their inbound digital marketing is developing with complete campaigns that include assets for every phase of the buyer's journey, blog posts to promote those assets, and social media posts that continue to drive traffic to both the blog and landing pages. The complete inventory of content created within the campaigns includes videos and handouts for use at conferences and events.
By focusing on providing content designed to help healthcare providers address the needs of patients, West became a recognized resource within the field.
You can put this same philosophy to work in your healthcare IT marketing by thinking about how you can support your customers in supporting their patients.
(Wondering how JONES knows so much about healthcare marketing and communications? Through our years of experience serving the PR and marketing needs of numerous companies involved in several aspects of the healthcare industry. Download our Healthcare Marketing Case Studies to read our success stories.)