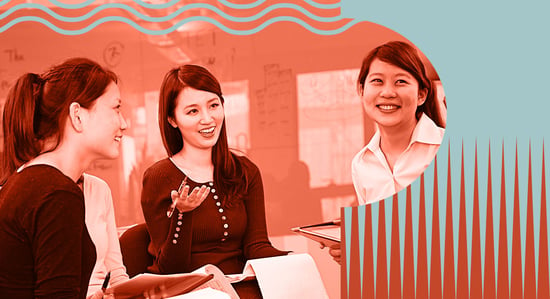 Very few marketers are brand new to video—depending which survey you reference, only between 17 percent and 35 percent of the marketers who used video in their content marketing in 2021 were new to the scene.
But how video is used and the types of video that will have the greatest impact on brand awareness, lead generation and sales are changing rapidly, whether that means the urgent adoption of webinars by B2B businesses in 2020 and 2021 to reach potential customers during lockdown/work-from-home or everyone trying to determine how best to put the viral potential of TikTok to work.
Recent reports by HubSpot, Wistia and Brightcove provide a glimpse into the current status of video in content marketing. I've taken a closer look, especially, at what video means for B2B marketers in 2022 and beyond.
What Marketers Hope To Achieve with Video
According to Wistia, most marketers are focusing their video goals on top- and middle-of-the-funnel efforts. Driving brand awareness (22.4 percent) and production education (21.6 percent) were the primarily goals, followed by driving customer engagement (18.4 percent) and generating leads (18.4 percent). Driving sales was only cited as the primary goal by 12.1 percent of respondents, while 5.1 percent said they were focused on highlighting company culture.
Given those priorities, it makes sense that most measure their video success by metrics such as engagement rate (25 percent), leads generated (23.9 percent), views (22.4 percent) and minutes of video watched (14.1 percent).
HubSpot's State of Inbound report yielded similar priorities in how marketers measure their video success, prioritizing view count, likes/comments, lead generation, subscribe/follow rates and social sharing over click-through or purchase conversion rates. Overall, marketers see video as a powerful tool for building awareness and connection, moreso than a direct driver of sales.
What Types of Videos Are Marketers Using Most
Short videos still dominate with videos that are less than a minute long making up nearly 40 percent of the total. But the longest groups of videos (30-60 minutes and 60+ minutes) are increasing from previous years. "This likely means that brands are more comfortable creating content with less editing (like fireside chats, virtual events, and webinars), and that viewers are willing to spend more time with them," Wistia states in its report.
Based on Wistia's data, viewer engagement remains highest for shorter content, dropping off from 51 percent for videos of less than a minute to 38 percent once the length goes past 5 minutes, and down to 16 percent for those videos of more than hour.
Most marketers in Wistia's survey create videos monthly at most, though 15 percent say they create new videos daily. About 1/3 use a weekly cadence. What keeps them from creating more? Time, according to 36 percent, plus resources/company size (26.2 percent) and cost (18.1 percent). At least 1 in 3 marketers said their companies use freelancers or a video production company/agency for at least a portion of their video content.
While long-form video has the lowest engagement rates, Wistia notes that it's use is growing, and that it can be a very strong tool when used correctly, despite the relatively low engagement.
Top among the types of long-form videos marketers have used: webinars. A full 1/3 of marketers have used them. (Learn how our client Avanti leveraged webinars in its overall content strategy as lead generation opportunities through both the live event and as gated recordings.)
Other lengthy video formats being used include virtual events, product demos, tutorials and original branded series. Respondents say that product-centered videos (23.1 percent), webinars (15.6 percent), social media (14.7 percent) and demos (10.8 percent) garner the highest engagement from their audiences.
How Video Creation and Consumption Are Changing
Video marketing is nothing new, but HubSpot's State of Inbound report for 2022 says that 35 percent of marketers plan to use video for the first time this year. It has just too much promise to overlook.
While most marketers have created video content for years, Wistia's research shows a shift with more marketers introducing video that takes on a life of its own. About 1 in 7 marketers (15.5 percent) told the company that they had plans to introduce an original branded series in 2022. Consistently creating branded videos that draw viewers back time after time builds a sense of trust and understanding of your brand. Check out these innovators that Wistia called out back in 2020 for building binge-worthy branded series.
Other video types marketers said would be new to their strategy this year included product-specific or product demo videos (12 percent) and case studies (11.1 percent).
Four in ten said they would be increasing their video budget, while another 47.9 percent weren't sure—the option was open.
Total video creation, based on Wistia's uploads, dipped slightly in 2021 after surging to nearly double previous levels in 2020, but consumption by consumers and potential customers remained strong, continuing to increase especially early in 2021. Video plays on Wistia's platform increased 77 percent from 2019 through 2021, with viewing time up 121 percent.
What Video Do B2B Buyers Find Most Useful
The question remains, however, what video content do B2B buyers find most useful in making a purchase decision?
In addition to developing top-of-the-funnel content, marketers should consider how video can be implemented all the way through the buyers' journey. Research by Brightcove backs this up. While 93 percent of B2B buyers in their 2022 survey said video builds trust in a brand, even more—97 percent—say they would be more receptive to sales communication after consuming a brand's video content.
B2B buyers told Brightcove that the video they found most helpful included not only that which helped them learn about a product or service (58 percent), but also video content that helped them understand a problem they have (36 percent) and learn how to solve that problem (40 percent). They ranked video above research reports, infographics, blog posts and e-books when asked which content format had the greatest impact in creating awareness of business-related problems. It is worth noting that webinars were treated separately from videos, and webinars also ranked higher than all other categories except research reports.
The most watched video formats by B2B purchase decision-makers are product reviews and demos, tutorials or training, live videos (including webinars), educational videos and brand story videos. Ads? Bottom of the list.
Dive even deeper in our infographic: Give B2B Buyers the Video Content They Want.
I want to know—how are you using video this year for your B2B content marketing? Have you hosted webinars? Tried out Tiktok? Started a branded series? If you aren't using video in any form, even as explainer videos on your website or social media, what is holding you back? Need ideas for how to use the video you already have in other ways? (If you answered 'yes' to that last question, download this free Video Planning & Promotion checklist. And you can see my videos about inbound marketing and PR in our Inbound Learning Library.)
I'd love to chat with you about how JONES can provide the support to make video a cohesive part of your overall content strategy. Schedule a time in my calendar for quick call.