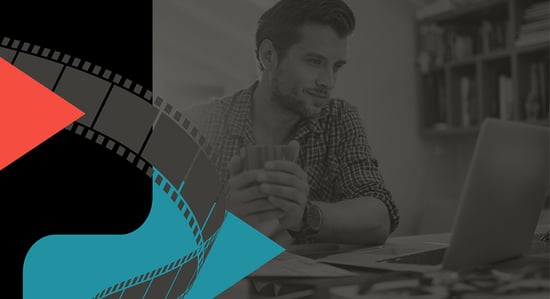 Video is one of the most popular forms of online content—just think of how much time you and those around you spend on YouTube, TikTok, Instagram Reels or watching Facebook Live. It is much more than entertainment.
In B2B marketing, video is a powerful tool for providing prospects and customers with the information they want in the format they prefer, as shown by a recent survey of B2B buyers conducted by Brightcove and Ascent2. The preference for video content when learning about a complex product or service crossed industry lines, including 91 percent of technology respondents, 72 percent of healthcare and life sciences respondents and 68 percent of those in the financial services sector.
The desire for video content not only crossed industry lines but touched on all levels of the sales funnel/buyer's journey, as we've highlighted in this infographic summarizing the key results.

Using Video to Create Awareness of a Business Problem
One of the key purposes in top-of-the-funnel content, whether video or another format, such as contributed articles, is to help potential customers recognize the problem that your product or service can solve. Sometimes it takes a little nudge to help someone recognize a business-related problem.
This video we created for Intrado (then West) highlights common problems healthcare providers experience around revenue. You hear right away a list of challenges that are familiar to any healthcare provider: no-shows, late payments, and failure to follow treatment plans. It then establishes that there are solutions to those problems.
(Learn more about our video work for Intrado/West here.)
When creating awareness, think about video for channels where those who are new to your brand can discover your content, including key social media channels such as LinkedIn and Twitter. Create videos that can be used across multiple channels, including in blog posts or emails, to get the most return for your investment in creating them.
Using Video to Build Trust and Connection
Once prospects are through the initial awareness phase, there is still a lot of research and information-gathering that takes place before most B2B decision-makers are ready to talk to sales. Your video content should be there to answer their questions.
Brightcove and Ascend2 found that 93 percent of B2B buyers say video is important in building trust in a brand, and 83 percent of them would rather tour a product via video vs. written formats. Reaching these prospects with the information they want in the format they prefer means creating product demos, tutorials and live videos, including webinars.
In the post-Covid world, webinars are an increasingly common channel for reaching
Using Video to Prime Buyers for the Sale
B2B buyers who replied to the survey indicated that some of those powerful elements in videos that would help them reach a purchase decision included interactive features. These could be as simple as a clickable call-to-action or more advanced, including links to additional content or the opportunity to "choose your own journey" through a video. Being in control and able to continue learning accelerate the evaluation and decision process, Brightcove wrote in the final report.
A full 95 percent of respondents said they would be more receptive to sales communication from an organization after consuming its video content.
How are you using video in your current marketing strategy?
Here are some resources to help you identify ways of providing potential customers with the information they need in the format they prefer:
Are you looking for a partner who understands how to integrate video, including social media and webinars, with the rest of your marketing strategy? As a full-service agency, JONES has the experience and expertise to ensure all of your marketing content works together. Let's chat about how we can bring that expertise to bear on your next campaign. Schedule a time in my calendar for a no-obligation consultation.