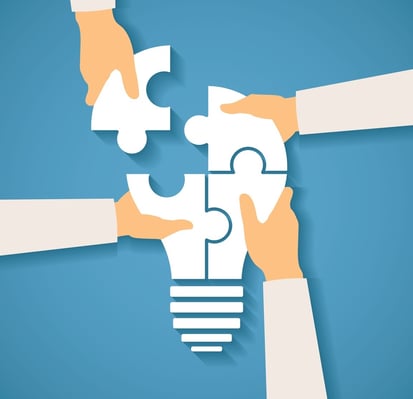 The lines are blurring. Back in the days of Mad Men, or even just 15 or 20 years ago, there was a fairly distinct line between marketing's advertising efforts and public relations, both in the minds of the public and in the hallways of corporate America.
Marketing did their thing, crafting promotional campaigns and buying advertising space, while PR did another, writing press releases, drafting thought leadership articles for industry publications, and putting out the occasional fire from a mishap. But the two really didn't cross paths that often.
Today, with the rise of content and the advent of social media, the lines are blurring, and the two disciplines need to work together to create a common message. With most of the rhetoric (and budget) focused on marketing, what is PR's role on the team?
PR's Strengths: Content and Story-Telling
Story-telling is at the heart of public relations. Extracting a story from a brand or business is what PR pros do. Public relations is centered around content (albeit primarily text-based) from press releases and annual reports to thought leadership articles in industry publications.
Public relations departments have been able to naturally extend their media-savvy that started with placing stories in print, television and radio to reach out to the explosion of bloggers. Social media is also a natural extension of monitoring and influencing the flow of public opinion. These are all reasons public relations needs to be involved in the content marketing strategy.
PR's Weaknesses: Lead Generation and Driving Sales
When it's time to ask for the sale, though, long-time PR devotees may feel a bit squeamish. After all, they "sell" the company, the brand, the feeling … not the product. But it's time to recognize that content today must be a gradual continuum, moving from the informative and inspirational message public relations has embraced toward the handshake that seals the deal.
Public relations professionals need to think about how their content fits into and supports the overall marketing and revenue goals of the company. Here's how:
1. Recognize that your PR content doesn't exist in a vacuum. It is part of the overall content strategy.
Even a simple press release about an honor your company just received can be leveraged in many ways that not only improve your company's image, but also generate leads. Consider this:
You've written a press release about the award your company received, and sent it to all the applicable media outlets.
Now, rewrite the release as a blog post, and include in that post in-text hyperlinks (one form of call-to-action) that lead to a landing page offering a case study related to the reason you received the award. If a visitor downloads the case study, they become a lead.
Share that blog post on social media to generate more traffic, and potentially, more leads.
In a follow-up email to leads who download the case study, offer a product demo video or fact sheet.
And when someone downloads the product fact sheet, it may be time for a personal contact from a sales rep.
Your public relations content — a press release announcing an industry honor — is now connected to a sale. Whenever you are planning content, think through how it can be used to move through this sales funnel.
2. Play to your department's strengths and create great content.
Writing is a common strength among public relations professionals. Many of us got into public relations because we love the craft (and we wanted something with slightly better hours and pay than the local newspaper). So make use of that skill to create great content with today's online marketing environment in mind.
Great content has four characteristics. It is:
Useful—Useful content addresses the pain points and needs of a specific buyer persona, providing answers and information they can use. This could be an introductory ebook, a customizable template or calculator, or a case study with details about how another company successfully solved the problem at hand.
Telling a story—Your content should give the reader a character to root or solve a problem. Focus on humanizing your products and services, not just describing them in a garble of company jargon.
Shareable—Social media is here to stay, and positive word-of-mouth is always great advertising. Make your content something readers want to share with their friends or colleagues. Being useful and telling a story helps. So does being funny, entertaining and unique. In fact, 43 percent of people share content that is funny; 29 percent share content because it is unique.(Click to Tweet!)
Findable—Take the time to learn about search engine optimization. Whether you are writing web page copy or a blog post, think about the keywords readers might search for in looking for what you have to offer. Write for the reader first, but don't overlook the importance of using those keywords in headlines, subheads and the page's microdata.
Public relations and marketing don't have to be—and shouldn't be—kept in their separate rooms and unaware of what the other is doing. Collaboration is much more fun and effective.
Involving PR, marketing and sales, with all-important budget input from the executive suite, is vital if your company is committed to creating a cohesive strategy for inbound marketing. Make sure your PR fits into the marketing puzzle. Walk through the steps of strategic planning with our Introduction to Creating a Companywide Content Strategy.