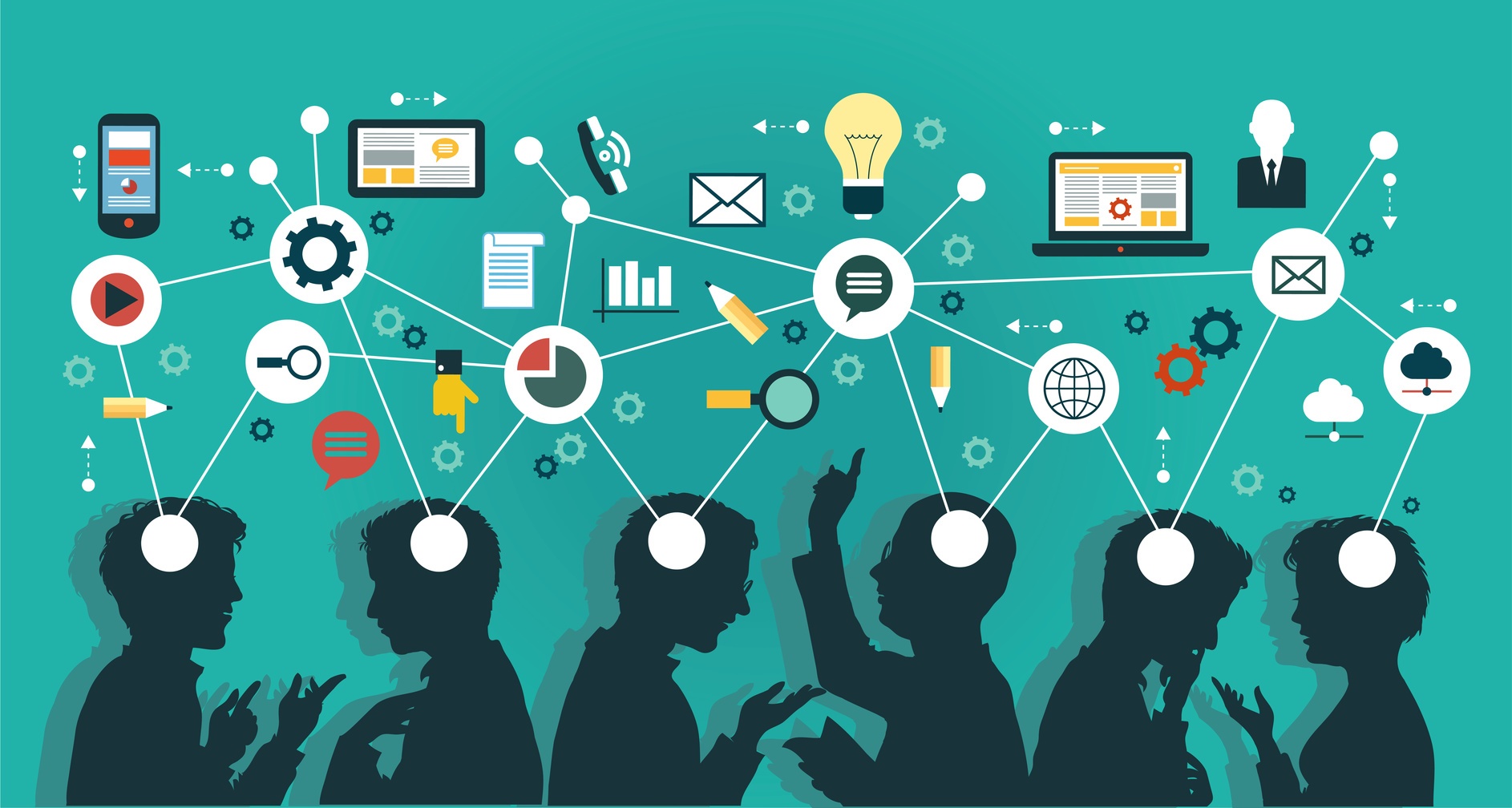 We know that the future of marketing is content.
In fact, 73 percent of respondents to a Content Marketing Institute survey indicated that content marketing is an ongoing part of their overall marketing strategy, not just a single marketing campaign.
But it isn't enough to just create content—videos, and ebooks, and calculators, and templates—and put it out there. Your content needs to have a purpose.
Inbound Marketing Problem: Not Planning Out Campaigns
Content draws visitors to your social media channels and website, and even starts the ball rolling by capturing leads, but it takes more than a disjointed collection of blog posts, webinars and downloads to nurture those leads into customers.
In order to nurture the 73 percent of new leads who aren't yet ready to buy, your content needs to be organized into campaigns and workflows that continue the conversation with those leads.
Inbound Marketing Solution: Using Content to Create Campaigns That Nurture Leads Into Customers
While you may have kicked off your foray into inbound marketing with a brainstorming session that developed the ideas for dozens of great pieces of content, the key to successfully using inbound marketing to drive sales lies in connecting those ideas in campaigns and lead nurturing workflows that work together.
Here are the steps we follow when planning the content and campaigns that help our clients attract visitors, capture leads and nurture those leads to a sale.
1. Outline the year's campaigns
Using our Campaign Planning Calendar Template or a similar format, determine what themes you will use for each of your campaigns. The theme could be focused on a particular buyer persona, a specific product or service in your line-up, or a specific pain point or problem you want to help your customers solve.
Your campaign plan should include the dates for launching each campaign, the theme, the audience, and a plan for the content you will create for each stage of the sales funnel.
Our campaign planning calendar looks like this: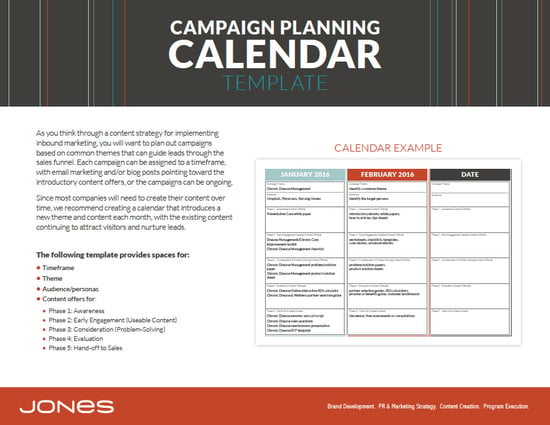 Fill in each campaign with a variety of content that reaches all stages of the sales funnel. That means educational and introductory material for the top of the funnel, usable templates, calculators and checklists for the middle of the funnel, and finally comparison sheets, product demonstrations and other more detailed materials for leads who are ready to make a decision.
You'll find plenty of ideas for filling the sales funnel in our downloadable Content Strategy for the Sales Funnel or in this blog post: 25 Offers to Appeal to Every Stage of the Buying Cycle.
As you create those various offers and content pieces, keep in mind which buyer persona you are trying to reach. You may even want to generate multiple versions of the same basic content, depending on whether you are focusing on the decision-maker or the end-user of the product or service. (See Content Creation Starts With Who, Where & Why.) This worksheet for outlining the parameters for each piece of content can help: Mapping Content to Your Buyer Personas.
2. Turn campaign content into nurturing workflows
With the campaign theme defined and the content you will create for each campaign outlined, now it is time to turn those campaigns into the automated lead nurturing workflows that help move your leads through the sales funnel.
Lead nurturing is essentially a series of automated emails bringing your leads additional offers, all related to the topic of their initial interaction with your website (such as downloading an ebook or accessing a webinar) and focused on providing the information and solutions the lead needs to move toward a buying decision. (Want to get a broader overview? Download our Introduction to Lead Nurturing ebook.)
While the campaign plan grouped content based on the stage of the sales funnel it addressed, your nurturing workflow becomes even more specific, designating a series of "if/then" actions in an automated system, complete with a time frame in which each action is triggered.
For example:
IF a website visitor downloads Ebook A, THEN they receive an instant and automatic email thanking them and offering related Template A.
IF the (now) lead, also downloads Template A, THEN they receive an instant and automatic email offering Case Study A.
But if they don't download Case Study A, the workflow may indicate that after 3 days they receive another email offering Product Demo A, which is related to the topic of Ebook A, the lead's initial point of contact with your website.
You can organize your workflow in a number of ways.
Some may want to use a spreadsheet or chart that tracks each email and offer by stage of the sales funnel (aka buying process), call-to-action, landing page URL, timing, and goal, as is done in our Nurturing Workflow Template. By including the goal and all details of the CTAs and landing pages, this file is easy to share amongst a team working together on a campaign, and could be expanded from our template to also include space for the actual text of each nurturing email.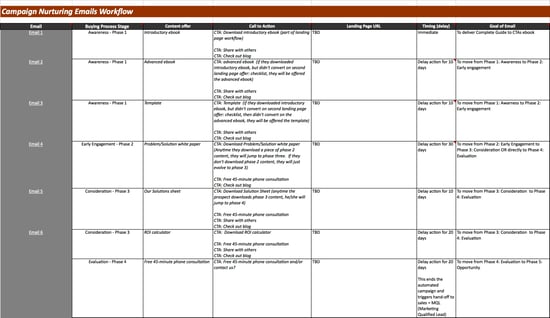 Others may need a more visual diagram to make the progression of the workflow easier to see. We also use a flow chart diagram to plot out lead nurturing workflows, accompanied by a Word document that includes the text and links for each email.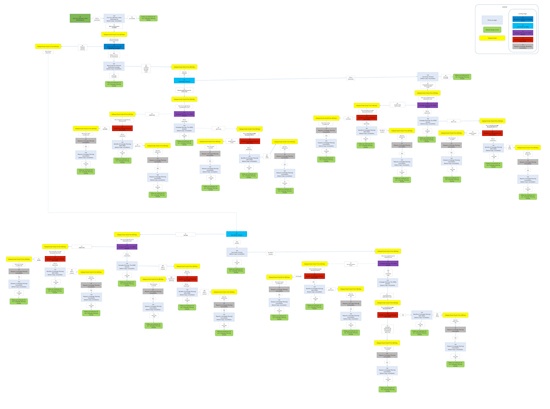 3. Develop a blog calendar and social media plan to support campaign plan
With your campaigns and workflows outlined and in development, you need to also plan how you will get visitors to the landing pages for your top-of-the-funnel offers. Along with using email marketing to reach your target audiences, develop plans for your business blog and social media accounts to support each campaign.
While you may not want every blog post during a campaign's timeframe to focus on that single topic—especially if you publish multiple times a week—use your blog as an opportunity to support the campaigns and expand the reach beyond your current mailing list.
Schedule blog post about topics that are part of your campaign theme and include in them calls-to-action that lead to landing pages for the offers developed for the current campaign. (More on CTAs in blog posts: 5 Steps to Picking Blog CTAs that Generate Leads.)
Think about planning these posts to reach a variety of segments of your targeted audience by including visual content in addition to text-heavy posts or writing one post as an introductory piece and going more detailed and in-depth in another.
You can keep these blog plans organized by using a detailed blog calendar that includes publication dates, due dates, author's name, the target audience, the offer and the CTAs to be used. (Don't want to create your own calendar? No problem—download, personalize and go: Blog Calendar Template.)
As you are planning the blog posts, also schedule social media updates and sponsored posts that correspond with the campaign. This can include a combination of links to the related blog posts, links directly to the landing pages for campaign offers, and content such as videos created specifically for social media. (We have a template for this too: Social Media Scheduling Worksheet.)
By following these three steps, you can ensure that your content is able to achieve the goals you have set for generating and nurturing leads. Find more solutions to campaign planning problems in Campaign Planning: The JONES Solution.
What other challenges do you think prevent well-intentioned inbound and content marketers from reaching their potential?