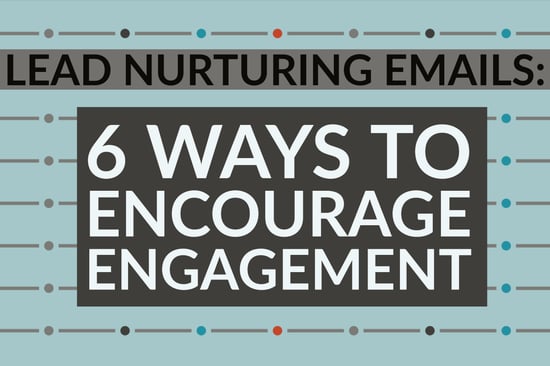 Some sources say that only 25 percent of new inbound marketing leads are actively looking to buy when they first enter your system; some say it is fewer than 1 in 10. That means that all your new leads really want when they first access an offer on your website is information.

And what you want is engagement and a connection, so that when they are ready to buy, you're at the top of the list.
That's where an automated lead nurturing campaign comes in.

Lead nurturing emails receive four to 10 times the response rate of standalone email blasts, because they are not random — they are based on what you already know about this lead, even if all you know is what brought them to your website in the beginning.
That knowledge, however, is enough to begin a series of automated emails with relevant information and offers that keep your new lead engaged.
Find all of the basics you need to begin planning your lead nurturing campaigns in Introduction to Lead Nurturing.
Lead nurturing emails can take several forms, or be triggered by a variety of interactions between your company and a prospect. Let's review six different formats you can use for lead nurturing emails.
1. Lead Nurturing with Educational Email Content
One way to begin your lead nurturing campaigns is with emails offering educational content. These emails, being sent to leads who are still near the top of the sales funnel, aren't focused on a sale because these leads aren't ready to buy.
Instead, these emails offer links to blog posts, whitepapers, ebooks, videos or other content that will be helpful to your leads, offering information and insights. Here's an example from one of our clients: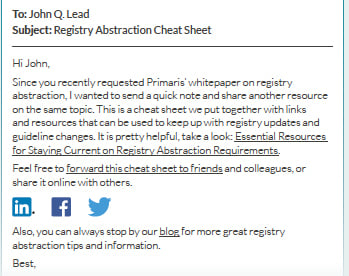 2. Lead Nurturing with Promotional Email Content
Promotional emails can also be used, along with educational emails, especially if you have a special offer that is relevant to the lead's previous interactions with your company and website. Consumers do want to hear from companies with whom they do business and in whom they trust.

3. Lead Nurturing with Best Practices Emails
As an extension or addition to your educational emails, you can create a series of lead nurturing emails offering best practices for their topic of choice. Designate the emails as part of a series, so your recipients will be watching for the next message with information they can use.
4. Lead Nurturing with a List of Resources
Lists of resources are another way of providing educational content in a lead nurturing email. We know that lists are one of the best performing formats for blog posts, and they are attractive to email recipients as well. (Looking for a template for creating great list blog posts? Download 5 blog writing templates here, including one for list posts.)
Sending your leads a curated list of your top blog posts, videos or downloadable assets that fit their interests is a great way to establish your authority as a leader and information source.
Base the resources you offer on where the lead is in the sales funnel, with awareness level content offered for those just showing interest in your company or blog, but offering case studies and testimonials for those who have accessed information such as product guides that may indicate they are closer to making a purchase decision.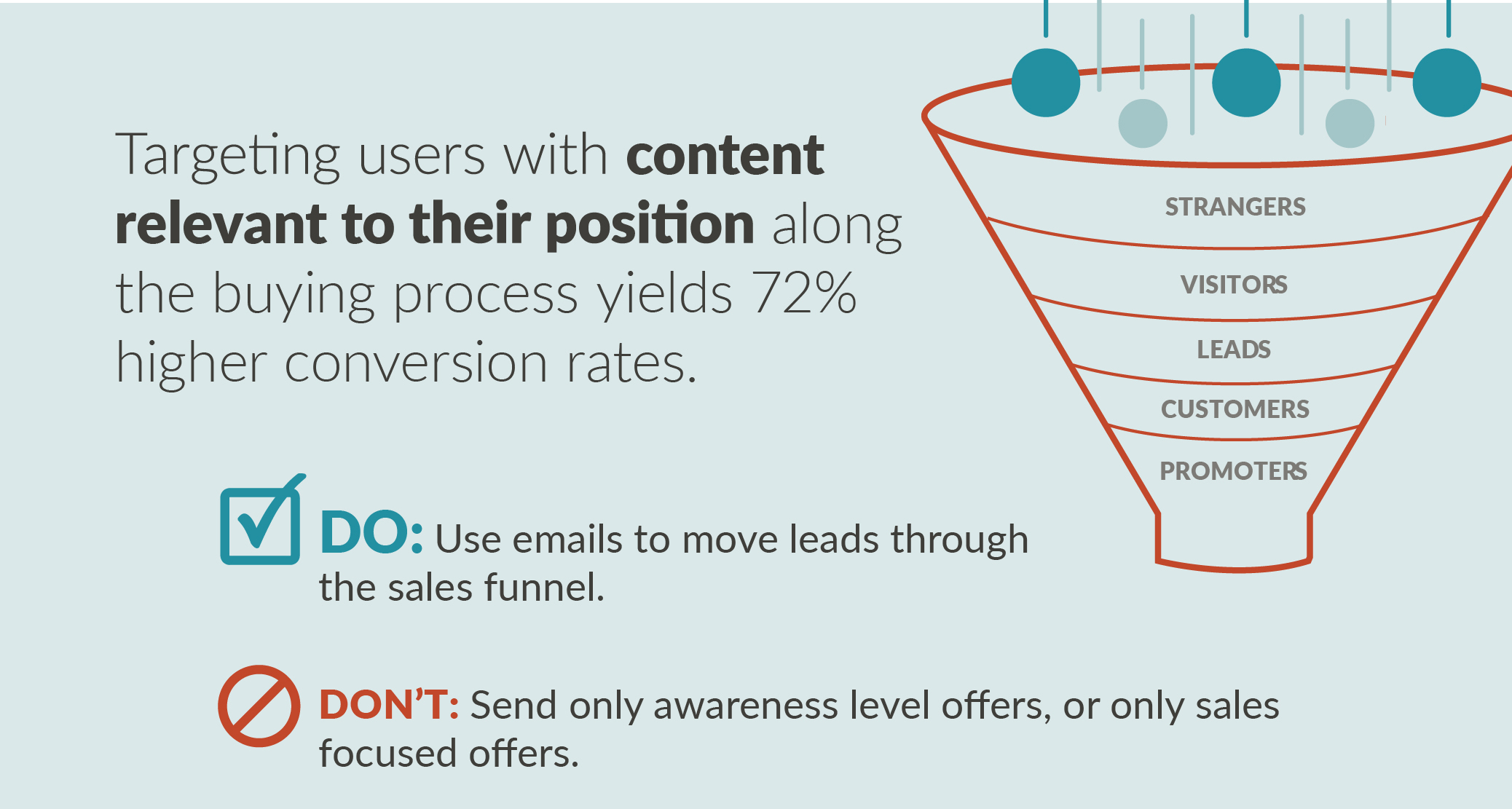 5. Lead Nurturing with Demo or Product Emails
While most of your lead nurturing emails should focus on education and information, as leads begin to express interest in specific products services, it is time to use your lead nurturing emails to offer demonstrations, consultations or free trials.
Don't make these emails too frequent, and be sure they are tightly connected to the lead's indications of being interested in that product.
Here is Primaris's lead nurturing email offering a 30-minute consultation: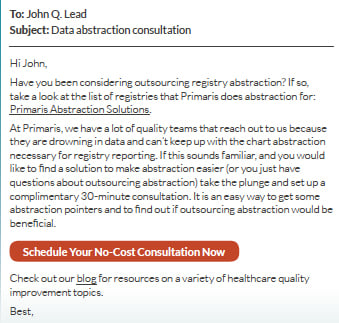 6. Lead Nurturing with Personal (and Personalized) Emails
When a lead is nearing the bottom of the sales funnel, having given indicators of being near a purchase decision, it is time to reach out in a more personal manner, possibly with a specifically targeted email from a sales team member. The other emails we have talked about would instead all be automated parts of a lead nurturing workflow, kicked off by a certain interaction with your site.
But a personal email offers the lead a chance to ask specific questions and talk with a real person. This is your chance to humanize your brand and introduce the individuals your lead will be hopefully working with in the near future.
You could even take this personalization a step further by sending personalized videos embedded in the email, greeting the lead by name, and providing them with a face and voice to go along with the name in the signature line.
And, it should be said, that even before you get this stage, you should be sure your automated lead nurturing system is personalizing emails.

Each of these types of emails plays a role in a successful lead nurturing program, which should reduce the length of the sales cycle and help ensure that leads are truly qualified and ready to buy before they are handed off to the sales department.
Want more resources to use in perfecting your lead nurturing workflows and emails? Download our Lead Nurturing Toolkit and Email For Inbound: Do This, Not That.