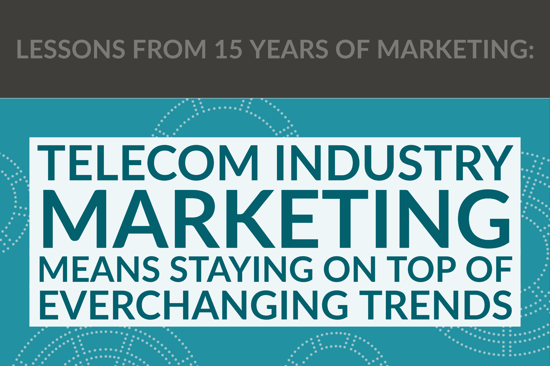 Allow me to date myself a bit. Obviously, if I'm offering insights into 15 years of owning my own marketing firm (plus my years with other agencies and in-house before that), I've been around a little while, though 20 years, or even a bit more, truly doesn't feel like all that long.
Until, that is, I think about the changes in how we do, well, almost everything, as it relates to telecommunications.
When I was a kid, all telephones were connected to the wall. In college, we might have a cordless phone, but it still required a base unit plugged into a jack. And it wasn't until I had been in the workforce a few years that Wi-Fi was introduced for home use. The idea of nearly everyone over the age of 10 having an internet connection anywhere they go via a smartphone was still nearly a decade away.
I share this to show one truth about the telecom industry: technology changes and advances quickly — in 25 years we've gone from those first internet connections hardwired into our homes and desktop computers, with phones tethered to landlines, to today's world of interconnected devices that link everything from our cars and refrigerators to our doorbells into our cell phones. So, if you are going to work in marketing for the telecom industry, buckle up for a roller coaster ride into the future.
____________________________________________________________________
This post is one in a 15-part series looking back at the lessons learned in my 15 years as founder and owner of JONES Marketing & PR. Find two of the most recent posts in the series here:
____________________________________________________________________
My Marketing Lesson #12: Marketing in the telecom industry requires constant focus to keep up with trends, as well as understanding how those trends impact multiple target audiences, from consumers and enterprise customers to manufacturing buyers and industry analysts.
Marketers need to understand, nearly as well as the R&D folks coming up with the ideas, what the future holds for their company's technology in order to craft the messages that show their telecom brand is ahead of the competition. Crafting those messages also requires understanding that each target market may need to hear something a little different.
1. Constantly changing technology requires staying ahead of the trends.
Telecom is intimately intertwined with nearly all other technology development going on today – either in utilizing new technologies or as a platform through which those technologies operate.
JONES has been involved in helping launch new trends in telecom technology for years.
Today, those trends include the ever-expanding Internet of Things: connected technology that does everything from monitoring your front door to triggering automatic orders from a warehouse whenever store shelf inventory dips below a certain level. All of those connections rely on the varied arms of the telecom industry: hardware manufacturers, software designers, transmission companies, data aggregation and analysis, and cloud data storage.
Faster connections that can carry more data through 5G wireless, cybersecurity, and artificial intelligence, in its many uses, top the trends analysts and others are watching in 2020 and beyond.
Bernard Marr's discussion of 5G as one of telecom's tends in Forbes speaks to both of my main statements about telecom marketing: keeping up and addressing multiple markets.
"5G will change telecom's role: telecoms will not only be technology distributors, but also service providers. This shift will require telecoms to engage with governments, enterprise customers and alter their sales approach to help customers leverage the power of 5G," he writes.
CSG highlights the growth in the Internet of Things — 10 billion connections and growing — and how the 4 billion industrial connections within it are an essential part of capturing and transmitting data to power smart city use cases like smart lighting, heating, metering and the smart grid. These telecommunication advances will have impacts on every aspect of daily life, and it is up to marketers to craft the messages that best define the benefits.
But, as I noted above, rapid changes in telecom technology are nothing new to the industry or to JONES. We've been following and serving the telecom industry for a long time.
Today, society is accustomed to having a data connection anywhere, without wires, but just 20 years ago, the idea of a data connection without wires, and without a cost-prohibitive satellite connection, was groundbreaking.
In 2001, I was part of a team that helped Sprint Broadband Direct introduce the idea of a line-of-sight wireless broadband connection linking a transceiver dish on a building to a tower, providing a broadband connection without the installation of expensive underground cable.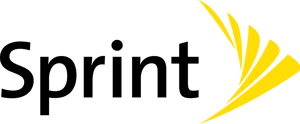 As the PR professional in charge of technology and consumer market public relations for Sprint Broadband Direct, I secured articles in multiple publications explaining how the new technology works and its advantages for businesses and consumers, including this "Anatomy of a Fixed Wireless Installation" piece from Computerworld.
____________________________________________________________________
When text messaging hit the market, it took years for cell phone service plans to accommodate unlimited messages. The advent of smartphones, however, brought about an alternative to restrictions on free texting with over-the-top (OTT) messaging apps that bypassed the cell phone carrier's texting limits by using data connections – think today's WhatsApp and Messenger.

Before those apps became ubiquitous, JONES helped Qualcomm, better known at the time as a top designer of mobile phone chips, research and launch Yagatta, a suite of "over-the-top" communications apps with PR and marketing efforts aimed to reach carriers, mobile device manufacturers and their respective application developers.
Forbes described Yagatta like this:
Yagatta manages all its various data types efficiently, something that operators are likely to appreciate. And hardware companies ought to like the ability to offer superior services and the potential to take back real estate on the initial screen.
For consumers, a good IP communication experience typically requires at least a 3G connection and a smartphone. The rest of the infrastructure includes the underlying protocols and the servers and services built on top of them. All these elements working together make powerful IP communications possible.
Qualcomm's specific offering has three main elements:
The server, which handles user identification and authentication, conversation and session management, and routing and signaling;

An application programming interface (API) and application development kit (ADK); and

A set of seed applications, which add value on day one.
Earning media coverage like that Forbes article was just one part of what JONES helped Qualcomm achieve, beginning with an IP Communications Industry Perception Analysis. That analysis informed Qualcomm's global marketing and PR strategy, which was designed to create a sense of urgency for carriers to integrate the Yagatta solution. In addition to media outreach and executive interviews focused on the industry's transition to a new means of messaging (Internet protocol messaging vs. traditional text or "SMS"), research findings were leveraged to create sales materials for Qualcomm to use in discussions with carriers/operators. Those materials:
Communicated the need for rapid deployment and seamless integration of text, voice, video, picture, social, and location services.

Communicated the urgency for carriers to proactively manage the move to IP communications as the industry transforms with the proliferation of smartphones, combined with faster networks and demand for richer multimedia content.

Positioned Qualcomm as the solution provider to help carriers/operators get ahead of OTT solutions and successfully move into next phase of business (rather than be left behind because customers go to free services).
____________________________________________________________________
Individual cell phone users aren't the only ones continually looking to new technology to provide a different, more affordable, communications experience. Large corporations have also sought ways over the last two decades to shift their telecom needs from traditional landline-based systems, with telecom companies working to accommodate those demands.
When voice over internet protocol (VoIP) was new, I helped Cisco Systems earn coverage from Forbes and Financial Times as the company took its "IP Communications Lab on Wheels" on the road to showcase the technology's potential.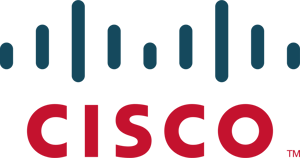 VoIP technology uses broadband connections, rather than traditional phone lines, for voice calls, as well as video and data. By combining voice, video and data over the same network using Cisco's technology, companies could not only become more productive, but also save as much as 30 percent compared to traditional telecom services, as noted in this Forbes article. The IP Communications Lab On Wheels was a 53-foot tractor trailer designed to give journalists a tour of all the latest technology and what it could provide, especially when combined with Cisco's existing suite of communications tools from routers to video phones.
____________________________________________________________________
Today, one of the fastest-changing segments of the telecom industry is the growing world of "smart" things – from smart homes with smart speakers and doorbell cams to the entire "smart city" trend mentioned in the CSG article above. One aspect of smart cities is focused on using multiple sources of data to improve emergency responses when someone calls 911 from a cell phone.
JONES worked to position West Safety Services (now Intrado), as THE source for data and information regarding the "State of 911," utilizing a series of annual market feedback surveys to build a database of information valuable to the industry, as well as identify emerging trends. West Safety Services provides technology to wireless operators, companies using VoIP, and local 911 call centers (also known as PSAPs – public safety answering points, call centers responsible for answering calls to an emergency telephone number for police, firefighting and ambulance services).
The safe cities perspective is just one topic covered by the survey, contributing to a series of complete campaigns. Each campaign includes marketing papers, at least one byline article, blog posts, social media posts and news announcements to earn additional media coverage.
Key to the messaging for the safe cities campaign is the idea of merging data from multiple sources to provide 911 operators and emergency personnel with as much information as possible when responding to incidents.
Consider this excerpt from a thought leadership white paper we developed for West /Intrado:
Imagine the case of a vicious fight – with individuals potentially having weapons on them – that breaks out in a mall. Smart mobile sensors with IoT technology, AI and geospatial positioning working in context with other devices, such as pan-tilt-zoom (PTZ) cameras, can stream location and video data to 911 command centers to coordinate police response. Law enforcement will be able to use that in context with the mall's floor plans to know where to access the building under the circumstances and even what weapons are being used so they can be well-prepared to engage with the perpetrators.
Here is another excerpt worth sharing:
The First Responder Network (FirstNet) public safety communications platform for first responders is emerging as an important part of the smart city. It provides emergency service personnel with dedicated bandwidth for communicating over the nation's first high-speed, nationwide wireless broadband network dedicated to public safety. So, there's no worry that the lines of communication won't be open when emergency personnel need to communicate with each other.
The network also can carry data from sensor-equipped devices In or around, say, a commercial building on fire. The wealth of data these objects can provide is represented visually on a dashboard. A smart object like a fire hydrant near the building may be sensor-equipped and can provide meaningful data – an alert that it has low water pressure, for example – so that responders can know to reroute to another one before they're even on the scene. Information drawn from on-site hazardous materials equipped with sensors can alert responders about the need for specialized resources like HAZMAT personnel. Geofencing to define a particular geography can provide emergency responders with data about, say, the nearest hospitals which, combined with traffic pattern data, can guide responders in getting victims to a facility fast. And smart sensors in the building's basement may indicate high temperatures there, which is knowledge that firefighters can use to manage manpower allocations.
And here's an excerpt that shows how we worked in the survey findings:
Citizens' Role in Smart City Safety
Many citizens would like to contribute to public safety in smart cities, too. They would like to be able to use their smartphone to send texts or even photos or videos of an incident like a car accident to emergency call centers, as one example. Currently, most metropolitan areas in the U.S. have deployed Enhanced 911 (E-911), so emergency call centers would be able to match this information to the caller's location to pinpoint the site of the incident.
Eighty percent of consumers use cell phones to call 911, according to the 2017 National 911 Progress report. In a recent survey sponsored by Intrado, 94% of Americans think that it would be beneficial to text a photo or video of an emergency incident to 911, and 96% feel the same way about a crime in progress. Eighty-three percent of adults 45 or older think it would be beneficial or extremely beneficial to be able to share a video with a 911 operator to show what is happening during an emergency, and 77% of adults between 18 and 44-year-olds think the same.
That's not an option at this point, though.
Additional topics covered in the series of campaigns include: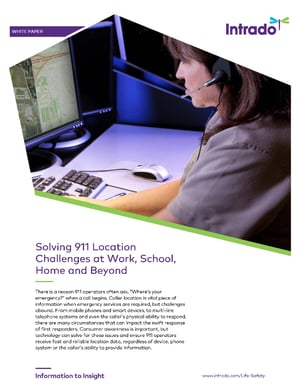 GIS Mapping – 911 and beyond

Next Gen 911 benefits

Enterprise 911 and Kari's Law

School safety

Solving 911 location problems at work, school home and beyond

The Internet of Lifesaving Things, including smart speakers and smart homes

Cybersecurity and the public safety ecosystem

Smart speaker safety – the inability to call 911 from a smart speaker poses safety risk
JONES and Intrado used independent data gathered from marketing surveys to address the latest trends in telecommunications for public safety, with complete campaigns that integrate marketing and public relations.
2. Telecom marketing and public relations efforts must consider multiple audiences (B2B, analysts, consumers), each with different needs and expectations.
Telecom services and products represent a combination of behind-the-scenes offerings largely known only to industry insiders, enterprise-level solutions focused on corporate level decision making, and consumer-facing technologies where customer experience and name recognition can be key in successful marketing efforts. Often, the same company will need to appeal to all three target markets, plus industry analysts, with messaging covering a wide range of products and solutions.
In our example above, Intrado's approach, especially in the campaign about the Internet of Lifesaving Things and smart speakers, uses customer experience as a key message in its outreach to other markets. It leans on marketing research surveys to provide data for content designed to reach its markets in community 911 services, with a focus on how to better serve consumers and the public, as well as address challenges involved in 911 dispatching such as staffing, stress and data management.
Addressing analysts is also key in the telecom industry, where vendors rely on analysts to provide insights to potential customers about not only the quality of the technology, but also the strength of the company and its ability to continue to provide quality services and products as technologies advance and change.
Qualcomm recognized the need to understand the media and analyst audience when it engaged JONES to review media and analyst reports about Qualcomm's software and three of its primary competitors, using a SWOT analysis to develop a communications strategy to improve visibility of the company's chip software offerings.
Best known for their chips and thought of as a hardware company, Qualcomm was not widely recognized for the software that powers those chips.
Isolated examples of coverage in the four-year period JONES reviewed showed awareness and acceptance of Qualcomm's software initiatives, but it was obvious continued education was needed, as much of the conversation was deep and technical and lacked visibility and understanding by end-users, Wall Street, media and many industry analysts.
That same message came through clearly from the analysts, whose input provided a clear directive for future messaging.
Using the extensive feedback from direct contact with industry analysts, JONES developed a SWOT matrix which showed that opportunities existed to tie software into a broader company strategy. The strategy needed to demonstrate how Qualcomm's software solutions create "better mobile experiences," a term which also needed more clarification in the company's messaging.
The recommendation, based largely on what was learned from the analyst's perceptions of both Qualcomm and its competitors, was to stake claims that show not only the strength of the company's solutions, but the strength of the company's strategy, appealing to both original equipment manufacturers in the technology industry and to the business and financial world.
Analyst audits use personal contact to develop a deep understanding of what industry experts consider to be your brand's strengths and weaknesses, resulting in both strategies for addressing those strengths and weakness and in closer relationships with those industry influencers. Our experience in conducting both media and analyst audits allowed us to dive deeply into how the outside world viewed Qualcomm and inform a strategy to help them reposition the brand as more than just chips.
Constantly evolving technology and trends, along with the challenge of reaching multiple audiences with diverse perspectives, make the telecom industry a challenging and exciting one for marketers to work within, as they must often explain complex technology in terms the consumer can easily grasp. While the lessons I've learned in working with telecoms over the last 20 years serve me well, I know it is an area in which I must be willing to continue to learn. It's a good thing I do love learning new things.
I want to continue to share what I've learned, also. We are in final stages of this series on Lessons Learned, with the next installment set to cover what I believe is one of the most successful strategies for integrated marketing and PR: Great content is essential, and research-based content wins every time.
If you don't want to miss it, subscribe to the Inbound Accelerator, and we'll be sure you know about each new post as it is published. If you'd like to talk with me in person about how my experience in the telecom industry or any other way JONES can help, I'd also welcome a no-obligation consultation call. Click here to find a time on my schedule.