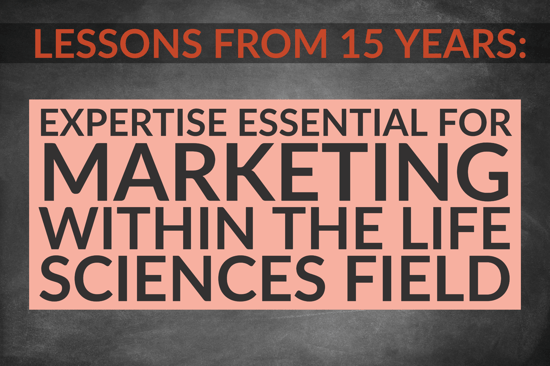 Every industry has individual nuances in marketing tactics, techniques and needs. And while nearly every B2B market is also filled with industry-specific knowledge and vocabulary that marketers must understand in order to create credible content, when it comes to businesses in the life sciences sphere, the need for expertise and immersion in the field is even greater.
Life sciences, as a field, encompasses a wide range of businesses, most of which support the infrastructure that enables the healthcare system, from medical device manufacturers, to pharmaceutical companies, DNA research, and the contract research organizations that take on drug discovery, pre-clinical and clinical trial research for pharmaceutical and biotech companies.
Regardless of what part of the supply chain a life sciences company operates in, its customers are likely either other scientists or physicians, or both. They are highly educated, driven by logic, and tasked with improving the health of their fellow man. Marketing to them is not to be taken lightly or done haphazardly, which means that when a life sciences firm chooses the team that will develop the public relations and marketing content needed to drive awareness and revenue, finding the right people is imperative.
Life sciences firms can't afford to waste time, or lose credibility, by hiring marketers or agencies who don't know what they are talking about.
____________________________________________________________________
This post is one in a 15-part series looking back at the lessons learned in my 15 years as founder and owner of JONES Marketing & PR. Find the two most recent posts in the series here:
____________________________________________________________________
My Marketing Lesson #8 (Industry Highlight): Life sciences marketing requires expertise, media analysis and quality content to build credibility in a highly sophisticated industry.
Knowledge-based fields such as the life sciences rely on creation of quality content that addresses the information needs of potential customers in order to build credibility.
1. PR and media analysis set the foundation for creating outreach and marketing strategies to raise awareness within the field.
Creating a strong, integrated marketing and PR strategy for any life sciences entity should begin with understanding the current media environment, including reviewing the company's past experience with media outreach and mentions, as well as that of competitors and others in related fields.
A complete media audit or analysis should outline what topics are being talked about (including both press releases and media articles), who is talking about them, and what the general tone of coverage is for your company and competitors. It should also outline key journalists and media outlets, resulting in a list ready for outreach efforts to secure interviews and ensure journalists know that your executives are available for comment on key topics of interest.
By having a complete understanding of the current situation, you can more effectively develop a strategy to expand media coverage and increase awareness.
JONES used a media audit approach to help Illumina, a leading developer of DNA sequencing technology, determine why it was being out-gunned in the media by then start-up Ion Torrent. While Illumina's technology is responsible for generating more than 90 percent of the world's sequencing data, in one six-month period, the smaller company had earned nearly twice as many media articles, leading Illumina to engage JONES to find out why — and to recommend how to turn it around.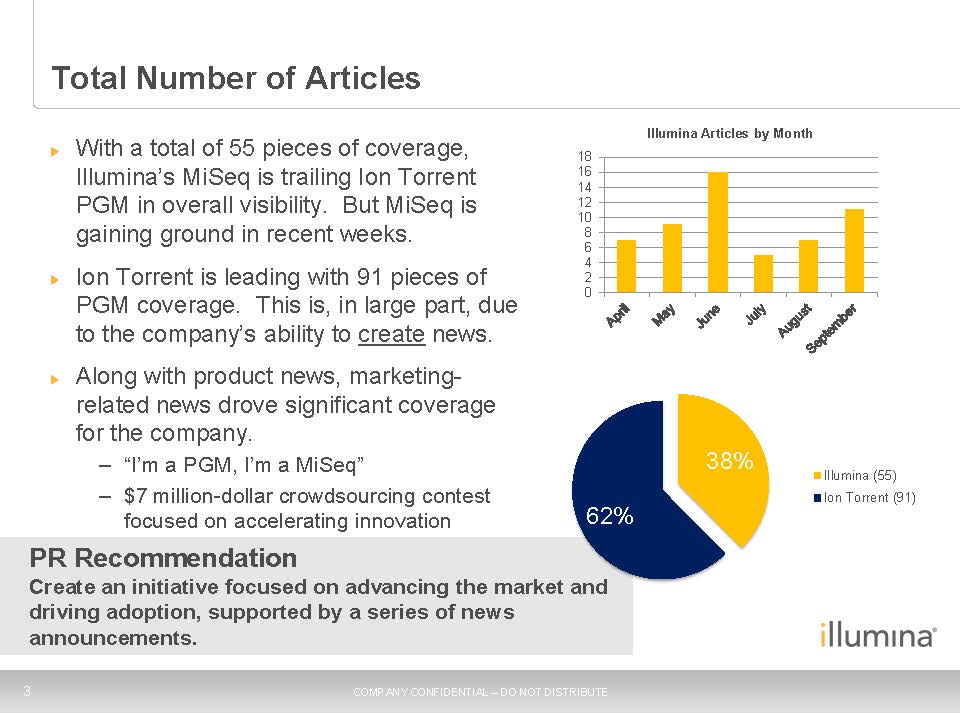 Through our audit, we found that Ion Torrent was successfully creating news — developing a $7 million crowdsourcing contest focused on accelerating innovation — and that the company's chief executive had a knack for relating the genome-sequencing technology to other technologies that readers could understand and relate to, such as the rise of digital cameras, while Illumina's CEO had a tendency to address topics with more complex explanations using industry jargon.
JONES recommended that Illumina develop a set of talking points and soundbites, along with coaching the company's spokespeople, to be able to provide a more reader-friendly response to media questions. They also recommended a "rapid response" program to seek out opportunities to apply the company's solutions and expertise to breaking news stories, a strategy that succeeded in landing mentions of Illumina and its sequencing technology in articles from media outlets as diverse as the global Reuters wire service, The New Yorker and industry-focused Bio-IT World.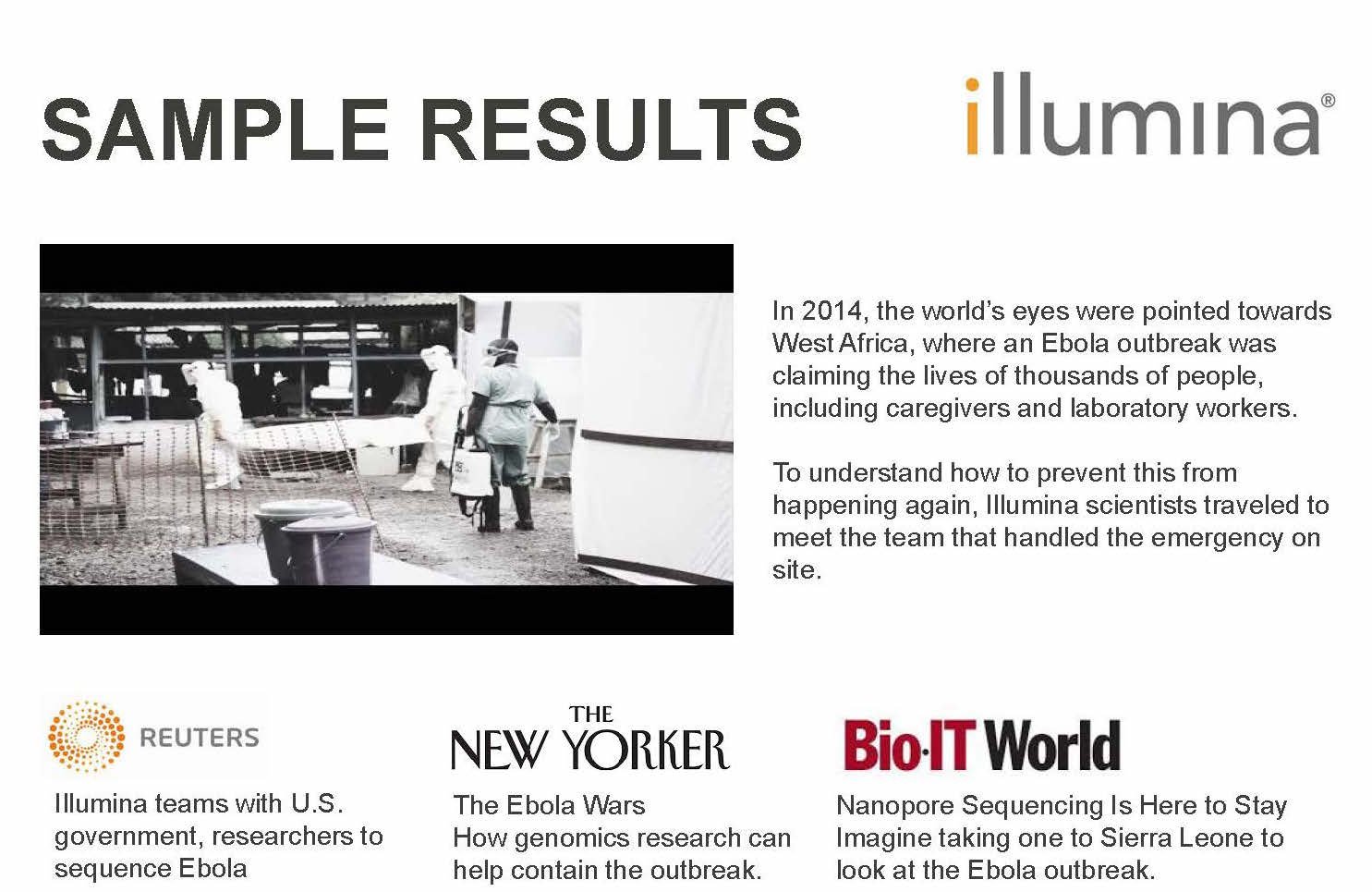 Illumina was able to turn its expertise to the biggest stories in the world involving genomics research, and earn media coverage that spanned the globe.
For Stryker, a global medical technology company with products ranging from medical implants to surgical and hospital equipment, along with service solutions and equipment maintenance, understanding their PR results and where the conversation was going in the medical community was paramount.
JONES designed and implemented a full-service PR measurement, tracking and analysis program, including quarterly and annual analysis to supplement daily and weekly reports for both senior leaders and employees to help the company stay on top of not only their own media coverage but also competitive and industry trends.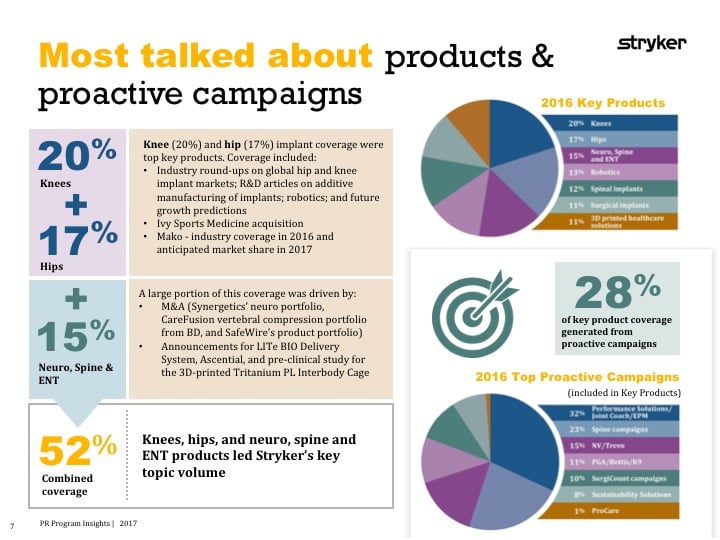 By knowing what was being discussed, and whether coverage was initiated by media outlets or driven by a proactive public relations campaign, Stryker could identify key trends, amplify their executive presence, and capitalize on campaign opportunities in the media.
Today, key topics that life sciences companies are highlighting in their content, and that are attracting media discussion, include a combination of company news such as expansions, partnerships, awards and new technology, plus coverage of specific topics relative to the specific area of life sciences. Contract research organizations (CROs) find positive press in discussion of specific tools such as cell-based assays or an exhalation delivery system, along with condition-related articles ranging from cancer to central nervous system disorders.
In other life sciences fields, such as medical technology or healthcare management and IT, media articles often center around specific conditions or treatments and how those companies enable healthcare providers to improve outcomes for their patients.
By taking the time to complete a comprehensive media audit before creating a PR and marketing strategy, life sciences companies can prepare to provide media outlets and journalists with information that puts their research, development and technologies in perspective in situations that readers can relate to and understand.
2. Thought leadership (contributed articles) combined with press releases build credibility and a position of authority.
Marketing and public relations must work together to develop the level of credibility and industry authority life sciences firms need. By placing thought leadership articles focused on industry expertise, along with issuing press releases that focus more on company developments, life sciences communications teams can build a foundation of trust with prospects.
JONES has helped contract research organization QPS, based in Delaware, to develop a strategic calendar for both types of media outreach, utilizing Cision to distribute press releases to a global media database, while using personalized outreach to pitch bylined articles to targeted industry media outlets.
The five regularly scheduled press releases distributed in the first six months of JONES' partnership with QPS were published by an average of 150 online media outlets, reaching as many as 10 million stakeholders with news about QPS's expanded capabilities in the United States, new brand identity, and growth in Asia.
In addition to the calendar of planned press releases included in the overall media strategy, JONES and QPS kept a close eye on topics in the news for opportunities to contribute to the conversation and capture visibility for the company. For example, as an uncertain future for Brexit loomed, QPS highlighted its availability to take on clinical trials through its Netherlands location with a press release developed as a supplement to the regularly scheduled strategy.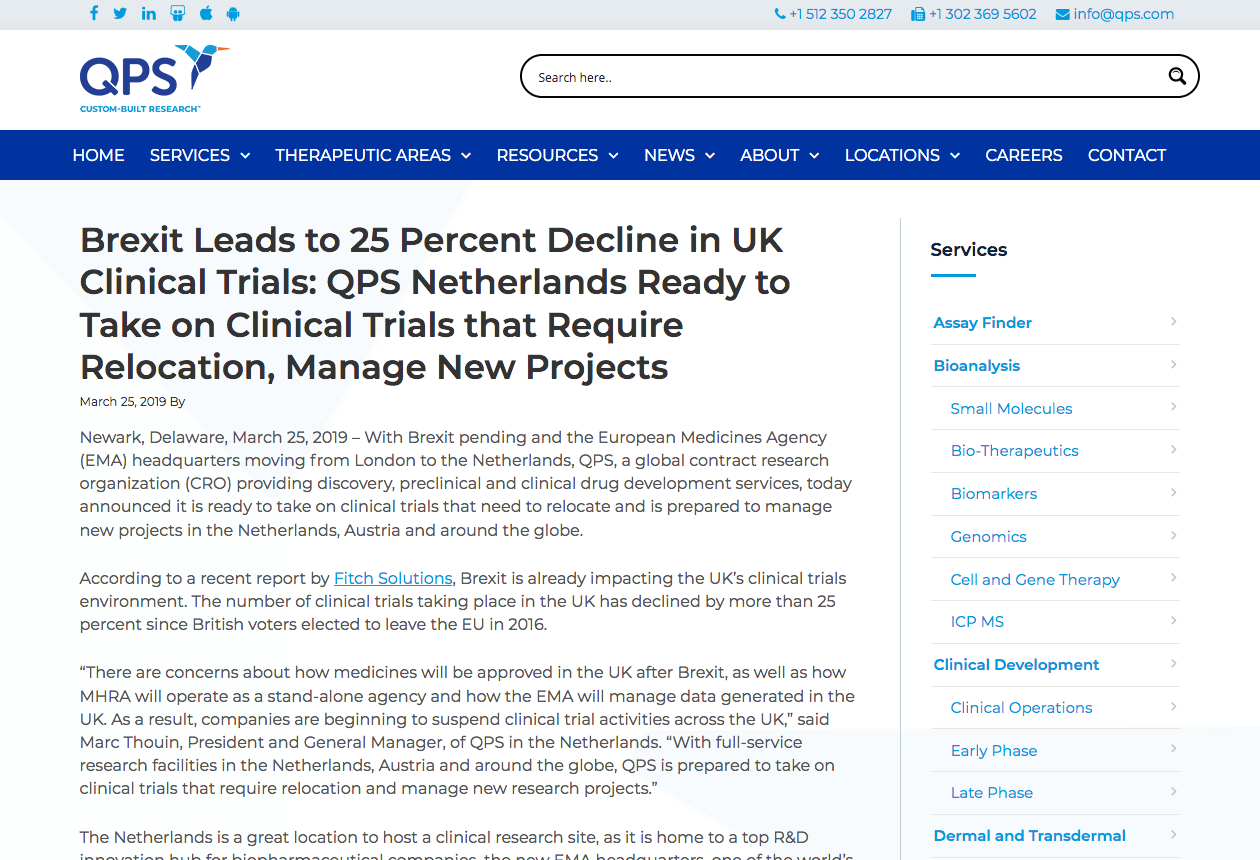 In addition to being sent via email to more than 1,600 life sciences media outlets, it was published to LinkedIn, where it gained nearly a thousand impressions.
The same content was also developed into a supplemental thought leadership article published by the website Bioanalysis Zone, reaching nearly 90,000 stakeholders in the bioanalysis field.
Other thought leadership articles (also called contributed articles or bylined articles) were published by media outlets such as Contract Pharma, Asia-Pacific Biotech News, and Cell & Gene. Each of these articles has the potential to reach tens of thousands of stakeholders in the pharmaceutical and biotech industries, highlighting QPS's ability to share lessons in pharmaceutical development and testing.
3. Content and integrated inbound marketing provides opportunities to capture leads and develop greater connections and conversations with industry prospects.
While the public relations tactics of using thought leadership and media outreach are essential in building credibility in a sophisticated market and industry, there is still a need for lead generation and lead nurturing that falls within an integrated inbound marketing program.
Much of the same content that is developed for thought leadership articles and press releases can, and should, be repackaged as whitepapers suitable for driving lead acquisition as gated material on the websites of life sciences firms. By integrating PR and marketing, information and content can be used to develop complementary pieces that work together throughout the sales funnel from awareness to consideration and decision levels.
Thought leadership articles, press releases, social media and blog posts provide the awareness level content, gaining exposure and building credibility, as well as providing additional SEO power to a corporate website.
When coupled with a whitepaper or other downloadable asset, the overall inbound strategy allows for the capture of leads in order to build an ongoing conversation with prospects through lead nurturing emails that offer additional information or engagement with your company.
Working with JONES, QPS developed a series of campaigns that utilized an integrated approach of press release, thought leadership, whitepaper and additional content.
An example is a content package intended to bringing focus to the CRO's ability to utilize a combination of in vitro and in vivo research techniques and the potential that level of testing and trials could present to specific conditions, including Alzheimer's disease.
A thought leadership article, published by Contract Pharma, reached 40,093 pharmaceutical and biotech executives via print and online subscribers, and presented the benefits of having a single organization responsible for the entire scope of testing as a way of potentially unlocking a breakthrough that could delay or even prevent the onset of Alzheimer's.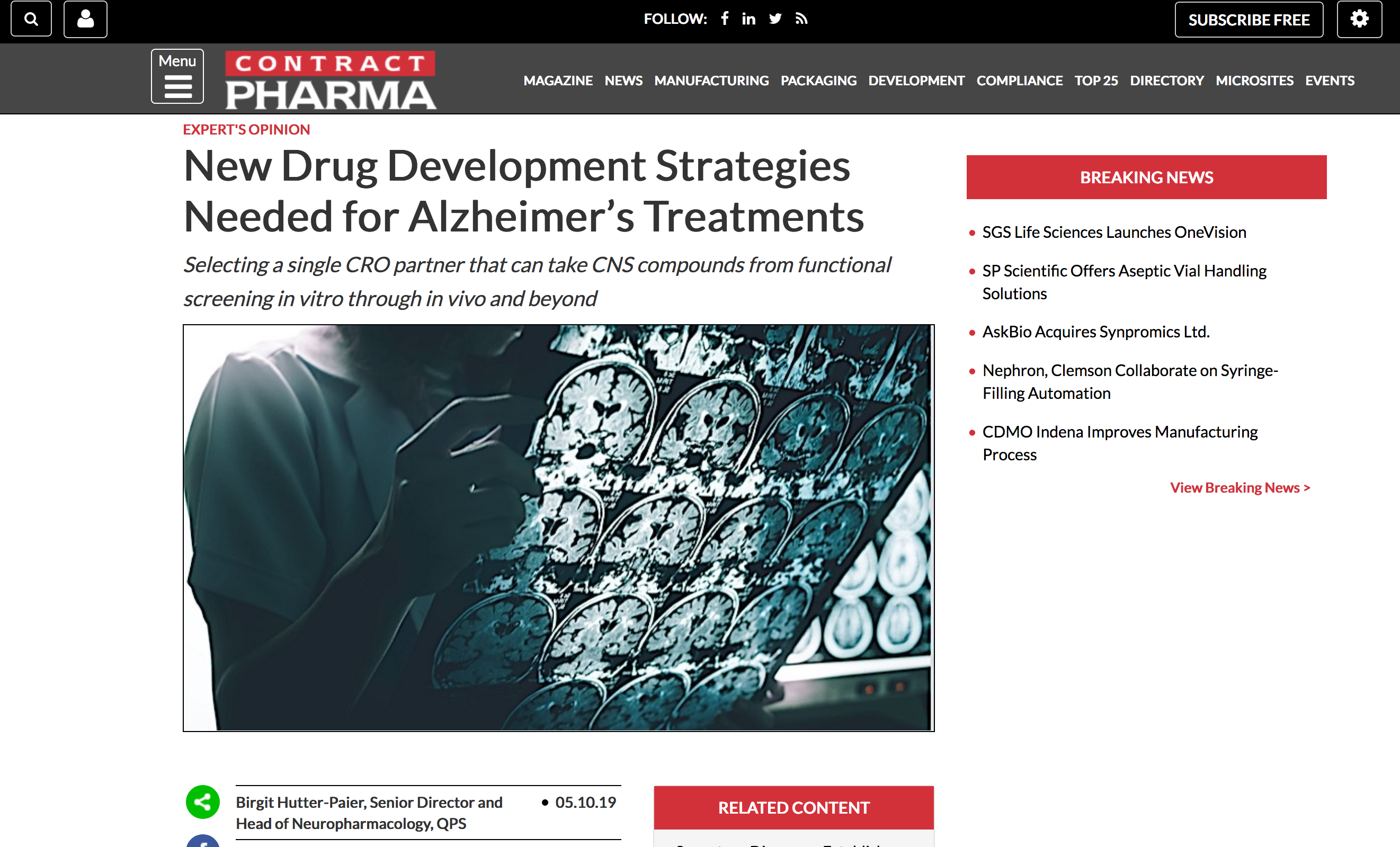 The thought leadership article was timed to coincide with a press release highlighting QPS's successful growth performing in vitro studies in Europe, with more than half of those clients continuing on to perform follow-on in vivo studies with QPS. That press release was published by 178 different online media outlets with a potential reach of 8.4 million stakeholders.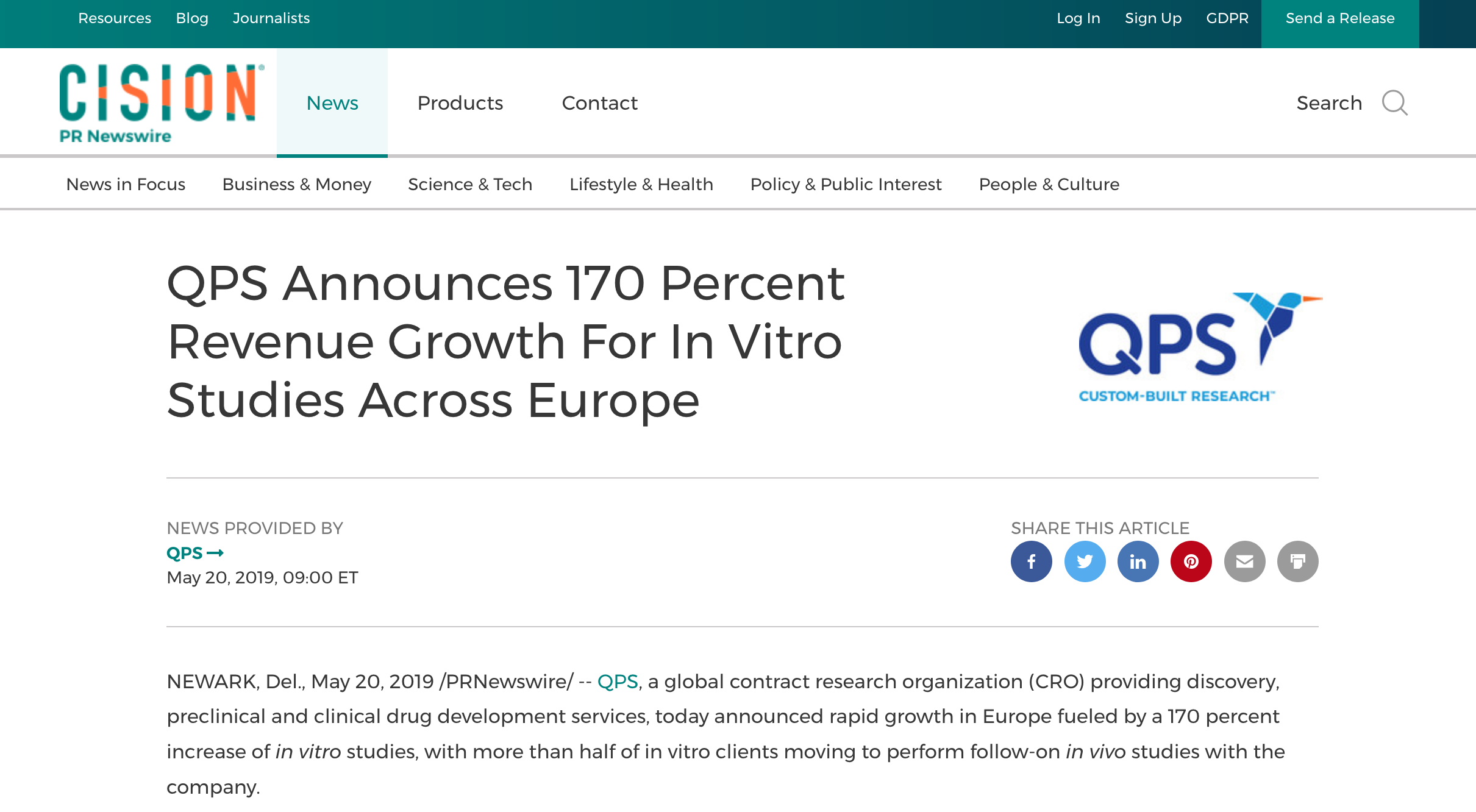 Included in the press release was an infographic, providing a reader-friendly visual for the amount of research and follow-on commitments from clients QPS had achieved. In addition to providing a visual element to the press release, infographics like this can be repurposed in multiple ways throughout public relations, marketing, and sales enablement content.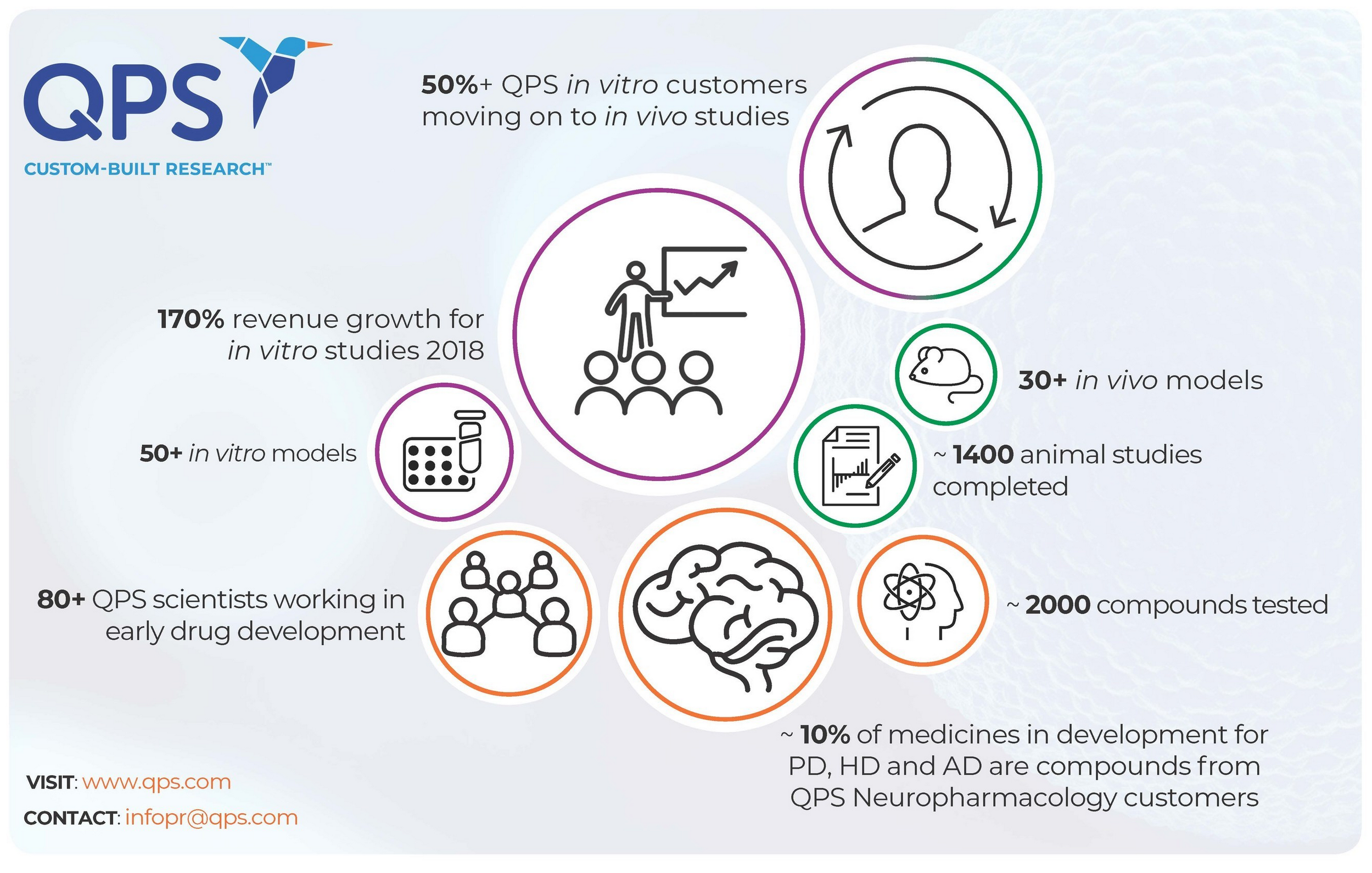 Finally, a whitepaper titled Three Lessons To Help Accelerate Pharmaceutical Breakthroughs for CNS Disorders was developed to be used for lead generation by QPS, offering an even more in-depth discussion of the benefits of creating continuity in research through all stages of testing and studies to fuel innovations.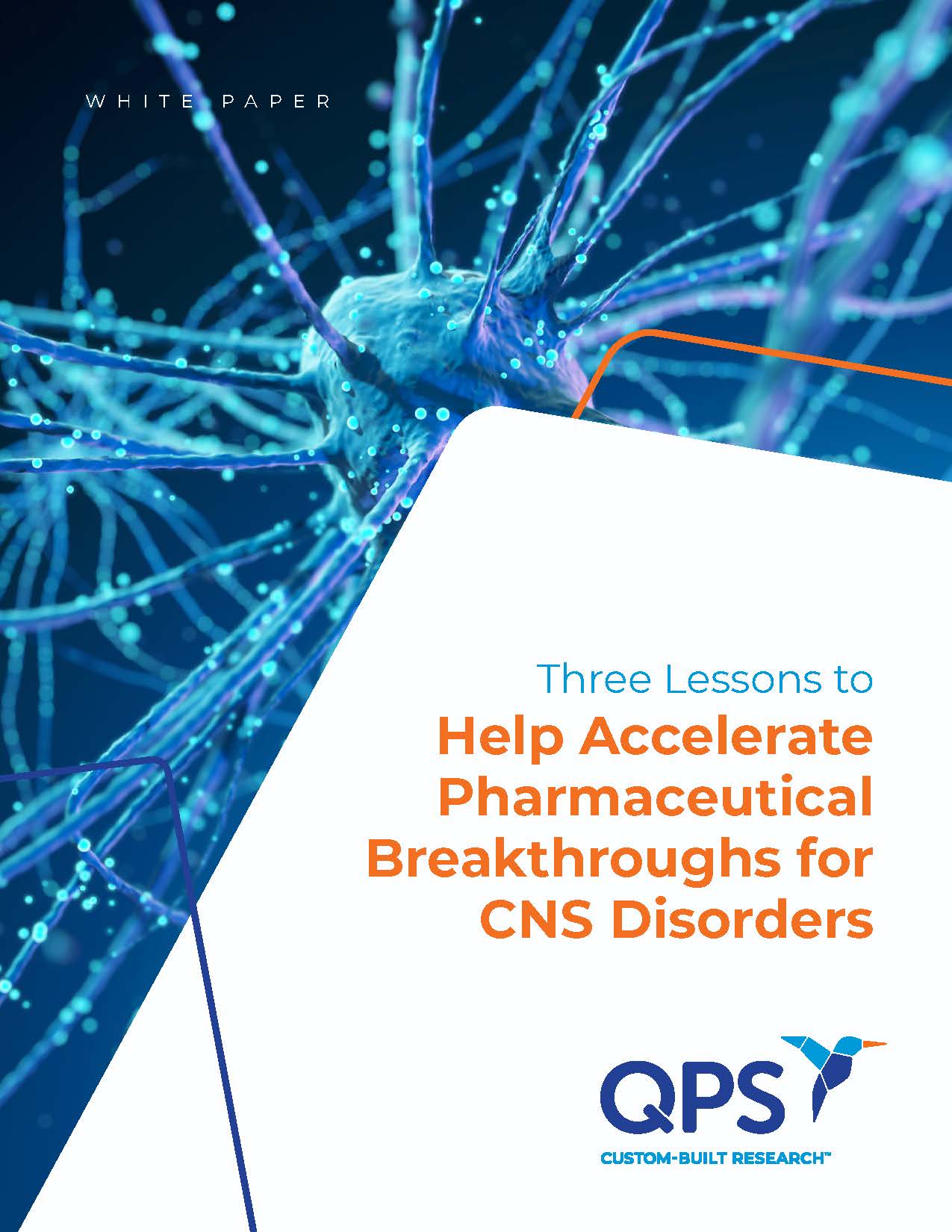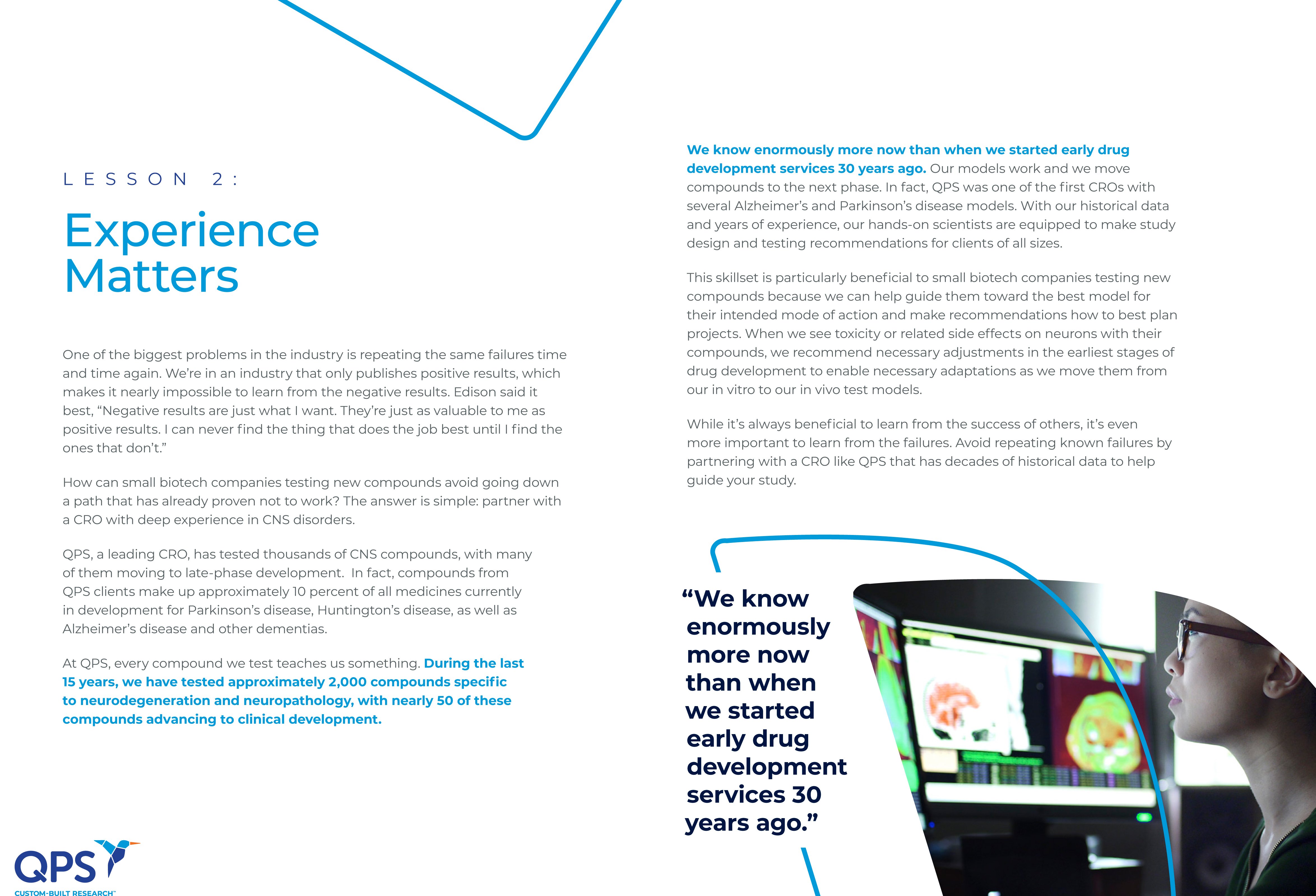 By creating an entire package of content, with each piece targeted to a specific audience and specific level of the sales funnel, QPS was able to maximize the information to communicate a cohesive public relations and marketing message through all levels of the campaign.
4. All of this content creation requires industry experience and expertise from the marketing team to maintain credibility with both internal and external audiences.
The big question for corporate and marketing executives in the life sciences fields is this: Who can create this content?
The audiences being targeted by PR and marketing content in the fields of biotechnology, pharmaceutical research, medical technology and life science in general are highly educated and logical. They are largely doctors and scientists. Content written for them must be written by someone who understands the science and can explain it in both technical terms for those audiences and in layman's terms for the audiences of more general media. This means not just parroting the experts they quote (or ghostwrite for), but truly understanding what is being written.
It isn't only the external audiences that must be considered when choosing who will create content based on complex scientific or medical topics. The individuals working with internal experts to develop the content have to be able to earn the respect of the scientists they are quoting or writing for, or there will be distrust between marketing/PR and others in the company. This isn't a job for junior writers with no industry experience.
Marketers in the life sciences industry also need to understand data. This means both being able to decipher and use data within the research the company executes and presents within its content, and analyzing marketing data and public relations/media analyses to best guide future marketing decisions and improve marketing performance.
But it can't be all science and data. It is still marketing, after all. And even the most technical of life sciences topics benefits from the humanization of a personal story and connection
With these four lessons in mind, life sciences firms must be selective in both who they hire in-house to guide marketing and PR and in choosing agencies to help them achieve the desired results through media analysis, strategic planning, and content development. They can't afford to lose credibility through poorly written materials, or to waste time helping a firm with no experience in the industry get up to speed. It pays to find someone with experience and understanding on their side.
As I move forward in this series, I'll discuss the specific tactics and tools necessary for effective B2B marketing for other industries. Our next installment will cover healthcare IT, followed by posts about why I believe in time tracking, integrating PR and marketing, and investing in research-based content for both.
If you don't want to miss any of these, subscribe to the Inbound Accelerator, and we'll be sure you know about each new post as it is published.