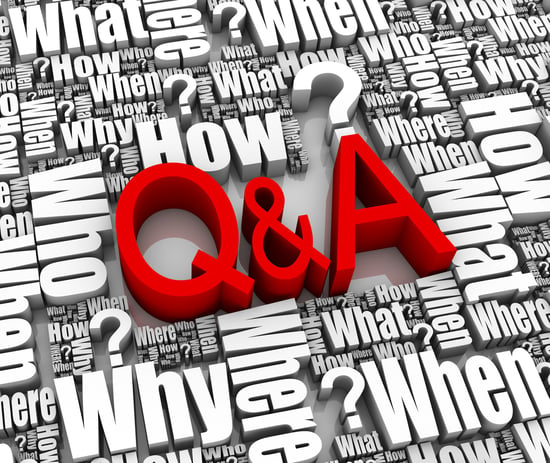 It's always great to see hard work recognized, and JONES extends congratulations to Primaris and its director of marketing, Revee White, on receiving Gold Awards from the Association of Marketing and Communications Professionals 2015 MarCom Awards recently for rebranding, integrated marketing and website redesign.
We talked with White about how Primaris launched into the commercial healthcare market in the last year, the role JONES played in that campaign, and the awards.
Q. Tell me briefly about why Primaris needed to embark on the branding campaign, and why JONES was brought in to be a part of the team?
A. Primaris had been mainly a government contractor working with local, state and federal government entities in Missouri, with our corporate image hinged on being a Medicare-approved Quality Improvement entity. With changes in the healthcare industry, especially from a fee-for-services model to an outcomes model, Primaris was experiencing growth in the commercial market and the time was now to think beyond the next RFP and position the company for more opportunities.
While we had the structure in place to serve customers well, we were unknown outside the government contract arena and had never had a true marketing program.
We originally reached out to JONES for content marketing, and it morphed into something larger.
Q. What role did JONES play in the campaign?
A. We knew that we wanted to do content marketing, but as Kristin talked with our team about content, it became obvious that first we needed to figure out who we are and develop a message and a brand position.
We already had primary research conducted with our stakeholders—internal audiences and customers— but JONES added detailed research about our competition. Everyone in the industry, including Primaris, was saying the same things and echoing the same messages. So JONES helped us identify strategic advantages to build on and develop the TIME Improvement Model. That model, along with 10 solution categories, created the basis for our brand messaging and fueled our marketing strategy for the first year.
Along with their guidance in developing a complete brand position and messaging plan, JONES has also created content such as white papers, checklists, solution sheets, ROI calculators, sales questions and call scripts.
Q. What were the key elements of your branding campaign?
A. Our key takeway from the early research and discussions was that that we needed a strong elevator speech and more than just a tagline. The TIME Improvement Model (Thresholds for Success; Improvement Strategies; Measures for Goal Attainment; and Execution and Evaluation) and the phrase "It's Time" were the beginning.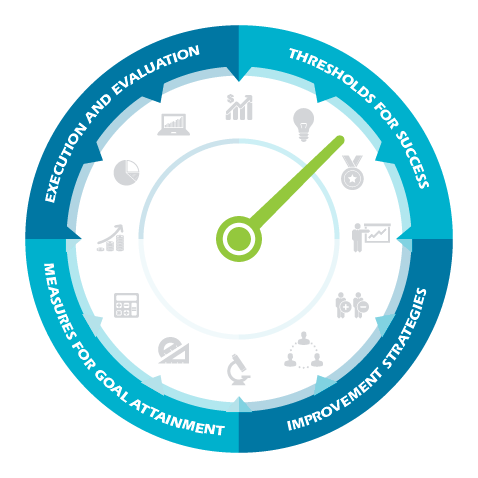 Before taking on individual elements, we had a mood board created for our plan, including typography, colors and icons.
The mood board helped us create a consistent approach to the other elements of the marketing plan, which included a new logo, redesigned website, and complete content marketing strategy incorporating blog posts, white papers, and social media.
We began our content marketing plan in January 2015, using HubSpot for our blog, marketing automation and social publishing. The results are telling.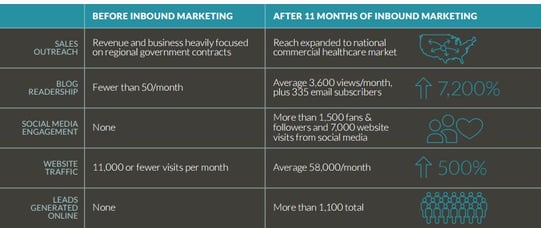 Q. What were the greatest challenges, and how did you approach them?
A. The biggest challenge was that this was completely new to our company. I was a solo marketing department, so I needed someone to bounce ideas off and help me organize my thoughts. JONES was great at being a leader, planning and getting everyone on the same page. I was impressed with the depth of material provided for organizing our efforts.
JONES helped to make sure we had a strong foundation to from which to launch our content marketing.
Q. What parts of the campaign do you feel have been most successful?
A. I think the TIME Healthcare Improvement Model has really been successful in differentiating Primaris from our competitors. Publishing content has helped increase awareness, and JONES has helped us place thought leadership articles from our CEO, which has helped get us out there as a premier healthcare improvement firm.
Q. Why did you enter the MarCom Awards?
A. We've done a tremendous amount of work and I felt like that needs to be recognized. I have served as a judge in other awards, so I knew that our entry was very strong.
We entered three categories—branding, integrated marketing and website design (see below)—and earned a gold award in all three. MarCom awards are an international competition with more than 6,000 entries each year.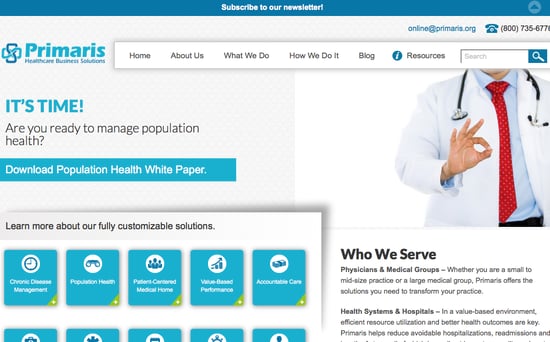 Q. What do these awards mean to you?
A. It means we have undertaken solid work. In the fast-paced world of marketing,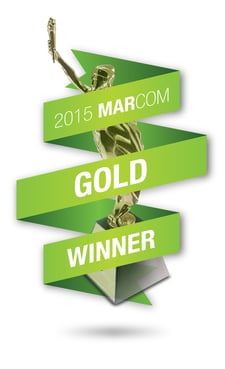 public relations and communications, it's easy to just slap things together. I feel like the awards show that we did a strong job of incorporating brand and a website. It also shows that marketing is a wise investment.
Q. What do you think JONES does best?
A. JONES was really instrumental in every realm.
While I was under pressure to quickly develop a marketing plan, Kristin and her team are very good at making sure the marketing plan is tied to broader business goals.
The quality of content and writing is also very strong. I'm a pretty gruesome editor, but the JONES material is ready to go when it comes in.
JONES is an extension of our team. JONES is truly a partner, not just a vendor. The team members serve as valuable consultants and there to pitch in wherever needed.
Want more details about the successful introduction of Primaris to the commercial healthcare market? You'll find them in our case study, then learn how JONES can help you be the envy of your field.