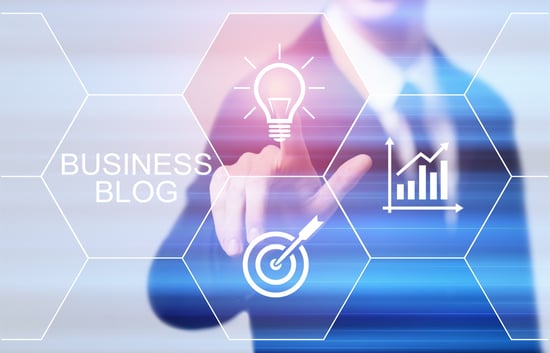 While LinkedIn may be seen largely as a networking and employment tool for professionals, it can also be a strong tool for promoting your company or personal brand, including your business blog.
Each blog post you publish on your own website could be promoted on LinkedIn in up to four different ways:
A status update: This is the most basic promotion. Link to your post with a teaser and image as a LinkedIn status update.

Publisher post: Your blog posts can also be republished as a complete post with LinkedIn's Publisher format. Change them as needed to address differences in target market if your LinkedIn network and audience is likely to be different from your typical blog readers.

In groups: LinkedIn's groups provide an audience tightly tied to a specific topic or industry, and are another opportunity to post a link to your blog.

In discussions: If you have contributed to a group discussion and have a blog post related to that specific topic, post a link with a short summary of what additional information the group will find in the post to further the discussion.
Integrating all of these opportunities into your social media solutions will require more than just haphazard posting. Set goals and track results for your Digital Echo, not only on LinkedIn, but on other social media platforms as well, with our free template. Don't forget to also connect with me on LinkedIn and with JONES.