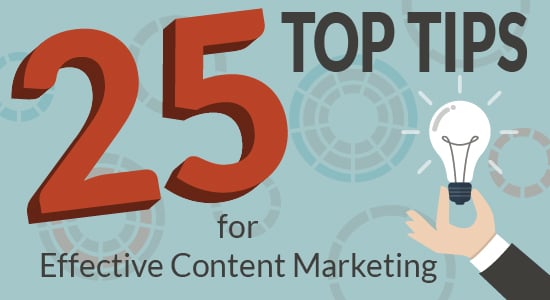 Content marketing is a huge umbrella term, but many of the simple tips included in this infographic from SEO National can be applied to nearly every aspect, whether you are creating social media content for a B2C business or developing in-depth whitepapers and bylined articles to build industry authority and leadership in a B2B field.
Which of these quick tips are things you already do? Which are more involved strategies that you want more details and advice about?
Read through the infographic, then check below for links to in-depth blog articles and downloadable resources to help you improve your content marketing strategies and campaigns.

Which of these require a little more detail to fully implement? Here are the ones I think are most important, along with links to help you make meaningful improvements to your content marketing.
#1. Guide customers through the buying cycle (aka sales funnel). This is what lead nurturing is all about. It requires creating content that appeals to prospects, leads and customers at all stages of the buying cycle, along with carefully crafted lead nurturing workflows that drip out that content to develop and maintain a connection until the lead is truly ready to buy.
#5. Don't short-change your content (and thereby your search rankings, traffic and impact). The average word count of top ranked content in Google is just under 1,700 words. Keep that in mind as you choose how long your content, such as a blog post, should be. (More here: Pick The Perfect Length For Your Blog Post)
#6. Base your content on buyer personas. Who are your customers? What are their needs? How do they like to get information? What is most important to them in making a purchase decision? What prevents them from buying? If you don't know the answers to these questions, you can't create marketing content that meets their needs, provides the needed information, or leads to a sale. Here are resources to help you develop the buyer personas that will guide strategy decisions from what content to create to which channels you will use to distribute that content:
#12. Repurpose old content in a new way. Or, use the same basic content to create a variety of types of materials focused on several distribution channels from the very beginning. For example, the data gathered from a single consumer survey can be turned into more than 100 pieces of marketing and PR content—download our checklist to see how.
#14. Always create a content strategy. Why? Because 61 percent of the most successful content marketing teams have a documented strategy. Follow the steps outlined here to develop a content strategy that will guide campaign development, content creation, and content promotion, as well as measurement and tracking.
#22. Create evergreen content. Our own experience at JONES is proof of how this can work. Content designed for the long haul leads our monthly blog views, and has for years. Some of our most popular compounding posts were written several years ago and continue to provide value to our readers.
#25. Great content comes from good writers with the resources they need to succeed. This is slightly different from the advice given in the infographic, but it is the key to how JONES consistently creates great content for our clients. We hire experienced writers and then allow them to focus their time solely on that purpose—they aren't being tasked with being account managers, making cold calls, or other extra duties. (Read more on our philosophy here: Content Creation Mistake: Failing To Find & Enable Great Writers.)
How can we help you implement these content marketing strategies? If you'd like to learn more about the JONES approach to integrated marketing and what we can provide to help your team succeed, let's talk. Schedule a no-obligation consultation here.