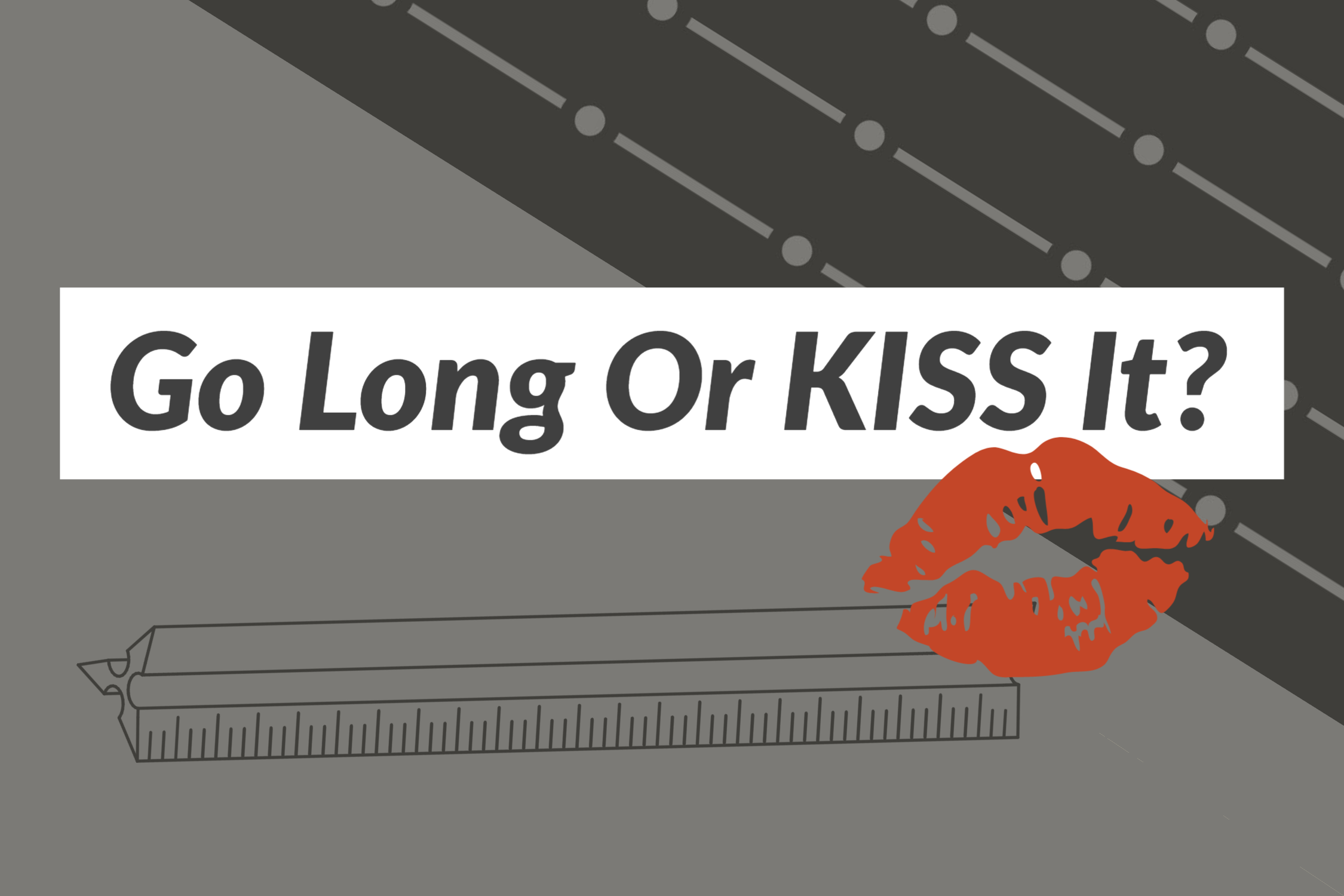 In some professions, there are no questions about how to get the results you want. Precise manuals spell out exactly how to replace an engine part or calculate the needed statistics in an actuarial table. But with marketing and content creation, the guidelines are a little more, let's say, open to interpretation.
This includes writing business blog posts that deliver results – wouldn't it be great if there were an absolute answer to what works? Then you would know whether to write long or "KISS" by keeping it short and simple. Unfortunately, the answer is not exact, but there are some statistics, best practices and complicating factors to keep in mind as you find the perfect length for your next blog post.
(For the TL:DR crowd, here is my bottom line answer to how long your business blog posts should be: You should combine in-depth posts of 1,500+ words for enhanced SEO with shorter posts that incorporate images and videos and allow you to publish more frequently to keep your blog fresh. Find the tools you need for planning and writing in this free business blog kit. But really, don't you want to know more about the why and the how behind my recommendation? Then keep reading!)
How long should your blog posts be?
First, let's agree on a few broad definitions before we get into precise word counts. What do we mean when we talk about long-form, short-form and medium length blog posts?
"Long-form" typically refers to almost all posts that are longer than a thousand words. That includes both posts that just barely reach that mark and those that are two, three or even five times as long. Long-form blog posts offer the opportunity to either go in-depth on a single topic or to bring together the commonalities of a range of topics your readers are interested in.
"Short-form" blog posts are usually under 500 words. They may be a short company announcement, a quick tip, or a limited amount of text used to complement a video or infographic.
In between those two, you'll find medium length posts (500-1,000 words), which are well-suited to high readership formats such as curated lists and how-to guides that don't require in-depth analysis.
With those general definitions in mind, let's look at a few specific stats about blog length, readership, and SEO:
The average word count of top ranked content in Google is just under 1,700 words, but varies depending on the niche, from as little as 700 words for camping related content to more than 2,500 words in the financial industry. (Source: SearchMetrics)
That would indicate that search favors longer content, and in their report, SearchMetrics notes that Google's algorithms seem to be especially careful in how they rank pages in sensitive niches such as finance and credit. If your brand is in what they call a "your money or your life" category, comprehensive content is more credible.
A study by SerpIQ confirms a general preference for longer content, showing that nearly all content sitting in the top 10 spots in the Google searches they studied was more than 2,000 words in length.
Of course, as a marketer, you want more than just search results and traffic, you want leads. Curata found that longer, in-depth blog posts generate 9 times more leads than short ones.
Why? Perhaps because 47 percent of B2B buyers read three to five blog posts or content pieces prior to talking with a salesperson (Source: DemandGenReport)
Based strictly on those statistics, it would seem every blog post you write should be at least a thousand words long, right? But that doesn't factor in a few important considerations, which our experience with this Inbound Accelerator blog highlights as well.
Year over year, our most-read posts tend to be those that are more in-depth, with many of them showing staying power, topping our most-read list for several consecutive years. These posts on brand development and lead qualification are examples, still topping our metrics years after publication.
But there are also a few shorter posts that shoot to the top when they resonate in a specific way. The traffic generated when Social Media Today shared our infographic on the demographics of social media shows the power of visuals in marketing content. And sometimes a short tip can fill a gap that is missing in content on the web, such as our social media tip on using topics to organize posts in Facebook groups, which hits the first page of search results on using topics in Facebook groups.
Our experience also tells us there is a difference between the ideal and the doable, so each business needs to approach its business blog strategy with answers to a few more questions in mind.
Let's look at the factors you should consider when planning your business blog strategy.
1. How frequently do you need to publish?
The simple answer: More is better. More blog posts mean more content on your website and more opportunities to promote new content through social media and other channels.
Consider these statistics from HubSpot,
Marketers who prioritize blogging efforts are 13x more likely to see positive ROI.

Companies that publish 16+ blog posts per month get nearly 3.5x more traffic than those at publish 0-4 times a month.

B2B companies with more than 400 published blog posts generated almost 3x as many leads as B2B companies with fewer than 200 published posts.
Besides the benefits of simply having a greater quantity of content (meaning more topics and keywords included, more content segmented by buyer persona and more content segmented by stage of the buyer's journey), frequent publishing keeps your website fresh.
SEO likes fresh content.
Consider this insight from SEO Digital Group:
If you know how search engines work, you should be aware of crawlers or spiders that crawl through existing web pages. As these crawlers find new content to index, they recognize fresh pages and can see when a website is actively being updated. When more content is indexed from a website, it can improve ranking on search engine results.
Moreover, the more often you publish new content, your site will be re-indexed. Google will crawl your website on its own, or you can submit new URLs to Google Search Console. When search engines detect a new page on your website, they crawl it so that it can be indexed. This can re-index other pages as well and improve SEO across your website.
Sounds like it's time to start cranking out blog posts at least once a day, right? Wouldn't that be fantastic? But back to reality. I doubt your marketing resources can cover that kind of commitment. That's why you need to answer this next question before setting a blog strategy into motion.
2. How much time/money can you commit to your business blog?
Even though content marketing costs 62 percent less than traditional marketing endeavors and generates 3x the amount of leads, and nearly half of B2B marketers expect to increase their content marketing budgets this year, those budgets are still limited. (Sources: DemandMetric and Content Marketing Institute)
That means you will need to determine how much you can commit to your business blog in terms of time and money, and then plan your strategy based on those resources. This applies whether you are writing the blog yourself, assigning it to other in-house staff, working with a full-service marketing agency or outsourcing to a freelancer. (More on choosing who will do your content creation in this blog post.)
For reference, according to Orbit Media Studios, the average time spent researching and writing a single blog post is nearly 4 hours. That is obviously an average – long-form posts will likely take at least that long, while short-form posts may take much less time.
When time and budget is limited (and when isn't it?), it is best to use a mix of long-form and short-form to create a balance between fresh content and in-depth content.
3. How can you integrate video and other visual content?
Video and other visual content such as infographics are key ways of varying your blog content, and can provide a boost to SEO and viewer engagement.
More than half of B2B marketers prioritize creating visual assets as part of their content marketing strategy, which is not surprising since video drives a 157 percent increase in organic traffic from SERPs in some studies. (Source: HubSpot)
Short-form posts are a good way of incorporating visual content that has a big impact on engagement and sharing, while keeping the text shorter (and quick to create). Of course, great visuals take time and expertise, too! But if you have already created infographics for use in print materials, or videos for sales presentations and trade shows, using them in blog posts just makes sense as a way to repurpose content and maximize your ROI.
Another tip: Not all of the videos and infographics you share have to be your own! We share great information from others — with proper credit and backlinks, of course — that we think our blog readers would enjoy or find useful. With a few comments of our own to introduce the video or infographic, and links to additional resources in our own blog and library, these short posts provide fresh content without taking hours to create. (Check out these examples: infographic and video.)
Think about how you can use video and infographics to supplement your blog strategy with high-impact short-form posts that complement your comprehensive long-form blog posts.
With those questions answered, here are your next steps to implementing a business blog that will boost SERP rankings, drive traffic and generate leads.
Our recommendation:
Start somewhere! If you don't already have a business blog, there's no time like the present to get started, but take time to do some planning first. Here are 10 Steps To Creating A Business Blog Strategy or follow the abbreviated version in the four-step process below.
1. Determine in advance how often you will publish a new blog post. If that's just twice a month at first, start there, and then gradually increase the frequency as you develop a blog calendar for the rest of the year.
2. Identify who will create your business blog, including who will develop any graphics, post it to your website, and manage comments. This may all fall to the same person, or it may be a combination of individuals. Either way, define expectations, a publication calendar and deadlines in advance.
3. Brainstorm topics and possible titles for your first 3-6 months of blog posts in advance. What questions and problems are your customers seeking answers and solutions for? Consider bringing representatives from sales and customer service into the discussion to share what they are hearing out in the trenches.
4. WRITE! PUBLISH! PROMOTE! REPEAT!
In an ideal world, you would be publishing several blog posts each week, including at least one long-form post and one visual post. But if your situation doesn't allow for ideal, consider committing to at least two long-form posts, two short-form posts, and one how-to or list-based post each month.
Need more tips to help you make the most of your business blogging investment? Check out these blog posts and downloadable resources:
Of course, I'm also always willing to chat with you about your business blog strategy and resourcing needs. Check my calendar and schedule a no-obligation consultation if you'd like to get feedback on your strategy and how a business blog fits into your overall marketing and public relations program.