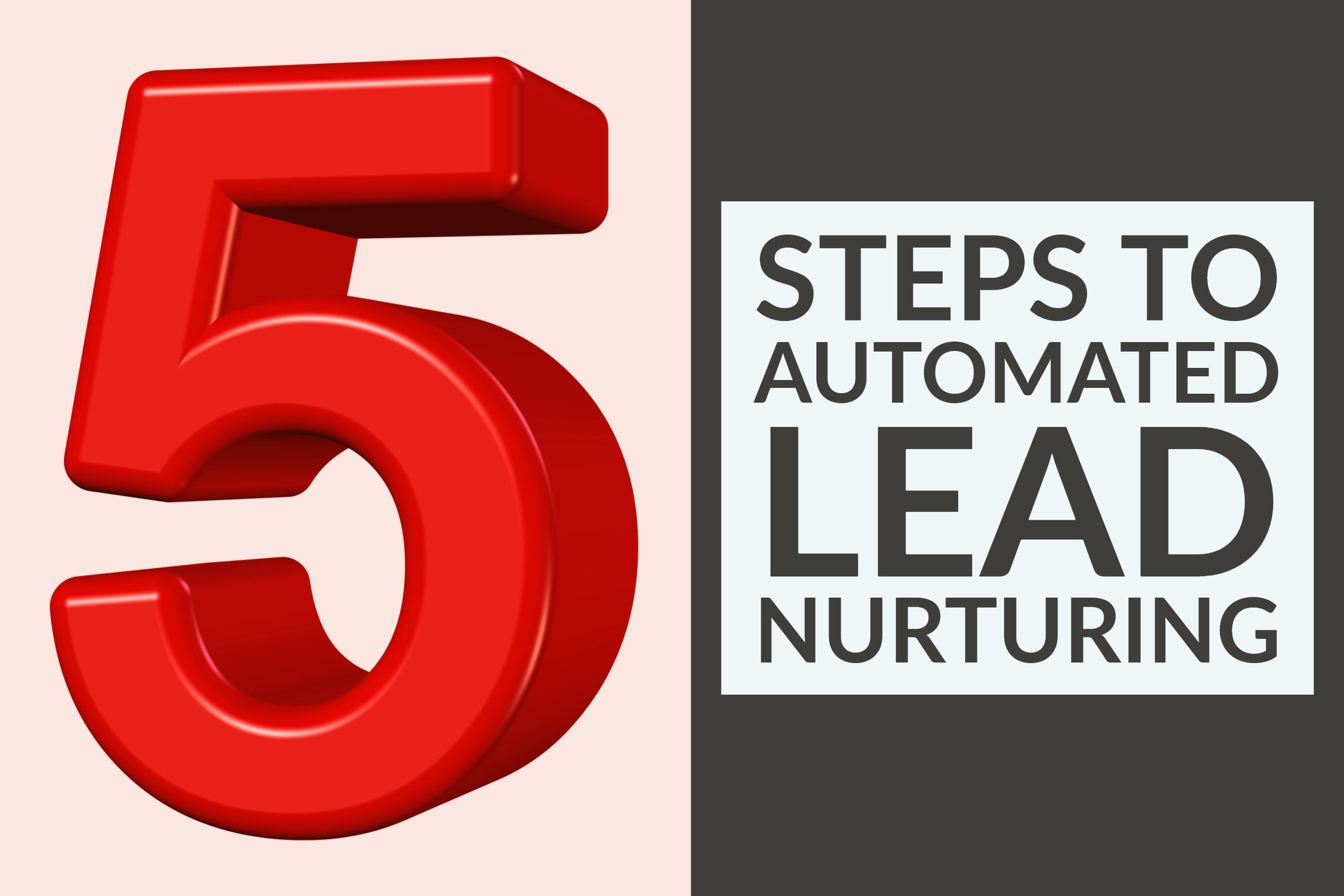 Automated lead nurturing is a key marketing tool that provides you with the ability to develop and maintain connections with prospects and leads without going directly to the labor-intensive aspects of direct contacts with sales personnel.
Here are couple statistics to keep in mind:
Companies that automate lead management see a 10% or more bump in revenue in 6-9 months time. (Strategic IC, 2017) (Source)

Businesses who nurture leads make 50% more sales at a cost 33% less than non-nurtured prospects. (Strategic IC, 2017) (Source)
Lead nurturing is a natural fit for today's marketing world and the need to meet consumers' desire for information before making decisions, and is a key element in any inbound marketing program.
Let's walk through how to creating an automated lead nurturing program for your inbound marketing campaign.
1. Identify a campaign topic.
Lead nurturing workflows should be integrated as key elements of your inbound marketing campaigns, which means the first steps of creating an automated lead nurturing workflow are the same steps that kick off the entire campaign. That includes identifying a topic that is of interest to one or more of your customer personas (your prospective customers).
Choose a topic that your best customers are likely to be searching for online, and which is also complex and deep enough to keep them coming back for more beyond the first contact.
2. Plan and create content to appeal to all stages of the sales funnel, including gated offers.
Your inbound marketing campaign should include content that appeals to your customer personas at each stage of the sales funnel, from awareness to consideration to decision-making. Once this content is created, it will work together with your marketing automation solution to reach leads.
Examples of content for the top of the sales funnel, designed to promote awareness and build thought leadership, include blog posts, contributed bylined articles in industry media, social media videos and infographics, and introductory ebooks or checklists. Top-of-the-funnel content should focus on providing helpful basic information on topics of interest to your customers, without being excessively self-promotional or sales-oriented.
The middle of the sales funnel is focused on leads or contacts that are considering solutions — products, services or ideas — for a problem. The key to mid-funnel content is being helpful and useful. This might include templates, checklists, or in-depth webinars. Again, the focus is more on presenting possible solutions to a problem than selling a specific product or service. You are building an image with your leads of providing solid, trustworthy information.
Toward the bottom of the sales funnel, as leads show signs of being ready to make a purchase decision, the content will shift again. This content can be more company-centric, including case studies with successful customers, product or service descriptions, and also guidelines or checklists for choosing a vendor in your industry.
For each stage of the sales funnel, you will want to create both freely-accessible content such as blog posts and gated offers that allow for lead capture or the use progressive forms to obtain additional information from leads who download more than one offer on your site. That additional information becomes the vital lead intelligence you will want to share with sales when a lead is qualified for those personal contacts.
3. Promote content to reach target audiences.
Once the content is created, you will need to promote it in order to reach the audiences most likely to convert on your gated material and become leads you can then nurture.
Promotion includes both on-site efforts to optimize your blog posts and web pages for search and promotion through organic (and/or paid) social media updates, blog subscription emails, and other means both online and offline. The end goal of this content promotion is to bring prospects to your website where they convert into leads.
4. Write lead nurturing workflows and emails based on leads' stage in the sales funnel.
The lead nurturing part of inbound marketing officially begins when a visitor to your website converts on an offer, completing a landing page form with their contact information.
That conversion kicks off a series of emails designed to engage leads with additional content, and eventually additional offers, that guide them through the sales funnel.
5. Set up workflows with automation software.
Marketing automation software such as HubSpot (which offers a full, integrated suite of software for everything from website development and content management to inbound marketing, CRM and sales) takes the pressure off manually interacting with leads who are still in the upper levels of the sales funnel.
Workflows are established using a series of "if-then" commands that send emails based on leads' interactions with your website and triggers that indicate what level of the sales funnel they have reached. Once a certain threshold or trigger is met, leads may be considered marketing qualified and kicked out into a list for direct contact from sales staff, who also have access to basic information about the lead, what content the lead has consumed, and how the lead arrived at the company's website in the first place.
Working together, quality marketing content and automation software are strong tools for reaching prospects and fueling connections with additional information to nurture them toward a sale. Learn more about HubSpot's specific lead nurturing automation solution here (we are a HubSpot certified partner agency) or download our Lead Nurturing Toolkit to get templates and examples to help you set up your own nurturing program.