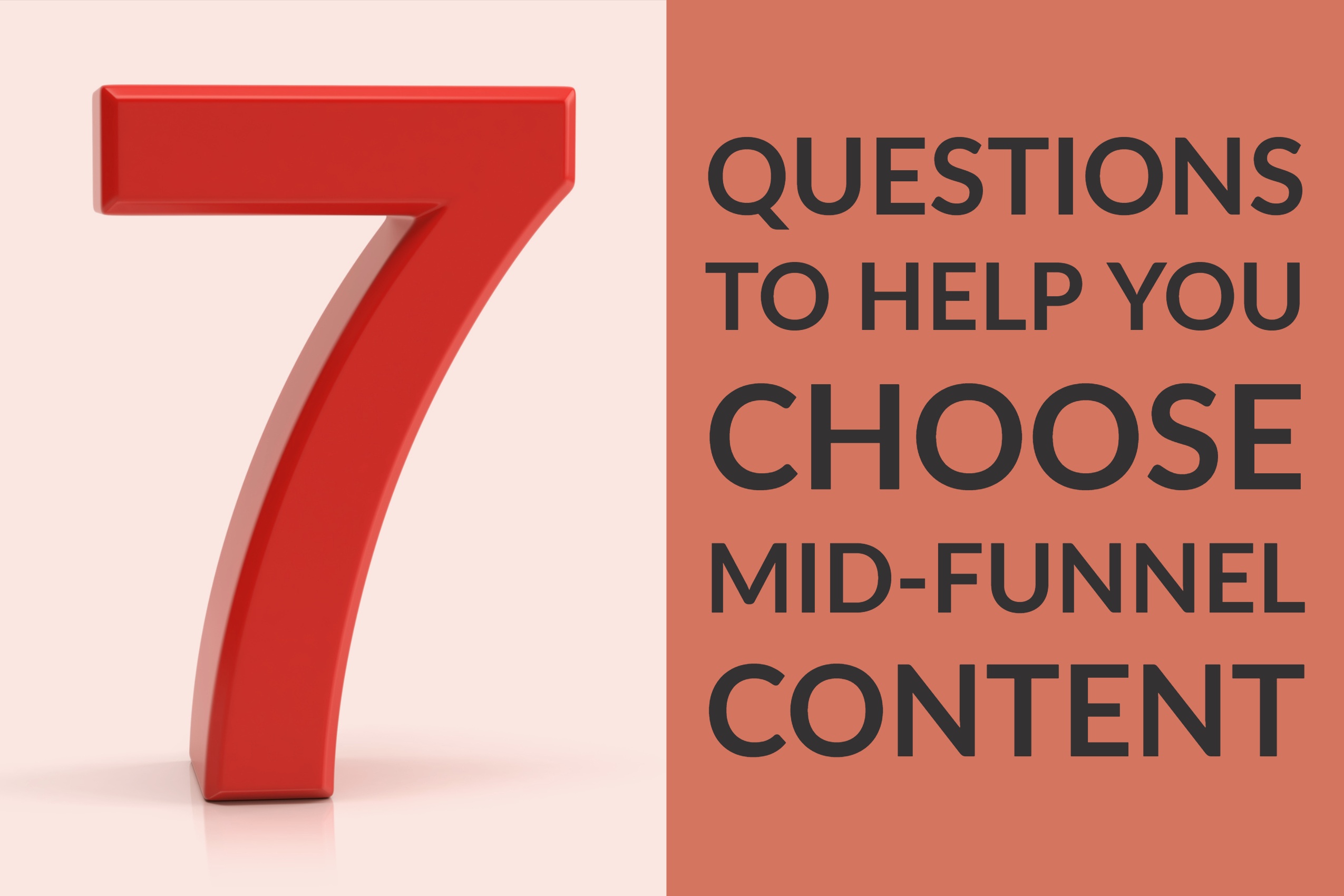 As you craft each inbound marketing campaign, some of the most challenging content to get right is the middle of the funnel material. What will be useful for those newly-acquired leads who are actively researching solutions, but still a ways from making an actual decision?
We've talked before about how to define and segment the sales cycle (sales funnel, buyers' journey, etc.), and about the types of content that can be best utilized in this middle stage. Now, let's get down to the nitty-gritty questions that will guide precisely how you develop that content, rather than just touch on topics and formats.
This series of 7 questions will help you refine the message you are presenting, and how you present it, to best nurture leads in the middle of the funnel or consideration phase.
1. What businesses am I selling to?
Does this seem obvious? If, like many B2B businesses your brand reaches a range of target industries, it may be not. Consider tailoring content to very specifically target individual industries, geographies, or business sizes, especially if those differences impact the pain points and selling points that bring customers to your product or service.
Take for example, West Corporation's healthcare division, which nominally serves healthcare providers. But ultimately, fills different needs depending on whether the customer is an individual dental practice, a regional hospital and clinic, or a health plan provider.
(Read more about the JONES experience in the healthcare technology and management industries in our Healthcare Case Study Package.)
Through closed loop marketing and progressive forms to gather information from the visitors and leads on your site, you can then use smart CTAs to segment visitors by industry and show them the middle of the funnel content that fits their specific needs.
From a content creation standpoint, there is no need to go all the way back to the drawing board for each individual video, ebook, checklist or worksheet. Instead, repurpose existing materials, or create variations, by incorporating industry-specific elements into each marketing element.
2. What job title does the end user of my product have?
If you have created buyer personas, this is a question you can likely answer quickly. It goes well with what kind of business you are selling to, since the business model may impact who the actual end user will be.
But understanding who the end user for your product or service will be is key to creating the content that speaks to their needs as individuals, not just to the needs of the company. If you check out the personas we have created for our clients (see examples here), you will see that we go into detail about the goals those customers may have personally and professionally, such as advancing to a new position. How can your content, such as templates or calculators, help position these leads to meet their own goals as they support their business targets?
3. What job title does the decision maker have?
If you are thinking that I may be repeating myself, think again. Sometimes (depending on the industry and type of product or service you provide, possibly often) the decision maker and end user will be two different people. That means you need to create content for each individual's unique perspective. That could mean a webinar detailing how to use your software for the team that will implement it, but a spreadsheet and charts that spell out to the CFO how this software can impact corporate cash flow or reduce outstanding debt.
We recommend just this kind of differentiation to AccuReg in preparing a plan for rebranding and updating their website to address both the needs of hospital registrars (the end users) and the C-suite.
4. What challenges my clients in their work?
Again, this goes to knowing who is included in your target audience and what they hope to achieve. Are they challenged by costs? By time? By efficiency? By a need to provide additional services to their own customers?
Reframe your approach from "What does my product do for my customers?" to "What problems are my customers trying to solve?"
5. What can I write about (or illustrate, create videos about, create calculators for or develop templates to do) to help my customers?
Since we are still focusing right now on the middle of the sales funnel — the early engagement and consideration phases — think about creating marketing content that helps your leads without just pushing for the sale. We consider the "Do" category of our Inbound Marketing Resource Library to be our mid-funnel content. It is full of templates, calendars, checklists, and customizable presentations to make life easier for our contacts, even if they haven't contracted with us.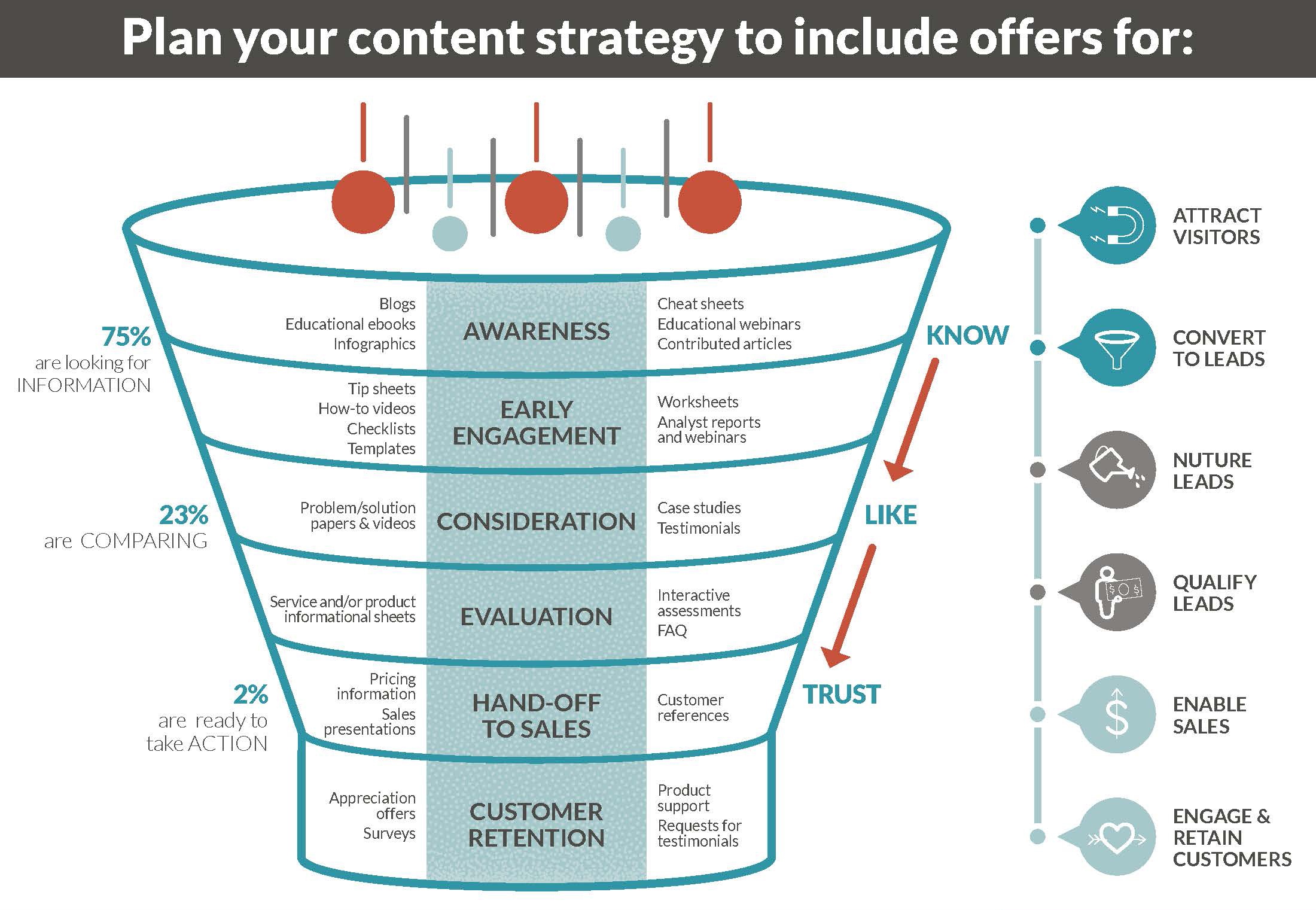 Save the product-focused content for later in the consideration or evaluation stage, when leads have shown they are actively considering and seeking information on a specific solution. They will be more receptive to sales-focused communications once they've learned to trust your other content and information.
6. How will prospects/leads find this content?
While we tend to think of the traditional awareness content — blog posts, social media, public relations and contributed articles — as filling the top of the sales funnel and being the first contact most prospects have with your marketing content, many of these mid-funnel pieces may also contribute to the SEO efforts of helping potential customers find your website. Treat them accordingly. That means ensuring that landing pages are optimized for search, sharing mid-funnel focused blog posts and gated content on social media, and including links in email marketing and newsletters.
Include calls-to-action for gated materials (landing pages) in related blog posts, offering those who entered your website for top-of-the-funnel material the opportunity to dig deeper into a subject area or put their new knowledge to work.
7. How can I use this content in lead nurturing?
This final question is a reminder that you aren't just creating a single piece of content (even if that is what you have been assigned at the moment). What you should be creating is content that fits into the overall brand messaging for your company and into a specific campaign that includes all stages of the sales funnel.
Creating content as part of a cohesive campaign means that each component builds on the last and leads toward a definable goal: the sale. By working from the standpoint of a campaign, rather than simply a collection of content pieces, your marketing team can maximize resources and develop lead nurturing workflows that naturally draw prospects and leads closer to a closed deal.
Two resources to review as you plan full campaigns include our real-life success example from client Primaris (download it here: Creating A Winning Inbound Marketing Program), which shows you exactly how a complete campaign came together, and our Campaign Planning Calendar Template, which is perfect for sketching out each of your campaigns for the upcoming year, complete with the target audience, overall messaging, and specific content ideas for all stages.
Answering each of these questions — either in a formal planning session with your team, or informally in your mind as you begin the content creation process — will help you narrow the focus for each individual content piece. With the answers in place, you are halfway through the process of actually creating the template, infographic, webinar or worksheet that will draw your prospects and leads through the middle of the funnel.