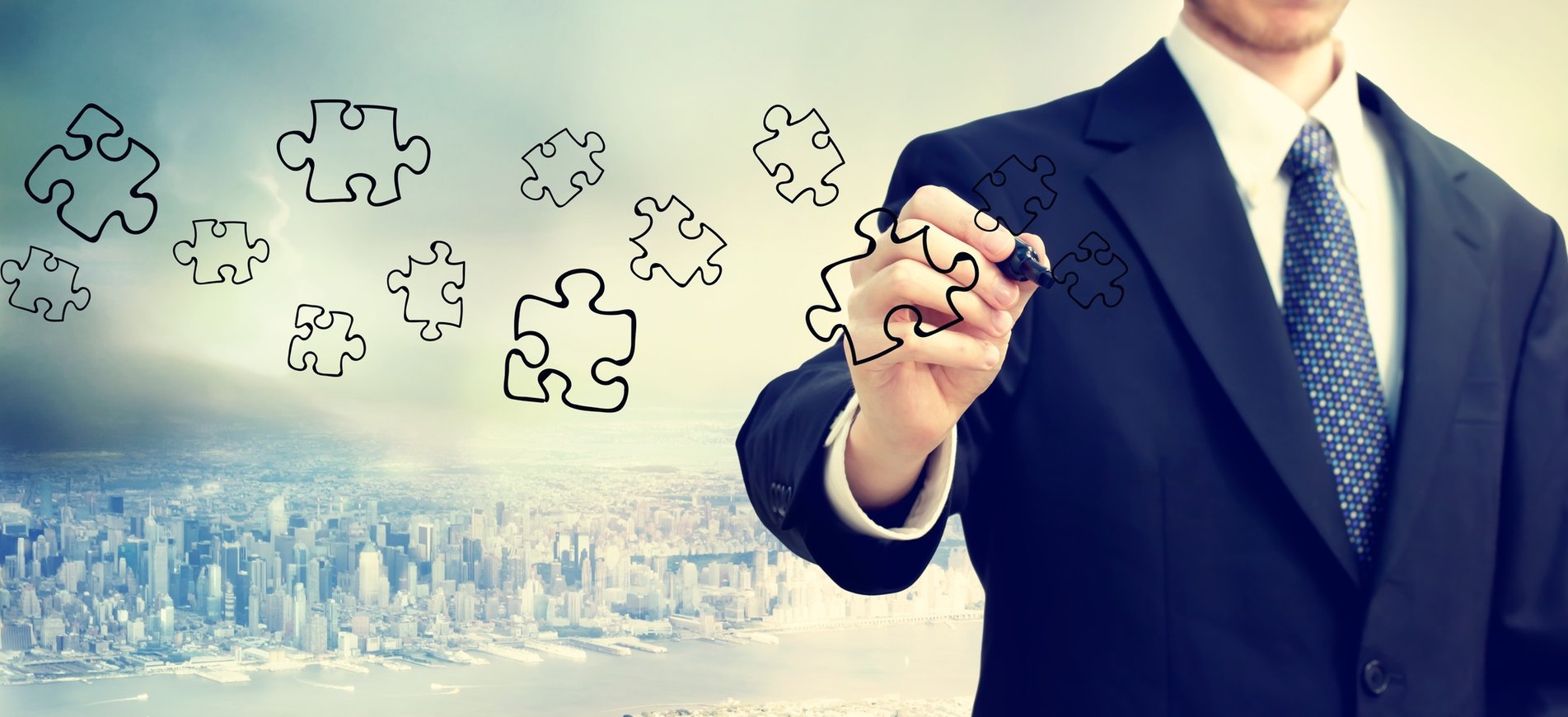 Winter is a great time to delve into quiet indoor pursuits that keep your mind busy, like jigsaw puzzles. The puzzles provide a great combination of attention to detail and seeing the big picture that can stimulate your brain (or drive you crazy).
But even when there are a thousand or more pieces in an individual puzzle, each one is essential to a successful outcome. Missing just one single piece turns a satisfying experience into a disappointing one.
Creating successful landing pages can be like putting together a puzzle, but with fewer pieces to consider. Are your landing pages missing a piece that can make the difference between a satisfying lead capture and a disappointing abandonment of the page?
Check out our example below, and start piecing together your next landing page. (You can also plan out all of your landing pages, complete with all 8 essential pieces, using our Landing Page Content Template.)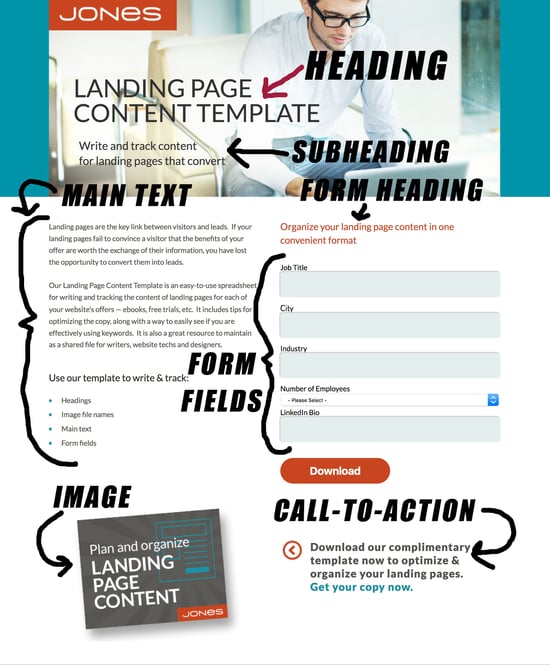 1. Asset or offer
This first piece of the puzzle doesn't show up on our diagram, but it is what the landing page is all about. This is the offer your website visitor came to access. For many of your inbound marketing landing pages, it will be a downloadable file—a report, case study, ebook, template, checklist, etc.
In other cases, the offer may be a discount, a free trial of a service, a newsletter or blog subscription, or a request for a consultation.
The offer, and the target audience for that offer, will dictate how you craft the other pieces of the landing page. If the offer is aimed toward a specific buyer persona and level of the sales funnel (say, healthcare CFOs investigating and comparing billing software) you will want to focus the copy and images on your landing page toward the problems, questions and concerns of that group.
2. Landing page heading
This is the first thing your landing page visitor is likely to notice. Keep it clear, concise and consistent with your calls-to-action. Visitors should be able to tell at a glance that they have arrived at the right place after clicking on a CTA in your blog, social media or other channel.
So, if your CTA says "Plan and organize landing page content: Download free template" (like the one below), your primary heading should clearly match up, just like the one above: Landing Page Content Template.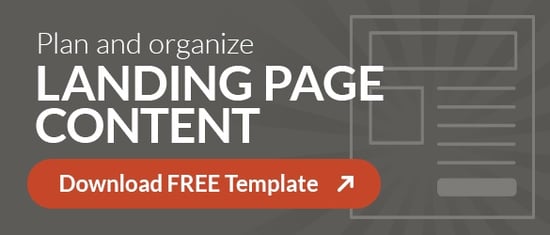 The main heading is also an important part of your on-page SEO. With its H1 formatting, it is an important part of how search algorithms determine the content of your webpage. Be sure to include the keywords or longtail phrases users might search when looking for something just like your offer.
3. Landing page subheading
Use a secondary heading to add more information, additional keywords, and a statement of the benefit the offer provides to your visitor.
4. Landing page image
Using an image on a landing page adds visual interest to the page and can also reinforce that the visitor is finding what she is looking for. This could include showing the cover of a downloadable report, a key image (or even short video excerpt) of a webinar, or a photo of a product in use.
Make sure to provide alt text and use a descriptive file name (not just image1.jpg) to provide additional SEO power.
5. Main text
In the main text of your landing page, you can provide more information about how this offer will benefit your prospective customer. Keep it to just a couple of sentences and don't overdo the hyperbole. Sure, maybe it is amazing, fantastic and unmatched, but saying so makes skeptical readers think the opposite.
A bulleted list is a great way to tell visitors:
What they will learn;

What they can do;

Or what makes this offer unique.
6. Call-to-action
Your visitors clicked on a CTA to get to the landing page, but you will want to tell them again what they came to the page to do, and encourage them to do it. Add a quick exhortation to "Download," "Request," "Join," or "Experience."
7. Heading above landing page form
Another place to include keywords, benefits and action-oriented encouragement is in a short heading above the form on your landing page. Make this an action statement about what your customer can do with this offer, or what the offer will do for them.
8. Form fields
The final piece of the landing page puzzle is the form your visitor will fill out. You may have different form fields for different offers, depending on the stage of the sales funnel being targeted.
Remember that top-of-the funnel offers should require only the very basic information needed. A blog subscription might ask for nothing more than an email address, not even a name.
You can ask for more information as a lead nears a purchasing decision. Those offers in the consideration and comparison stages may request complete contact information, including phone number, and information that helps build a more complete profile, such as company size, job title, or industry.
While nearly all landing pages will have some version of these 8 elements, the options within each, and the combinations you can use, will vary widely. When you are ready to optimize your pages, consider testing individual elements to determine which changes impact your conversion rates.
Here's how: Use A/B Testing to Optimize These 5 Landing Page Elements.
Want to keep all of your landing pages organized? As you are creating a catalog of online content and other offers, this template is a great way of planning and tracking your landing pages and sharing information between team members. Download our Landing Page Content Template today to ensure you aren't missing a vital piece of the lead generation puzzle.