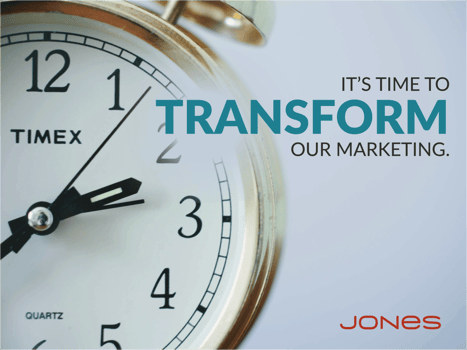 I'm going to be right upfront here: I believe in inbound marketing. In fact, I have such faith in its power that I consider myself an "inbound marketing evangelist." But I know that not everyone in business and marketing has seen the light.
Old habits and ways of doing things aren't easy to change, but it is up to those who recognize the benefits of change to start the wheels turning. Are you the one in your organization who can help your company begin to transform its marketing?
There are plenty of examples of why inbound marketing (the opposite of in-your-face, interruption, outbound marketing) just makes sense. Here are just a few:
Inbound marketing costs 62 percent less per lead than traditional, outbound marketing. (Click to tweet!)

Consumer behavior has changed. Email spam filters, do-not-call lists, DVRs, Netflix, and the internet mean out bound advertising has less influence, while online research weights heavily in purchasing decisions.
Within one year of implementing inbound marketing, 92 percent of companies increase web traffic and lead generation. (Click to tweet!)
You can find more details about what that first year of inbound marketing could look like in this ebook.
But before you can start, you need to have the whole team on board. If you don't have the power to launch inbound marketing for your company on your own, that means selling the concept to those who do. Here are three steps to convince your boss it's time to transform your marketing.
1. Get the facts on where you stand now
At JONES, the first step in any endeavor is to "Do the Math." You need to know where you are now before you can plot out where you want to go.
When considering the addition of or transition to inbound marketing, that means knowing where your company currently stands in search engine rankings, who else is already blogging about your topics, what your social media presence is, and other marketing grades and metrics.
Search engine rankings
Think of the terms your potential customers are likely to use in searching for information about your company and your products - not just your company and product names. Then, jump onto Google and start searching.
Let's try "credit card processing for small business." That yielded 10,200,000 search results, with the first page of organic results listing five different vendors, plus news and information sources, such as the Small Business Administration and the New York Times.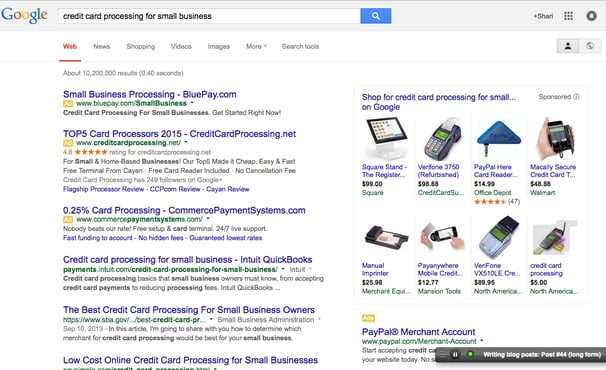 Since 75% of online searchers never go beyond the first page of results, if you aren't among those five vendors, you are unlikely to be found by many potential customers. (Click to tweet!)
Don't stop at searching one keyword. Check out where your company falls in the rankings for several keywords. If YOU can't find your company in the results, neither will the 78 percent of internet users who conduct their product research online. (Click to tweet!)
What about blogs?
Companies that have a business blog generate between 67 percent (B2B companies) and 88 percent (B2C companies) more leads per month that those that don't blog. Perhaps that is because 70 percent of internet users say blogs affect their purchasing decisions.
Do you have a business blog? Does your competition? Time to go surfing their websites to see if they do, or add "blog" to your search terms in Google. By doing that, I found that at least two of the five vendors listed in the top 10 results for my initial query do have corporate blogs. Take time to try your other keywords and "blog" and see who else is writing about the topics your customers are interested in.
Social media
Do you have a corporate presence on social media? Facebook, Twitter and Pinterest tend to yield the most results for B2C companies; B2B generate more leads from LinkedIn. Again, do some searching for your keyword terms, your company, and your competition. How easily can you be found?
Even more
Then click over to HubSpot's free marketing grader tool where you can enter your own url, and those of your competitors, and get reports on how well you have accomplished a checklist of items involved in blogging, social media, SEO, lead generation and mobile accessibility.
2. Identify how you can change those statistics
If the results you found in your research aren't what you would like to see, think about these general steps you can take to change them.
Make stuff people want. People want information. They want content that is useful, interesting, and not filled with corporate jargon or blatant sales pitches.
Be generous. The more you offer your web visitors, the more potential leads you receive in return. And the better the material you offer, the more you build trust, credibility, good will … and those SEO boosters: inbound links.
Rock your keywords. Focus on optimizing every page of your website for search engines by targeting the keywords used by your customers.
Give great directions. The key to successfully implementing inbound marketing is to not only create great content, but to provide clear calls-to-action that link to easily-understood landing pages for those content offers.
Invest wisely. This means doing your research and planning before jumping into inbound marketing willy-nilly. Talk to marketers who are already using the strategy. Plan out your campaigns before engaging writers and designers, so that you can maximize efficiency and returns.
3. Present it to decision makers
As I said earlier, you need to remember to do the math. Before you present your suggestions for change to your boss (we have a PowerPoint template ready for you to fill in), determine reasonable goals for introducing inbound marketing into your company's mix. What do you expect it to do? Increase web traffic? Increase lead generation? By how much?
And then calculate a proposed budget. Don't forget to include funds for tools such as software, costs for creating content such as ebooks or videos, and any additional amounts you might spend on strategies such as pay-per-click. Remember that cost and return on investment will be key considerations for the executive suite.
Once you have your ducks in a row, reserve the board room, schedule a meeting and download our customizable presentation. It's time to convince your boss to transform your marketing. I bet you can convert them to join inbound revolution.