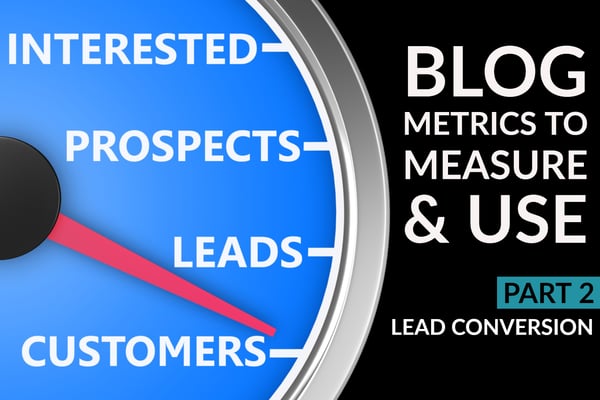 Measuring blog metrics is an essential task if you want to be able to improve your business blog results and prove the ROI it provides for your marketing strategy. Last week, we covered the first segment of metrics you should be tracking: Traffic.
Knowing traffic totals, top posts, which channels bring visitors to your blog, and statistics on interaction such as subscribers, shares and comments is a great start to understanding how your blog is bringing visitors to your website. But there is another aspect to having a successful business blog you need to consider: conversion.
Can you prove that your business blog converts visitors into leads, and leads into customers?
Let's break down the metrics that more directly connect your blog to business objectives such as leads, customers and revenue.
Blog conversion metrics
CTA clicks
The first step in determining how your business blog impacts online lead generation is by reviewing the CTA clicks from your blog posts to landing pages. Every blog post should have at least one call-to-action leading to a landing page. (More on blog CTA placement here.)
As you review your metrics, run reports on which posts generate the most clicks on calls-to-action, as well as which specific CTAs are clicked most often.
What do they have in common? Are readers most likely to click sidebar CTAs? In-text calls-to-action? Or banners?
Are they most likely to click through on specific offers or blogs covering a specific topic?
Is your overall click-through rate — the percentage of blog visitors that clicks on a CTA leading to a landing page — increasing over time?
In Unlock Your Marketing ROI With Analytics, we suggest taking the following steps if your CTR isn't meeting expectations:
Create more compelling offers.

Create an offer that is aligned better with your blog post.

Split test (also called A/B testing) your CTA's copy and design.
Blog leads
With blog's calls-to-action optimized, you should track how many leads are generated through your business blog compared to other lead generation channels. Knowing what role your blog plays in lead generation will help you prioritize marketing efforts, and can boost your standing when sharing marketing's lead generation results with the C-suite.
Visitor to lead conversion rate from blog CTAs
In addition to knowing how many leads are generated through your blog, you'll want to analyze your visitor to lead conversion rate: what percentage of visitors to your blog click on a call-to-action AND complete the connected landing page to become a lead.
If you have high traffic numbers (as we discussed in Part One of this series), but very few become leads, you need to rethink your offers, CTAs and landing pages. If you have low traffic, but a high rate of conversion – congratulations! Now it's time to focus on promoting your business blog to increase traffic. That could be through increasing your overall publication rate, increasing social media and other blog promotion efforts or greater focus on the keywords driving the traffic that converts into leads.
Leads to customers (blog originated)
Finally, use closed loop analytics to track how many customers have been influenced by or originated with your business blog. This is another key way of proving ROI of your marketing content, by tying customers and revenue directly to your business blog. It can also provide an indication, when compared to the leads to customers rates of other channels, of which channels provide the highest quality leads and should receive the most focus in future campaigns.
If you are a HubSpot customer, all of these data points are available through the analytics provided in your content management and marketing automation solution. If you are still getting your footing in HubSpot, and trying to determine how to best maximize your HubSpot investment, let us help you. We are a certified HubSpot partner agency, and understand how to put data to work improving your marketing strategy for the future. Download The Data You Need To Know: JONES & HubSpot Analysis Solutions to learn more about our approach to this essential step in the marketing process.