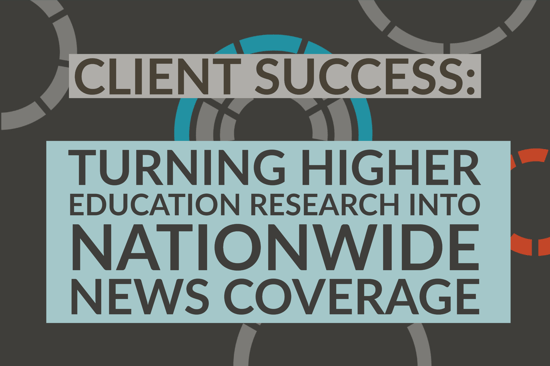 If you've been following the Inbound Accelerator for a while, you know we believe in the power of information, especially data gained through marketing research surveys, to fuel compelling marketing and public relations content.
Data provides the backbone for storytelling that helps brands communicate their message, and it applies as much to a consumer-focused industry such as higher education as it does to B2B marketing for companies like West.
Bellevue University is a Nebraska-based private, non-profit university that was one of the first to dive into online degrees, and with the help of JONES, the educational institution used information from students, potential students, and employers to develop a series of reports, contributed articles and media interviews that showcased its unique niche on a national level.
In targeting the non-traditional student market of adult learners, including veterans, Bellevue's reports included:
Reclaiming The American Dream: Solving The Nation's Higher Education Problem Can Improve Life For Millions

The Search For Affordable Alternatives: Rising Costs and Massive Student Loan Debt Put College Out of Reach for Many

Closing The Nation's Skills Gap: Making Higher Education Achievable

The Essential Shift In Higher Education: Universities Must Focus on Mastery of Skills and Professional Competencies
Mobile Learning 2.0: Flexibility and Mobility Define the New Normal At the University Level
In 18 months' time, those reports, and the data generated by the consumer surveys used to develop them, fueled 142 pieces of earned media coverage for Bellevue University in publications such as Fast Company, Inc. Magazine, U.S News & World Report, Fox Business, USA Today, Chief Learning Officer and eLearners.com.
The coverage stemmed from media alerts and proactive outreach to secure 35 media interviews surrounding Bellevue's studies, program and initiatives. The JONES team also leveraged the survey data to place and ghost write
14 contributed article placements, including articles published by USA Today and CEO.com, along with specialty media focused on military spouses, career development and higher education.
This article that JONES secured for Bellevue University in Inc. Magazine is just one example of how compelling survey data can be used to drive positive media coverage that tells a great story. In this case, Bellevue University is solving the problem of too many Americans graduating with degrees that aren't suited for the workforce, as highlighted in the report, "The Essential Shift In Higher Education."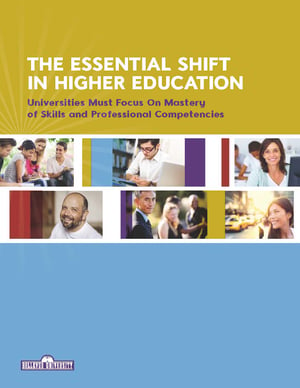 With a focus on competency and mastery of curriculum, Bellevue University is better preparing students for success in the workforce by requiring students to master the material – including career-specific subject matter and professional skills – rather than learning just enough to make a certain grade or "pass" a class. That difference is key in light of results from the survey that showed both employers and individuals currently in the workplace believed that many recent graduates lack the specific skills needed to succeed in the workplace, which made those already working question the value of a traditional college degree program.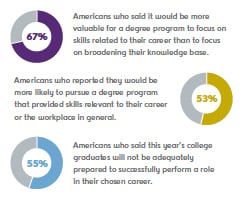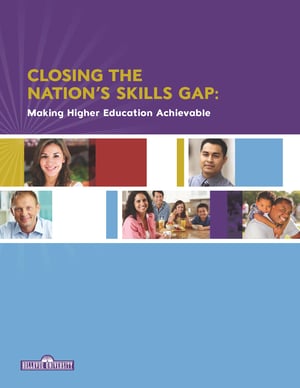 In addition, the survey data collected from Americans about what barriers prevent them from completing college degrees perfectly showcased the benefits of Bellevue University's online degree programs, which offer unprecedented affordability and flexibility to students.
The report uncovered that 1 in 3 adults across the nation admit they don't currently have — or don't know if they have — the level of education and skills required to achieve their goals. In fact, 30 percent of working adults who want to change careers say education and experience are holding them back, yet only 15 percent are working toward a higher degree.
While more than half of all respondents, men and women, believe getting a college degree would make them more competitive in the marketplace, their current circumstances — time obligations to family and jobs, financial restrictions, etc. — were stopping them from going back to school.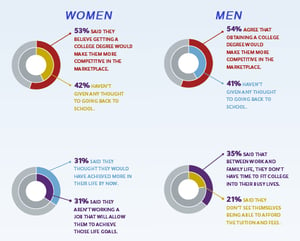 Articles, such as this one from Fox Business appealed to potential students, with a focus on how going back to college to get or complete a degree could have a real impact on career advancement and meeting their goals in life.
All of this media coverage helped Bellevue gain recognition and exposure on a national level, allowing it to shift from a private university primarily known on only a regional level for its on-campus offerings, to gaining a national presence for its online offerings and the unique benefits offered to the niche market of adult learners who were completing degrees, changing careers, hoping to advance, or potentially returning to private employment after service in the military.
By tapping into the real stories and numbers behind both this group of students, and the employers seeking workers with the skills Bellevue provides to its students, the overall campaign reached multiple target markets nationwide.
"With JONES' help, Bellevue University has grown from a regional player to a national online education leader that other universities are trying to emulate," said Jim Maxell, associate director of public relations.
Surveys and studies, and the original data generated by them, are invaluable when creating compelling integrated public relations and marketing campaigns. Learn more about how a single survey can generate multiple campaigns and content pieces in our Maximizing Marketing Surveys downloadable resource. Are you considering putting the power of original data and marketing research surveys to work for your brand? Schedule a complimentary consultation with me to discuss the possibilities.