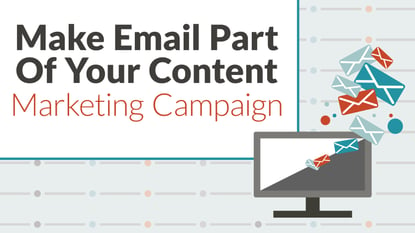 Nearly 80 percent of respondents to HubSpot's 2020 survey of marketers said they had seen an increase in email engagement over the 12 months prior to the survey. That is great news for email marketers.
Really, it is good news for all content marketers, because email should be tightly connected to the rest of your content marketing. B2B content marketers should incorporate email into multiple levels of their overall content marketing strategy, including plans for up to 5 specific types of emails.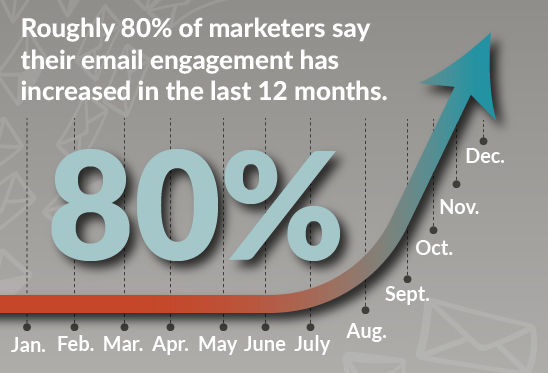 1. Blog subscription emails
Since nearly 9 of 10 B2B content marketers are already creating a business blog or other short articles, offering subscriptions that automatically send recipients links to the latest publications just makes sense.
Offering blog readers the option to have new content delivered directly to their inbox on a regular basis can help drive repeat traffic to your website more effectively than relying on them to come back on their own. The continuing emails, offering valuable content, also builds a foundation of trust in your brand and maintains engagement with readers, even if they aren't currently seeking your product or service.
The key, however, to successful blog subscription is in consistently providing quality content that readers will want to receive.
Read more on developing a business blog that readers will want to return to:
2. Newsletter emails
While blog subscription emails typically contain only short teasers for the new posts that have been published, newsletter emails may contain longer-form content, infographics or even videos directly in the email.
As with blog subscriptions, they should be strictly "opt-in" emails. With their longer format, it is especially important that newsletters be segmented to specific audiences. For instance, if you offer a B2B software package that is used by multiple industries, consider segmenting the newsletter by industry in order to target the content to specific needs.
Eight in ten B2B content marketers use email newsletters in their content creation and distribution strategy, outpaced only by social media content and blog posts. (Content Marketing Institute)
While newsletter emails, sent on a consistent basis with long-form content in the newsletter itself, may be primarily about building awareness and thought leadership, they should still include calls-to-action linking readers back to your website to relevant additional content or offers.
Email signups continue to be a strong source of leads for marketers in the last year, with Mailerlite citing research that shows average weekly signups per account have increased nearly 35 percent since March 2020.
3. Lead nurturing emails
Email is essential in nurturing leads, according to B2B content marketers, who cite email as the highest performing content format for nurturing leads, according to Content Marketing Institute surveys.
The reasons for the high performance rates of nurturing emails seem obvious: emails are automatic, direct, segmented and personalized if workflows have been created appropriately. Each email should be relevant to the lead's interaction with the company website and targeted to a specific stage of the buyers' journey dependent on that interaction.
Lead nurturing emails early in the workflow, triggered by actions that indicate awareness level interactions, should be largely educational in nature, linking back to low-threat offers such as additional blog content and ebook or template downloads. As the lead progresses through the workflow, middle-of-the-funnel and bottom-of-the-funnel offers should be included that would indicate the lead is in the consideration or decision stage. These might include case studies and testimonials, ROI calculators, webinars, product demos or buying guides.
Targeting users with content relevant to their position along the buyers' journey yields conversion rates 72 percent higher than simply sending all leads the same emails and offers.
4. Outbound promotional emails to opted-in contacts
Integrated content marketing, while often focusing on generating inbound leads, recognizes the need to combine multiple channels and approaches for the greatest effect. Promotional "outbound" emails (to contact lists that have been built through opt-in methods) have a place in your strategy as well.
These emails may use contacts from multiple lists, preferably segmented according to information you have about contacts, such as geographic location, area of interest, buyer persona, etc. They can be especially helpful to promote time-sensitive offers, events or information.
B2C brands often rely heavily on more promotional emails, which is expected by consumers—providing personalized links to sales, special items, reminders about loyalty programs and more. The most opened emails related to hobbies, with an open rate of 27.35 percent. (MailChimp, 2018)
B2B brands can use promotional outbound emails as well, especially for the purposes of announcing new products or services or to promote timely offers such as webinars that fit the needs of the recipients. B2B brands, and even B2C companies selling products that involve a longer sales cycle, should be more conservative, however, as their recipients may be easily overwhelmed and unsubscribe or report the emails as spam.
But do consider how to include at least some promotional emails in your inbound content strategy, since nearly 60 percent of consumers say marketing emails influence their purchase decisions. (SaleCycle, 2018)
5. Customer service update emails
While many of the emails we've talked about so far are focused on new leads, don't overlook the value of continuing to engage with your existing customers. Regular email updates to existing customers can provide opportunities to link them to useful information about how to use your product or service more effectively, details on product updates, training opportunities or even surveys and reviews to solicit feedback on your product and your company.
One quick note about any emails you send: personalize them, segment them and make sure they are relevant to the receiver. Don't just blanket everyone on your contact list with the same email. In 2020, Forbes found that 70 percent of millennials feel frustrated when they receive irrelevant marketing emails. And it isn't only millennials who feel that way.
Sort your email lists to ensure that you are reaching recipients with information each one wants. That could mean segmenting by:
Buyer persona
Geographic location
Position along the buyers' journey
Past interaction with your brand (what did they buy or download)
Or other factors relevant to targeting emails to a specific audience.
For more basic rules to follow in all of your email marketing, download Email for Inbound: Do This, Not That. It highlights best practices for ensuring deliverability and encouraging interaction.
If you are looking for more advice or assistance in blending your email marketing into the rest of your integrated content marketing strategy, let's chat. Schedule a time in my calendar for a no-obligation consultation and review of your current email marketing program.