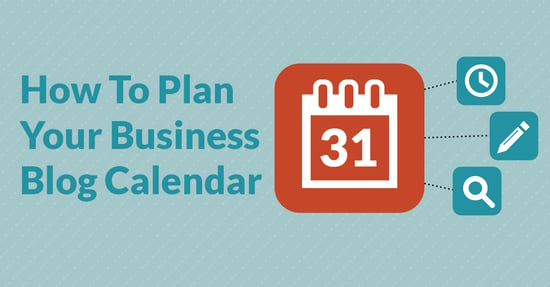 There are many reasons a business blog should be a part of your content marketing strategy. Business blogs improve your website's SEO and search rankings. They establish authority and thought leadership in your industry. Blogging provides opportunities to engage with readers and can be used in conjunction with other marketing strategies for lead generation. (More on why you should, or shouldn't, use a business blog: 7 Reasons You Shouldn't Have a Business Blog.)
If a business blog is in your strategy, you'll want to make sure you develop a strong editorial calendar and process for creating the content that drives your blog and the rest of your content marketing strategy. It is important to understand how your blog fits with the rest of your marketing efforts, and to keep everyone involved accountable so that your business blog is published consistently with high quality content that supports overall goals. That is one reason we created and use a template for planning out a blog editorial calendar, and want to share it with you. Why create something new when we've already done that work for you?
However, before you get deep into the specifics of your blog calendar, you need to step back and have two other pieces of the puzzle in place:
An overall content marketing campaign calendar.
A guiding blog strategy.
1. Plan your overall campaign calendar.
Your business blog is just one component of your overall content marketing strategy, and should fit closely with the rest of your marketing content and campaigns, so the first step is outlining your integrated marketing campaign approach.
This involves mapping out each campaign for a year, including the topics content will cover and the buyer personas targeted, along with how to reach all levels of the sales funnel with your campaign's content.
This video walks you through planning a complete integrated marketing campaign to get you started.
You'll find a free downloadable template for planning your campaigns, plus additional instructions on how to use it here: Plan A Year's Worth Of Marketing Campaigns.
2: Plan your blog strategy.
Along with developing campaign topics, audiences, and specific talking points that address each level of the sales funnel, you'll want to document a strategy for using a business blog as part of your overall marketing plan. That strategy should answer the four questions outlined below.
How often will you blog?
There are many factors that will go into determining how often you will publish new business blog posts: available resources, number of topics or keywords you want to incorporate, how your blog will complement and work with other tactics such as email, social media and paid promotion, etc. Ideally, you'll want to do as much as you can while maintaining high quality in your blog content.
According to HubSpot, companies that publish 16 or more new blog posts per month generate 4.5 times as many leads as those who post 4 or fewer times month. Even if 16 posts per month, 4 per week, is more than you can commit to, especially for smaller companies, publishing at least 11 posts each month can increase leads by 4 times. See more statistics here: Blogging Benchmarks That Impact Traffic & Leads.
And remember that developing your business blog has a cumulative effect, as posts continue to attract traffic and leads long after they are first published. We have seen that in our own experience in the 6 years of publishing the Inbound Accelerator.
While we have in the last year scaled back the frequency of our posts in favor of developing longer, more in-depth content at least once a week (we'll talk about that decision in a bit), our overall traffic has continued to climb. Total blog view for the Inbound Accelerator are up more than 160 percent so far in 2020 compared to the year before. And some of our most popular posts are ones that have been providing valuable information to our readers for years:
These blog posts that continue to improve our overall website traffic and drive lead generation years after they were first published are called compounding posts. Read more about the value of compounding posts here: Business Blogging & The Power Of Compounding Posts.
How will you balance long and short posts?
As I mentioned above, we have evolved our blog over the years from publishing five days a week, but with few of those posts being more than 1,000 words in length, to our current cadence of publishing two or three days a week, but making one of those posts a more in-depth piece of 1,000-2,000 words to provide greater value to our readers.
You will need to decide what your blog's strategy will be regarding the length of post(s) you will create. The TL:DR answer we gave to that seemingly unanswerable question recently was this: Combine in-depth posts of 1,500+ words for enhanced SEO with shorter posts that incorporate images and videos and allow you to publish more frequently to keep your blog fresh.
Dig into the details of how we developed that recommendation, and what other factors you will want to consider in developing your blog strategy, here: Pick The Perfect Length For Your Next Blog Post.
What blog formats will you use?
As you sketch out a guiding strategy for your business blog, in addition to setting goals for the frequency and length of your posts, consider including a target for mixing up the format of your blog posts. Don't make every blog post the same, or you will likely lose some potential readers.
As we've mentioned before, different readers will want to access your information in different formats—some people love to skim text, while others want videos. Some want what HubSpot recently called "snackable" content—bite-sized bits of information, often in infographic form—while others are looking for a four-course meal with everything they need to satisfy their curiosity and appetite for learning.
These two posts offer a few ideas for formats to incorporate into your overall blog strategy:
In our own strategy, we have committed to regularly creating infographics to provide additional visual content, as well as sharing videos like the one above to explain important concepts. We also mix up how-to posts like this one with insights into current marketing metrics and statistics.
Who will write posts, who will design graphics, who will edit, who will schedule?
Business blog content, like any marketing content, may be sourced in a number of different ways. How you source your blog content will likely impact the answers to some of the questions above, so take time to really think about the resources you have available.
Content may be created solely by in-house staff, which could include not only your marketing team, but also other company staff who can contribute posts addressing areas such as customer service, sales, research and development, or even hiring if one of your target markets is potential employees.
Or you may need to rely on outside sources, including freelance/contract content creators or an agency partner. According to Rundown, more than half of companies in their report work with an outside agency for marketing content creation. If you are currently working with an agency partner for your content, how are they doing? Rate their performance, and get a better feel for what you should be able to expect from a full-service marketing agency, with the quiz in this post: Grade Your Marketing Agency's Content Creation Performance.
Find more about choosing your inbound marketing team and the pros and cons of each option here: Who Will Create Your Content.
With those general blog strategy questions out of the way, let's get down to details.
Now, it's time to plan your business blog editorial calendar.
We created our business blog editorial calendar template to keep you (and us) on track while developing awesome content that prospects, customers and fans will love. This template steps up to the challenge of brainstorming topics, targeting the right readers, and optimizing posts with the right keywords. Use this calendar to stay organized, track keyword and CTA use and make sure your content is developed on time and on target.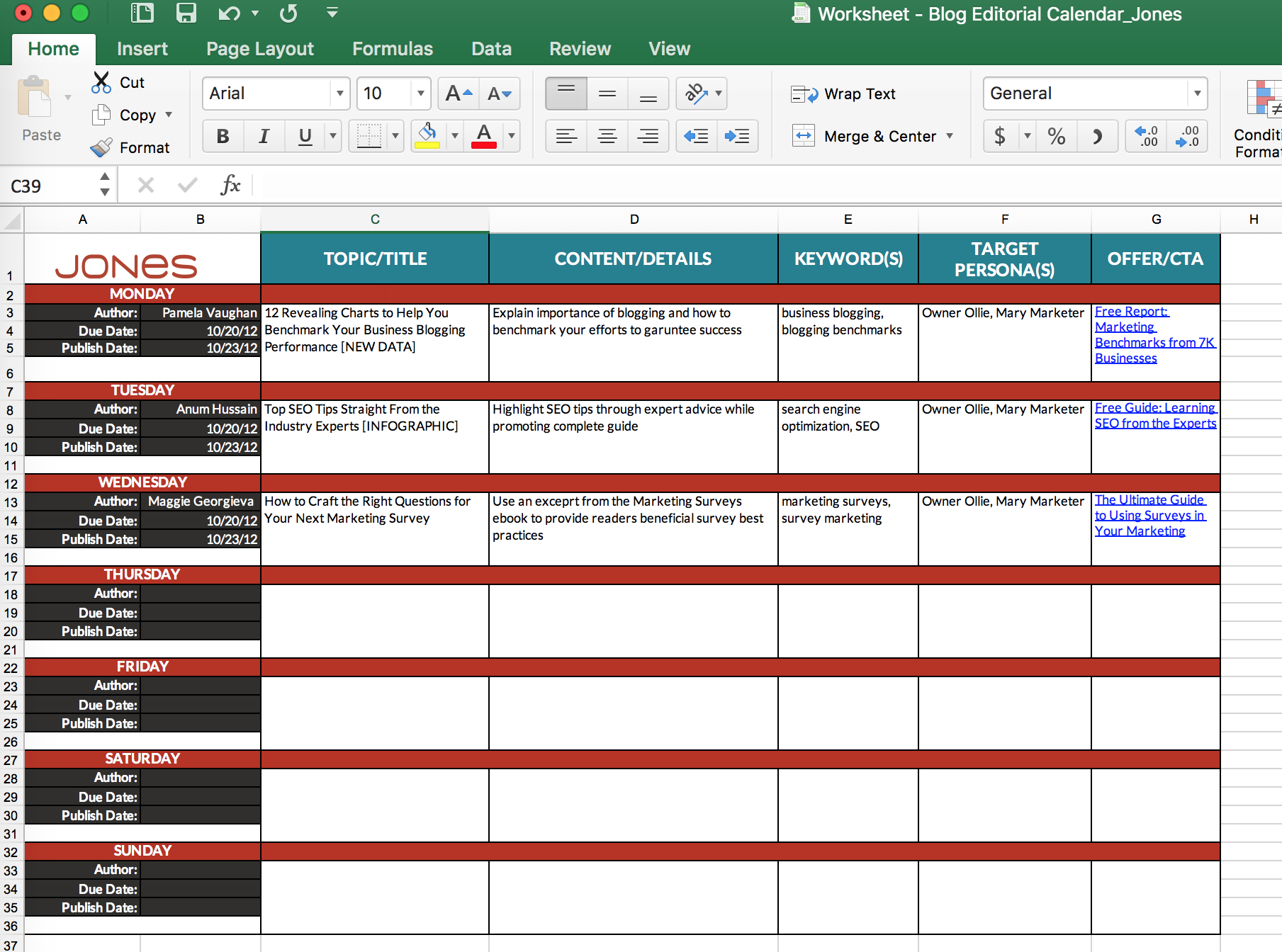 1. Choose your keywords and topics.
Much of this decision making has already been completed if you've developed your overall content marketing campaign strategy for the month or year. You should have topics and keywords determined that are central to your entire strategy. But consider your blog posts as opportunities to get more specific, especially in developing long tail keyword phrases that are likely to be searched by your various target markets. While social media content needs to be quick and concise, and some channels lend themselves to more general content, a business blog is the perfect place to take each topic and get in-depth and specific.
2. Sketch out more details about the content.
As you plan the calendar, it is important to also plan how you will approach each topic in a specific post. Putting content details into writing is especially important if you are working with a team of staffers, independent contractors or an outside agency. Define what approach each post should take.
Will it incorporate a video or infographic? Should it be a how-to post? Will it be a listicle? A question and answer format? Or will it be a case study or testimonial to share a success of a current customer?
Use these resources to help vary the content formats you include in your business blog:
3. Determine your target persona and/or level of the sales funnel.
Remember that most topics your marketing and business blog content addresses can be approached from multiple perspectives. You should have in place defined buyer or customer personas for each of your target audiences, understanding the different types of information each is seeking and the problems they are trying to solve. How you write a specific blog post will depend on which persona you are targeting — for instance, you may present different benefits of your solution or product to the CFO than you would to someone involved in R&D, though they may both have input on a purchase decision.
For further assistance in plotting out blog posts and other content, use this worksheet: Mapping Content To Buyer Personas.
4. Match each post with a lead generating offer.
If you are using a business blog as part of an overall inbound marketing strategy, attracting prospects to your website where they can be converted into leads through the use of online offers, you will want to identify at least one relevant offer for each blog post. It should be connected to the content of the post and to the problem you are helping the reader solve.
Those offers can range from a blog subscription to an ebook or webinar, or a free trial. Find more ideas for the offers (which you may have already outlined as you developed your overall content marketing campaign at the very beginning) here: Real Life Examples Of Download Offers For Inbound Marketing and 3 Offers To Use For Each Stage Of The Sales Funnel.
Plan to incorporate calls-to-action linking to the landing pages for those offers in multiple places, including both in-text CTAs within the blog post itself and as banner, slide-in or pop-up offers.
By capturing leads through landing pages, you can enroll them in a lead nurturing program, which makes your blog a powerful tool in achieving your ultimate goal of driving sales.
5. Determine the writer and set due dates.
If you are working with an outside agency to completely provide your blog material, this may be a step they take within their staffing, but if you are managing in-house staff and/or freelance writers and designers, it is essential that deadlines and responsibilities be clear and documented. While our template currently includes only space for a writer, you might want to amend that to also include a designer for posts that include significant amounts of graphics and other images.
Include enough time within your deadlines for editing and revision, especially if you are including non-marketing in-house staff in your stable of writers or have staff ghostwriting content for executives and others who will need to review and approve what is written in their name.
Creating and enforcing deadlines also helps reinforce the importance of your business blog as a component of your company's marketing success—don't let it become an afterthought or something that gets done "if there is time."
Ready to jump in? Download the Blog Calendar Template here, or download our entire Business Blog Tool Kit, which also includes writing templates and an SEO checklist. Other blog-related resources in our Inbound Marketing Learning Library include:
If, as I talked about earlier, you are among those marketers who needs to look outside your own department for the resources needed to launch and sustain a business blog that drives web traffic, leads and sales, let's chat. You can schedule a no-obligation consultation with me to talk about your goals and needs.