How would you describe your email marketing strategy going into 2021? Are you using strictly promotional emails? Sending out editorial-based emails? Segmenting email marketing based on behavioral cues from your contacts?
These were among the questions HubSpot asked more than 3,400 marketers in late 2019 — find the answers to these questions and more in our State of Email 2020 Report here.
These email questions were just part of the overall survey HubSpot conducted. You can also download our other mini-reports:
One of the key findings was this:
When surveyed, roughly 80 percent of marketers had seen an increase in email engagement over the previous 12 months.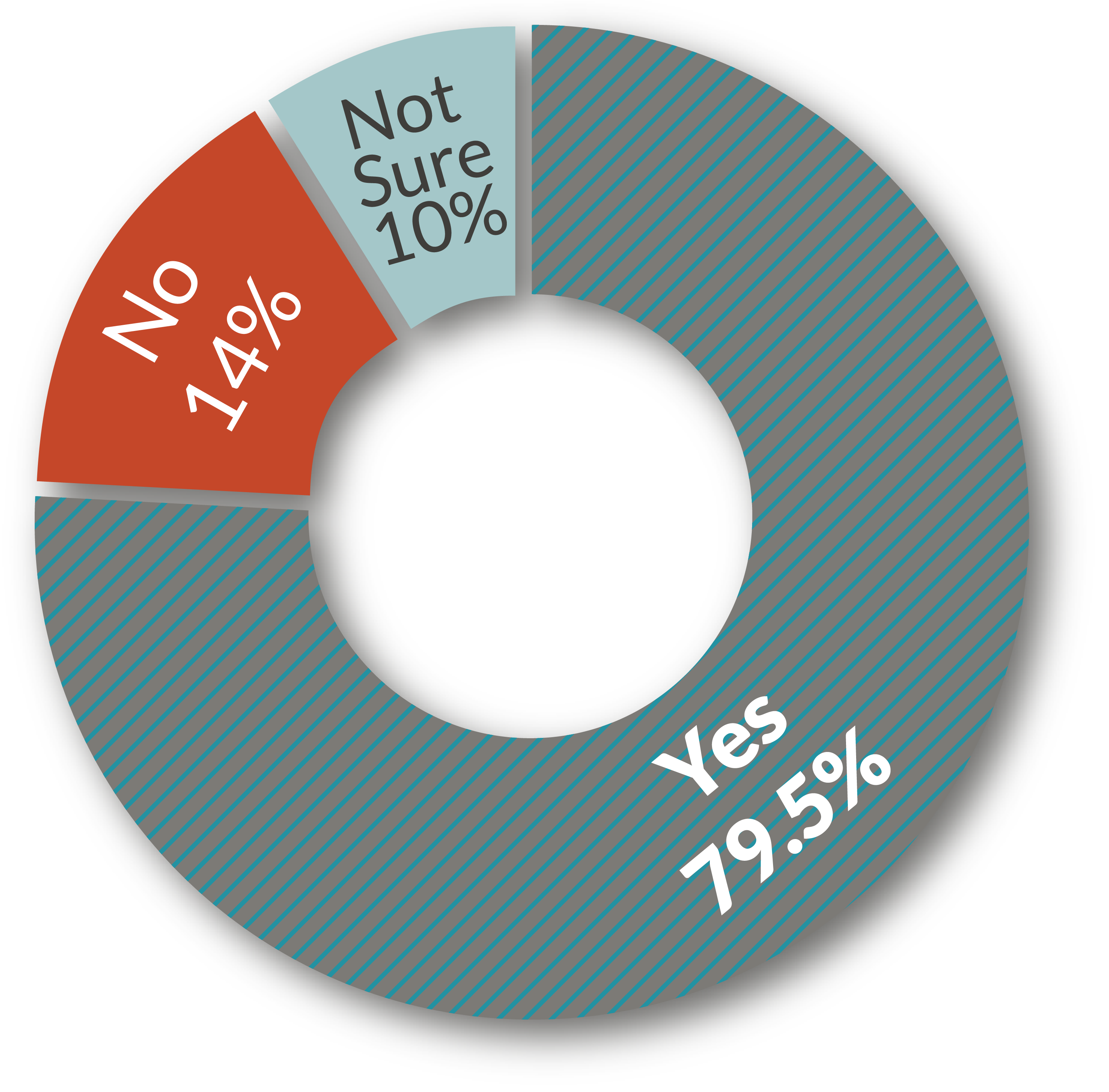 More engagement is fantastic. But another survey, this one cited by Cynthia Price, vice president of marketing for Litmus, in a guest blog post for HubSpot, brings up a less promising statistic.
According to Litmus' surveys, 1 in 3 marketers don't consider email marketing to be integrated with the rest of their marketing program. That represents missed opportunities in two different ways: the performance of email marketing isn't being used to guide other content development, and other forms of content aren't being maximized if they aren't integrated into the email marketing strategy.
Why your email marketing should inform other content marketing strategies.
Regardless of which automated email marketing platform you use, the metrics available provide invaluable insights into what your contacts like and don't like. Open rates, click-through rates, and the related website metrics such as time on page and pages visited during each visit originated from an email all tell a story of what resonates with your contacts and customers.
If you already have an established email marketing program, especially if it includes not only promotional emails, but also educational emails aimed at developing a stronger relationship with recipients by providing useful and entertaining information, your audience's response to those emails can be a window into the types of content you should create for future campaigns of all kinds.
Litmus' Price recommends giving other members of the marketing team access to email metrics dashboard so that they can gain a better understanding of what resonates with your audience:
Which topics yielded the most engagement?
What formats—blog posts, videos, downloadable reports, case studies, surveys—generated the greatest clicks?
What types of personalization was most successful in driving email open and click-through rates?
Answers to those questions can aid in planning complete marketing content campaigns that meet the needs of your target market and generate sales results.
How full-funnel content marketing and email marketing naturally feed each other.
The other opportunity being lost by marketers who fail to integrate their email marketing with the rest of their content and marketing strategies is in maximizing the opportunities to utilize all content that is developed. Content that is created for a business blog, for social media, for thought leadership and public relations purposes, and for website lead generation through downloadable offers should all be part of your email strategy as well.
Inbound marketing that captures contact information through website offers feeds your email distribution list.
The business blog on your website provides a library of useful content to which you can link from emails.
Thought leadership articles also provide an opportunity to connect with your email audience without resorting to constant promotional messages.
And the visuals you create for social media can also be repurposed as attention-grabbing elements in emails.
In turn, your emails and the calls-to-action included in them bring audiences back to your website or to your social media channels to continue building a connection and establishing your brand as a source of reliable information.
Read more about how to develop a full-funnel content strategy that also improves website and SEO performance: Your 2020 Guide To Content Marketing Strategy.
Email tactics and content that improve engagement.
Marketers surveyed for the HubSpot report pinpointed a few tactics that they are using, along with the specific tactics they credit with improving performance.
The two most used tactics are message personalization and creating mobile friendly emails.
Personalization is key to improving engagement. Simply including a first name in emails can increase click-through rates by 20 percent. And when the content offered in an email is relevant to the recipient's position in the buying process/sales funnel, conversion rates increase by nearly 75 percent. (Source)
As for creating mobile-friendly emails, even amongst B2B brands, this is increasing in importance, with 35 percent of business professionals saying they check email on a mobile device. For B2C brands, mobile is even more relevant, with mobile accounting for 46 percent of all email opens even in 2018—by now, I'm sure that number has increased even more. (Source)
While marketers told HubSpot they were using personalized messages and mobile-friendly formats, along with email automation and segmented subscriber lists, when the question was asked in a different way, the answers changed. When HubSpot asked "What tactics are proving to improve email engagement?" the top spots shifted.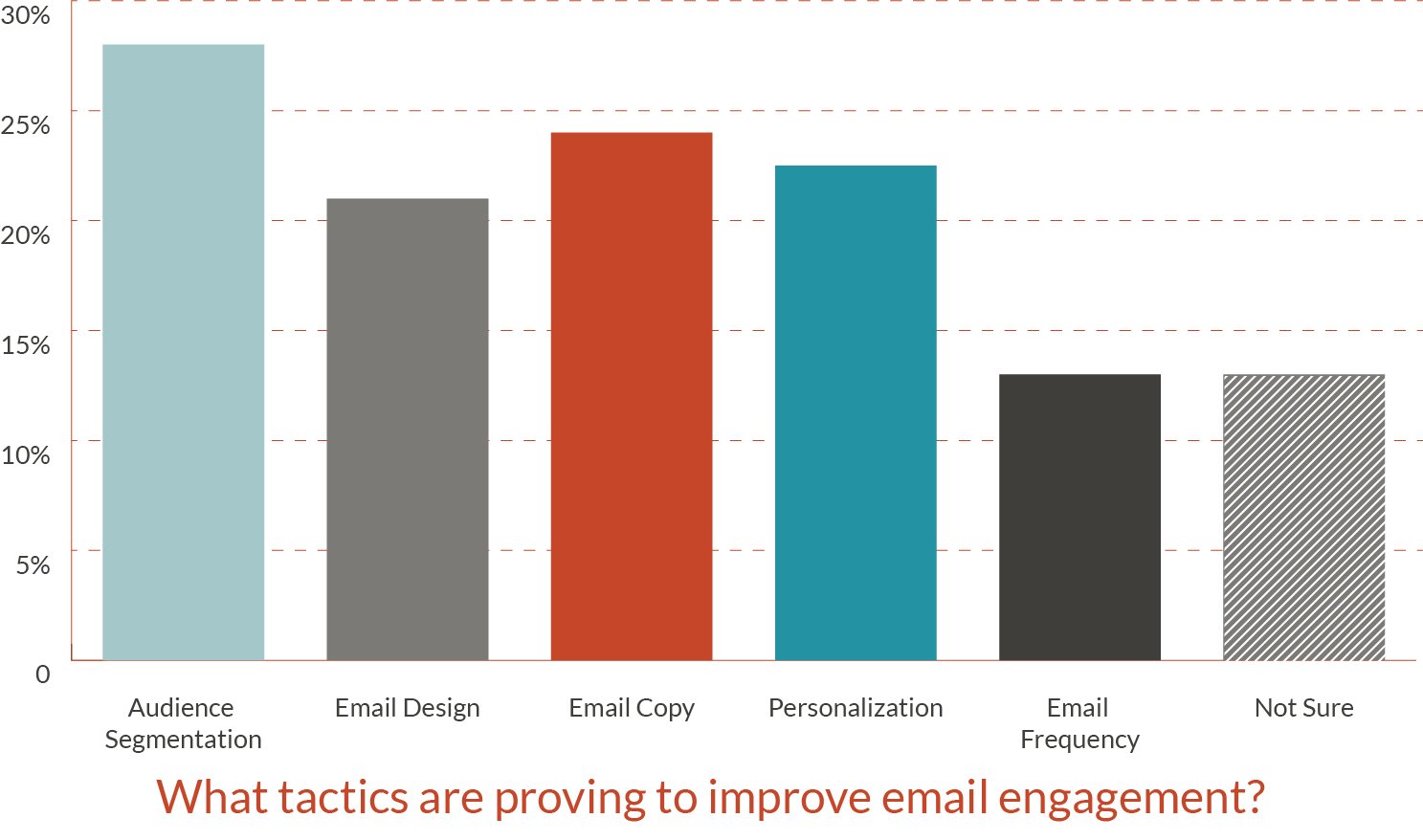 Segmentation rose to the top of proven tactics, followed by better copy, personalization and better design.
Why does segmentation matter so much? It's all about being relevant and providing value. That is also the foundation behind better email copy. In fact, marketers who use segmented campaigns note as much as a 760 percent increase in revenue. (Source)
Included in the reasoning behind the success of segmentation:
Emails can be personalized to address the specific pain points and needs of a certain

buyer persona

, at a specific level of the buying cycle, and based on certain behavioral triggers. This means you can target the CFO of a mid-sized company, who has already downloaded a case study from your website, with information about choosing a vendor in your industry and an invitation for a consultation; at the same time, you send a different email to a division manager who has just read a few of your awareness level blog posts and subscribed to the blog, but not shown any signs of being in a position to make or influence any immediate buying decision.
Because emails are targeted and relevant, your emails are less likely to be flagged as spam.
When it comes to creating better email copy, the same rules apply as you would apply to creating blog posts, social media content, and even thought leadership articles: make it useful, tell a story, and make sure it is technically sound. (There are two more rules for other kinds of marketing content in this blog post—read it for how to create content that checks all five boxes.)
You'll find more on how to improve email design and personalization in these blog posts and downloadable resources:
At JONES, we understand the importance of email in a complete content marketing strategy, and how to ensure that it works together with the rest of your marketing components. If you'd like to talk, pick the time that works for you and schedule a no-obligation call on my calendar.