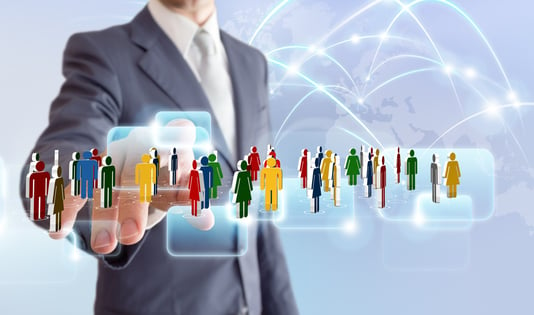 Social media is an integral part of inbound marketing. While your blog may be at the center of the inbound universe, we know that social media plays an important role in promoting it and getting the word out that you have a great blog that everyone needs to read.
Social media is also a great way to directly promote the rest of your content, from videos and podcasts to downloadable offers that bring leads into your nurturing program.
But successful social media promotion requires the same kind of goal-setting, planning and organization that you put into your overall inbound marketing strategies and your blog calendar.
We've put together a couple of resources to make that planning, organization and execution simpler, whether you are using HubSpot, HootSuite or just managing your accounts on your own.
Successfully taking on social media — from LinkedIn and Twitter to Facebook, Instagram, Pinterest, Google+, and others — means starting with goals for engagement.
Our Digital Echo Worksheet provides a weekly look at how you might structure your goals for posting status updates, participating in conversations, sharing and tweeting content from other sources, and finding accounts that you can follow to build a greater network of connections.
While our original worksheet is based around publishing five blog posts per week and sending out a weekly email blast (remember, social media is an extension of these tactics, not simply a stand-alone entity), you can modify it to fit your specific situation.
Once you have identified your goals, such as posting three LinkedIn status updates for each blog post, and one LinkedIn Publisher post per week, use this same worksheet to check off those tasks and record links to conversations and interactions. Why is it a "digital echo" worksheet? Because you want your messaging to bounce around, come back to you, and reverberate beyond your initial audience.
The second worksheet we use is a Social Media Scheduling Worksheet. This is where you record the actual tweets, updates and links you plan to share in the upcoming week(s), scheduling each one for a time and day that it should be published.
Each tab in the worksheet is set up for a separate social media platform, with helpful hints included as comments in several of the cells. The Twitter sheet will also automatically calculate your character count, making it simpler to craft the perfect tweet.
Once you have the framework for your social media messages scheduled, with the corresponding links, its as simple as cutting and pasting these messages either directly into your social media accounts daily or scheduling them in advance in your marketing software. In HubSpot, you can even upload your excel spreadsheet with your Twitter messages directly into your portal to schedule hundreds of messages at once.
Obviously, goal setting and planning are just the beginning when it comes to social media — as with any marketing methodology — but they set the groundwork for successfully using Twitter, LinkedIn, Facebook and more to attract visitors to your website and establish a rapport with prospects and customers alike.