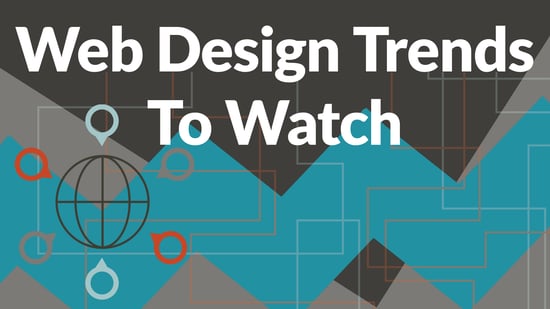 As we mentioned in a full review of website strategy trends highlighting research from our partners at HubSpot, websites are the most important content distribution channel you have, which is likely why nearly two-thirds of marketers reported plans to invest in upgrades within a year following the survey.
One of the three pillars of website strategy outlined was design, and this infographic from Website Builder Expert highlights the trends you may want to keep in mind as you plan your own updates.
Design encompasses multiple facets of your business website—both appearance and functionality. The infographic below highlights six current trends and areas of improvement to focus on now—most involving visual design that helps your website attract and keep the visitors' focus.
1. Mixing photography with graphics
When it takes users only 0.05 seconds to form a first opinion about a website, you know they haven't had time to consider the quality of the written information or usefulness of a video library. When snap opinions are formed that quickly, it's obvious why 94 percent of the first impression is design related.
One way to grab attention, of the good kind, is with a powerful graphic image, not just stock photography. Website Builder Expert recommends blending graphics with photography for a unique and meaningful first image.
2. Bold fonts
The idea of big, bold typography was one we identified in a blog post more than a year ago, and it still makes sense. Along with a strong graphic image, easy-to-read text that reaches out and grabs visitors as soon as they land on your website is more likely to keep them there.
Scannable text in a bold font that gives visitors the most important messages right away is more likely to entice visitors to read more and dig deeper into your website's content.
3. Visual hierarchy
Design can tell your visitors, without them really having to think about it, what information to read first, what comes next, and what you want them to do (aka a call-to-action).
Use size and space to guide the readers' eyes through your website, and be sure to offer some kind of action they can take where they can easily see it.
4. Personalized content
We have all become accustomed to websites that cater to our individual interests, remember what we have viewed or purchased in the past, and personalize the experience with recommended offers or suggested content. You can do the same on your website by using cookies, geolocation or website accounts that personalize the content your visitors see, rather than simply showing everyone the same offers repeatedly every time they visit.
5. Mobile-focused ecommerce
Now we're shifting more into the functionality part of website design. With more and more web interaction, particularly in the B2C sector, taking place on mobile devices, it is essential for ecommerce websites to be designed with mobile access in mind, both functionally and visually (mobile-friendly design will be less cluttered with more white space to make it easier to navigate without accidentally clicking on the wrong button).
B2B website use is a little different still. While most B2B buyers, especially in the tech and software field, are doing more and more online research before buying, many top B2B decision makers still do their business purchase research on desktops rather than mobile.
6. Faster loading speeds
Slow websites lose visitors, lose sales and lose search rankings. We are an impatient society—40 percent of website users will abandon a site if they have to wait more than 3 seconds. That abandonment or bounce rate not only means directly lost leads or sales, but it sends signals to search engines that users don't stick around, so you lose ranking on Google.
Taking the time to test your site's speed, compress images before adding them to site or incorporate features such as smart content loading can pay off in fewer bounced visitors and more happy leads and customers.

What other aspects of your website's design and function are in need of an upgrade? You can give it an objective review using our Website Audit Template to find opportunities to improve content, design and SEO strength before taking on a major redesign. Your website should be a powerful tool in your content marketing strategy, not a bottleneck or hurdle to truly reaching prospects and closing sales.
Schedule a time on my calendar if you'd like to chat about how to improve your current website and integrate all of your content marketing strategies to complement one another.