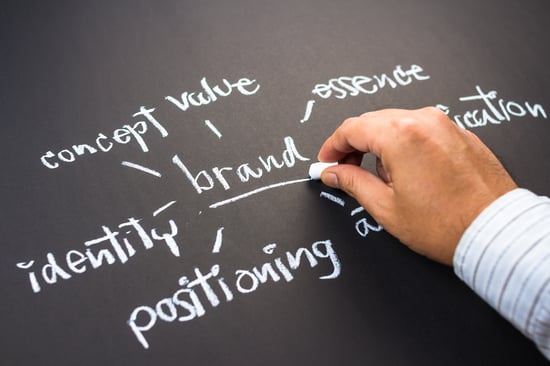 Whether you are introducing a new product or new business to the market, or looking to revitalize an existing image, you need to think about the entire brand.
So what IS a brand? First, let's talk about what a brand isn't.
A brand isn't just a name.
A brand isn't just a logo and colors.
A brand isn't just a catchphrase or slogan.
A brand is a feeling. It is everything that your company or product is, everything it does, and everything it stands for. (Click to Tweet)
Here's an example:
Nike.
Nike's brand isn't just the Swoosh™ - that's a logo and a trademark.
Nike's brand isn't "Just Do It."
It's all the things behind those visuals.
Everything they do around Nike is focused on motivating and helping people achieve their personal fitness goals. Their philosophy is that if you are a person, you are an athlete. It's about being your best self.
People don't buy Nike shoes and apparel because they have a Swoosh. It's because they feel this sense of inspiration around the brand.
So, when your company decides to create or recreate its brand positioning—whether working completely in-house or with an agency—don't settle for simply throwing new colors or a new slogan onto the website. Take the time to dig deep into who your company is and what you inspire in your customers, and build all aspects of your brand identity around the feeling.
Creating enviable brands that connect with customers is a six-step process.
1. Discovery
Research and discovery are the first step. This includes everything from in-depth conversations with top executives to round-table meetings with each department (marketing, sales, product development, customer service) and surveys of customers and prospects.
Find out how each of these groups currently perceives your company and products. Often what people in the company think they do is different from what customers think they do.
2. Competitive audit
The second step is to look at the rest of the industry. What are your competitors doing and saying? What are the key problems your industry is solving? How are you different from others in your industry?
Information about your competition and the industry in general will help you differentiate your brand from the crowd.
3. Data compilation
So, what do you do with all of the insights and information from discovery and your competitive audit? Put it all together in one place.
Compiling the data in a single document that can be reviewed, studied and absorbed by your branding team helps bring everyone onto the same page.
4. Opportunity assessment
Having all of the visions your company's stakeholders have for the brand alongside what your competitors are saying in the data compilation makes it easier to find the opportunities for differentiation. What can or does your company do differently, even if the products and services are similar?
Back to our Nike example, they are far from alone in the athletic shoes and apparel industry, and all of the players in the industry have good quality products, from Adidas and Asics to Brooks, UnderArmour and New Balance. What Nike does to set itself apart is motivate and inspire.
So find that opportunity, that something that makes your business different.
5. Conceive and review
With your opportunity assessment in hand, now comes the time to start boiling it down into the specific brand position ideas and identity elements.
A brand concept document should include:
Language: What words will you use in content, emails, elevator speeches, website copy and everywhere else you talk about your company?

Services, elements or processes: How you will describe your company's advantages?

Benefits: How does working with your company help your customers?

Core messages: What specific messages do you want your customers to hear?

Mood board: This is where you will finally look at those physical and visual aspects of brand identity, with colors, fonts, images and logos.
All of these elements should be presented to the executive suite for buy-in before moving on to the final stage.
6. Brand delivery
Once the marketing department and executive suite have reached an agreement on what the new brand should entail, it's time to put it all together in concrete ways.
If you are working with a full-service agency, they should be ready to provide everything you need to implement your new brand identity and marketing strategies, from specifications about how logos, slogan, typography and color can and cannot be used, to elevator speeches, website design, content, sales support documents, and a strategy for bringing your new brand to life and promoting your company to generate leads.
The process is proven to work. Just ask TeleVox, which recreated its image from that of an appointment notification provider to a partner in creating a Healthy World. The case study details each step in their rebranding and content strategy. Are you ready to create an enviable brand?