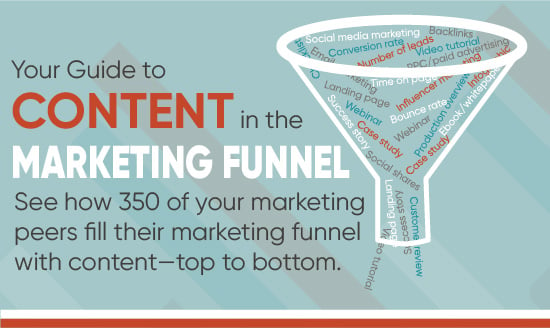 Content is an integral component of your marketing strategy, and it is essential that you develop content that is mean to meet the needs of your prospects, leads and customers at each stage of the sales or marketing funnel. That means you need everything from top-of-the-funnel (TOFU) content that will attract traffic to your website through the middle-of-the-funnel (MOFU) content that nurtures leads and the bottom-of-the-funnel (BOFU) content that helps close the deal.
In a recent survey, Semrush asked marketers like you which types of content work best at each stage of the funnel. The results can help you plan complete campaigns, from the "how-to" blog posts that attract visitors through organic search to the success stories and case studies that keep leads engaged and move them through the funnel.

A few takeaways to consider:
At the top of the funnel, focus on content that helps the reader solve a problem. "How-to" guides, infographics and checklists are all great ways to provide valuable information to a new contact without pushing products or services right away. Use this content to gain organic traffic with valuable information that is rewarded by readers and search engines.
Once a lead has engaged, build trust by continuing to provide that useful content, along with case studies, success stories and more interactive connections such as webinars. Use email marketing, through an automated lead nurturing workflow, to offer additional content that guides leads through the marketing/sales funnel.
Finally, don't drop leads just as they are getting interested. Develop bottom-of-the-funnel content with detailed product information as well as use cases that explain how the product can benefit the customer to aid in the sales conversion process. BOFU content can also include the collateral materials marketing provides to sales to use once leads have been sales-qualified.
Tracking metrics along the way can help you identify which content is most successful in achieving your goals of driving website traffic, generating leads, nurturing leads to qualification and converting leads into sales.
Find more ideas for content at each level of the funnel in a one-page reference you can have beside you during each campaign planning meeting. Choose the content type that works best at each stage of the funnel, and then use our Campaign Planning Calendar Template to organize an entire years' worth of full-funnel content campaigns.