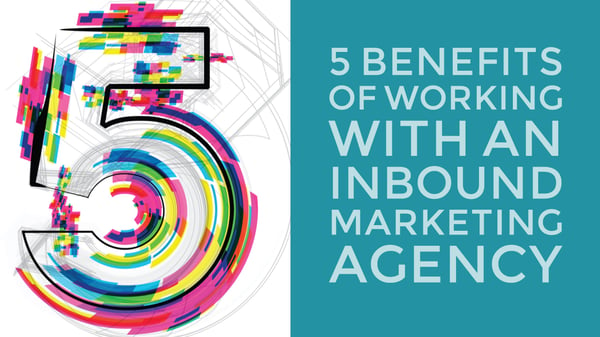 One of the challenges many marketers face today is finding the resources needed to implement their marketing strategy — not only in terms of budget resources, but the human resources of experience, skill and time.
According to Rundown, more than half of all brand or corporate marketers turn to agencies for some level of assistance when creating and implementing content marketing (See infographic here). Considering the varied skill sets required for inbound marketing, along with the challenges of either reorganizing or hiring new staff, the ready-to-roll nature of an agency partnership can be appealing when there are deadlines approaching for getting a new strategy or campaign up to speed.
Find a complete list of the pros and cons of reorganizing, new hires, freelancers and agencies in The Complete Guide to Resourcing Your Inbound Strategy.
Let's look at five reasons it might make sense to bring in an inbound marketing agency to give your marketing a boost.
1. Access to skilled content creation professionals: writers, designers, video production pros, social media managers and website development veterans.
Content drives inbound marketing. It increases website traffic, captures leads and converts leads into sales.
The most successful inbound marketers produce a large volume of high quality content, aimed at providing the information prospects are searching for. How much content? HubSpot recommends that businesses publish at least 16 blog posts per month — that's 4 posts a week. Those posts are in addition to the downloadable assets (such as case studies, whitepapers, reports and templates) that convert website visitors into leads, and the lead nurturing emails that continue to move those leads closer to a sale.
All of that content would take at least 160 hours per month to create, spread across the skills of several specialists: writers, designers, and more.
A qualified agency will have those specialties available to deploy as needed for your projects, as part of a holistic approach to marketing. Look for an agency that is ready to consider all of your content, not just a single channel such as video or social media.
2. Expertise in the concepts and details of inbound marketing automation systems: If your marketing department is transitioning from an outbound-focused approach to the implementation of inbound marketing, it can be helpful to have assistance from someone who understands the process of developing complete campaigns that are designed to maintain momentum from attracting website visitors in the beginning to capturing leads, nurturing those leads, and then enabling sales to convert leads into customers.
Look for an agency that talks about filling the sales funnel, with content targeted to each stage of the buyer's journey. An inbound marketing agency understands that individual marketing channels don't operate in silos — instead, inbound marketing is most effective when each tool and channel is viewed as a complementary element of a complete inbound marketing campaign.
If you have already signed a contract for a specific marketing automation solution, seek out an agency that is certified in that platform, so you know that they can guide you through the detailed steps of setting up automated lead nurturing workflows, tracking lead intelligence to share with sales, and analyzing metrics to make changes to continually improve your marketing tactics.
JONES is a HubSpot-certified partner agency, with years of experience using the platform for our clients and as our own content management, automated lead nurturing, and CRM tool. I am always available to schedule a call so you can ask me more about how HubSpot can maximize your inbound marketing efforts.
3. Flexibility to increase or decrease contracted services to meet changing needs: Changing the staffing level of an in-house team is not an easy task. Even if you have the flexibility in your budget, adding new staff can takes months of advertising, interviewing and onboarding before that new talent is ready to jump in. (Want to give a new hire a blueprint for making the most of their first few weeks on the job? Give them this: Your First 100 Days In a New Marketing Job.)
Adding new personnel also typically means hiring one full-time person who may only specialize in one or two of the skill sets you are needing, when what you really need are several skill sets, but for less than full-time hours.
And once you have added staff, a sudden decrease in your need (or decrease in budget) can mean the painful process of having to let someone go, which is never fun.
With an agency, while you may have a specific retainer minimum in the contract, there is almost always flexibility to add or reduce total hours, and to shift that budget from one focus — say, website design — to another, such as video development, as your needs change and your marketing strategy matures.
4. Defined goals and reporting to measure ROI: Goal setting is a key part of any marketing strategy, and it should be no different when you work with an agency. Most agencies should include goal setting, defined expectations, and a process for reporting progress toward those goals as one of the key elements in any contract. (See what else you should expect from a quality inbound marketing agency: HubSpot Partner Agency Checklist.)
By focusing from the beginning on specific goals, and reporting back, working with an agency provides an opportunity for a clear look at the ROI of working with an agency and the marketing tools that agency helps you implement.
5. A single point of contact: Many in-house marketing departments may look to freelancers and contract workers for that flexibility I mentioned above, but that approach comes with a downside: having to manage multiple individuals, who are most likely working in remote locations, to ensure projects come together on time, on budget and on message.
With a high-quality, full-service agency, those management details are covered for you. You should have a single primary contact who is always aware of the status details of any project and who is tasked with ensuring that it comes together just as intended. This leaves you, as the CMO, communications director or brand manager, with more time to focus on in-house tasks or big-picture strategy, rather than tracking deadlines with freelance writers, designers, or website developers.
Combined, the benefits of working with an agency typically boil down to three things:
1. An agency saves money by eliminating excess staffing and overhead.
2. An agency saves time by providing a single contact and managing details.
3. An agency provides a better understanding of ROI with known costs and closely tracked results.
Are you ready to start looking for an agency to help implement your inbound marketing strategy? Check out these blog posts and downloadable resources to help you narrow down the choices and maximize the results of your partnership: